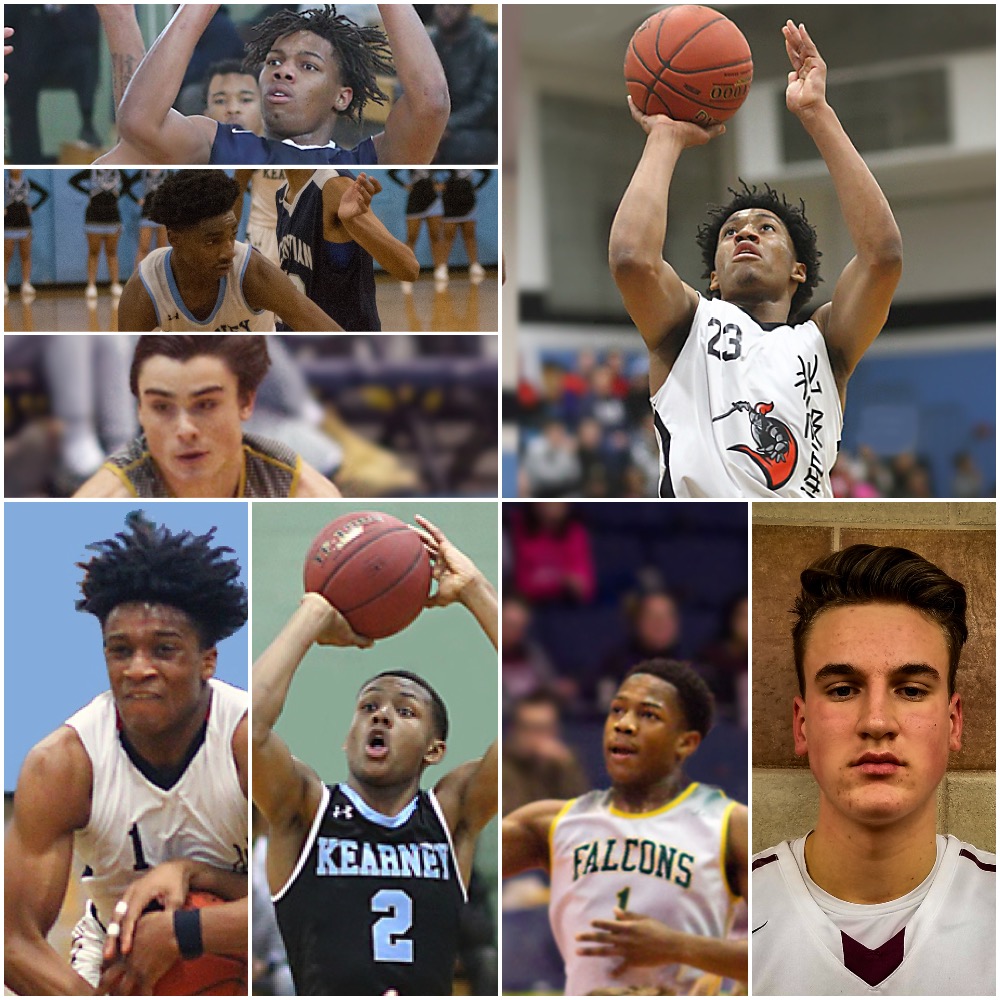 By JOHN LIKANJE
Miles Brown's historic season for Northstar Christian earned him 2018-19 Private-Parochial Player of the Year the league announced.
Brown amassed 33.8 points per game in 2018-19, pulled down seven rebounds, dished out 4.1 assists and swiped 3.2 steals. The senior guard who has received Division I scholarship offers from Bryant, Canisius, Central Arkansas, Fordham, Niagara and Stony Brook recorded 30 or more points in 15 games, including five 40-point games. Brown poured in a season-high 48 points twice: December 15 in an 83-74 victory over Leadership and January 3 in an 101-96 win at Aquinas. The senior guard paced a Northstar squad which averaged 83.2 points per game and finished No. 14 in the NYSSWA Class A poll. Brown completed his career as the Section V all-time scorer with 2,914 varsity points. He finished third on the NYS all-time list.
Teammates Michael Brown, Ryan Garwood and Sean Smith joined Miles Brown on the Private-Parochial All-League Team. Michael Brown, Miles's twin brother, averaged 12.5 points per game. Ryan Garwood, head coach JJ Garwood's son, scored 13.5 points, his season-high coming on January 17 in an 85-69 victory over Buffalo East. Smith netted 14.7 points and a season-high 24 twice, including on January 11 in a 95-81 win against Charles G. Finney.
Bishop Kearney's Antwan Williams, Kidtrell Blocker and Miles Monchecourt were selected to the Private-Parochial First Team. Blocker, with Division I offers from Canisius and University at Buffalo, was third in scoring at 22.8 points per game and amassed a season-high 45 in the first round of the Section V Class AA playoffs against UPrep. The junior guard grabbed 4.2 rebounds and handed out 2.3 assists. Monchecourt netted 14.8 points and poured a season-high 30 on January 28 against McQuaid. The junior forward pulled down 5.6 rebounds. Williams chipped in 7.8 points per game along with 6.1 rebounds and 2.4 blocks.
C.G. Finney's Keegan Ocorr and Markus Robinson also earned first-team honors. Robinson, an eighth-grader, was fourth in the Private-Independent Division in scoring at 22.6 points per game while pulling down 6.1 rebounds and dishing out 3.3 assists. Ocorr finished right behind Robinson at 22.4 points, handed out 6.2 assists and collected 3.5 rebounds. Robinson poured a season-high 35 points on December 28 in a 74-48 victory at Geneseo. Ocorr scored a season-high 36 points twice, including on March 4 in the sub-regional against Lyons.
Albert Tomlin (Rochester Academy), Jahki Lucas (UPrep) and Tyler Warner (Aquinas) rounded out the Private-Parochial First Team. Lucas was second in scoring at 25.6 points per game and invigorated the No. 8 seed Griffins to their third consecutive AA sectional final appearance. The senior guard completed his varsity career with 1,514 points. Warner netted 18.1 points and amassed a season-high 36 on January 19 in a 68-49 victory over Vertus. The junior center tallied 14 double-doubles. Tomlin averaged a double-double of 24.02 points and 10.6 rebounds. The sophomore forward scored 20 or more points in 19 of the Racers' 22 games this season.
.@m_monchecourt with the dunk for @KearneyBoys pic.twitter.com/zWlFwJNPlC

— John Mitchell Likanje Junior (@jml5798) February 6, 2019

Myles Blackwood and Steve Mahar made the Private-Parochial Second Team for Aquinas. Mahar chipped in 8.0 points per game. Blackwood averaged 9.6 points and led the No. 8 seed L'il Irish to a first-round playoff win over Spencerport.
UPrep's Kayshawn Ross and Na'Zea Fowlks were selected to the second team. Ross contributed 11.0 points per game and poured in a season-high 31 in a AA first-round victory against Bishop Kearney. Fowlks averaged 10.3 points and had a season-high 29 on January 21 against NE Douglass.
Bruce Lewis, Jaden Hayes and Wesley Henderson were named to the Private-Parochial Second Team for Rochester Prep. Deonte Major of Rochester Academy rounded out the second team.