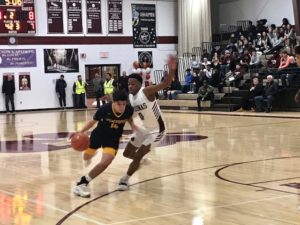 By PAUL GOTHAM
ROCHESTER, N.Y. —  Freshman Myles Blackwood netted a career-high 21 points, and the No.8 seed Aquinas Li'l Irish boys' basketball team opened the Class A1 sectionals with 69-46 victory over ninth-seeded Spencerport, Wednesday night.
With the game knotted at six, the 6-foot-2 guard went on a personal 11-2 run, and Aquinas was off and running.
"He can do that every game," Aquinas head coach John McCauley said of Blackwood who also grabbed eight rebounds and collected six steals. "He's such a talented young kid. He's so strong and explosive. Today he was really deliberate in his drives. He wasn't trying to go around people. He wasn't trying to be cute with his finishes. He just got to the basket and finished strong."
Blackwood scored in the lane to give AQ a lead it did not surrender. Teammate Gabe Miller found him behind the defense for a lay in. Then the freshmen got ahead of the defense for a layup, and he finished the first quarter with another basket in the paint.
Myles Blackwood gets the tip in. Freshman has 11. @AQBoys_Hoops leads 17-8. pic.twitter.com/ftMdQdaHqL

— Paul Gotham (@PickinSplinters) February 21, 2019

"What we're starting to understand is on our drives teams are so hesitant to leave ours bigs' body. They feint help and then get back to the bigs' body to hopefully stop the offensive board opportunity. We've been seeing that on film a lot. We've been talking about it a lot in practice of guys just going all the way.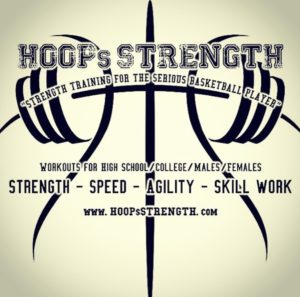 "We saw a team that was really concentrating on keeping our bigs off the glass. That opened up Myles. It was great to see him take advantage of it finally."
The Aquinas defense held Spencerport without a field goal for nine possessions. A stretch in which the Li'l forced four turnovers and pushed its lead to 15 when Blackwood took a pass ahead from Miller and converted a steal into two points at the opposite end.
"We really were trying to focus on just being more efficient with our defensive rotations," McCauley added. "We felt like we could pressure them a little bit in the full court. We went to our press and guys were great. They were anticipating. They followed the keys that we talked about in practice. It was good to see us translate what we did in practice over to the game."
Aquinas led 23-8 on its way to a 34-21 advantage at halftime.


"You know it's always good to get the first one," McCauley said. "The motto for the sectionals has been go 1-and-0. That's it. We just got to focus on one task at a time. I felt we had a really good game plan going in. We played great defense tonight. We locked into what they wanted to do best. We got some shots to fall tonight, so it was good."
Tyler Warner finished with 12 points, 11 rebounds and three blocks for AQ. Jack Bleier scored nine. Senior Luke Putnam added eight. Jack Forsythe (6), Miller (3), James Jones (5) and Steven Mahar (5) rounded out the scoring for Aquinas.
Aquinas/Spencerport game highlights: Luke Putnam drives to the cup for a double-clutch layup. @AQBoys_Hoops @PickinSplinters pic.twitter.com/KYVeJCkYrR

— John Mitchell Likanje Junior (@jml5798) February 21, 2019

Nick Thibeau paced Spencerport with 12 points. Trey Kubitz had 10. Ben Reding and Cartier Jefferson had six apiece while Alex Anderson and Gino Pellett both scored three. David Stewart had four. Patrick Uebelacker had two points.
Ironically, Blackwood's career night came against his father's alma mater. Marcus Blackwood, currently an assistant with the Aquinas program, starred for the Rangers during the mid 90s. The elder Blackwood finished his career eclipsing the 1,000 point plateau in Spencerport Blue and Gold.
"I wouldn't be surprised if there was some talk in the car on the way here about that being his alma mater and him having to play well," McCauley said with a smile. "Whatever the talk was, I'll take it. When he plays like that we're a really good team."
Marcus Blackwood led the Rangers to a 19-3 record and a No. 1 seed in the 1997 Class A tournament. That Spencerport team lost to eventual NYS champion McQuaid, 43-41 in the quarterfinals.
Aquinas will play top-seeded Pittsford-Mendon in Saturday's quarterfinal. A 6 PM tipoff is scheduled at Pittsford-Mendon.