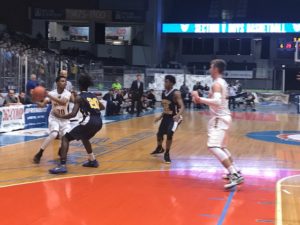 By CHUCKIE MAGGIO
ROCHESTER, N.Y. — Kobe Long's scoop layup hung on the rim for a second, enough time for McQuaid's star point guard to consider the enormity of the moment.
The referee had signaled a foul for contact, so Long would have two free throws if the ball didn't go through. But with the Knights leading University Prep by four and 1:13 on the clock, an and-one could serve as the knockout punch.
"I'm looking at it and it's hanging on the rim and I'm like 'go in, go in,'" Long recalled.
Eventually, the shot did go through the twine. Long completed the three-point play, then hit two more foul shots to extend the lead even further. UPrep made a three-pointer at the buzzer, but the Knights were the ones celebrating an 81-75 victory and second straight Section V title at the Blue Cross Arena's center court.
Kobe. Long. @McQuaidBball leads 79-72 pic.twitter.com/SUmswLQwix

— Paul Gotham (@PickinSplinters) March 3, 2019

"At the end, when you see all the kids go grab (the sectional plaque), it's a special thing to see them achieve that," McQuaid coach Jack Leasure said. "I was really proud of them. It was awesome to see it."
Even when the Knights ended the third quarter on a 13-0 run to take a 65-50 lead into the fourth, UPrep had an answer in the form of a 20-5 run to tie the game at 70 with 3:55 remaining. Jakhi Lucas scored eight fourth quarter points and Kayshawn Ross posted seven, including the game-tying three.
The eighth-seeded Griffins battled, leading 22-20 after the first with a Lucas buzzer-beating three ending the period. They were within two at the end of the second before Long sunk a three-ball to take a 42-37 into the locker room. McQuaid's 15-point lead after three was the biggest advantage of the game; the score didn't leave single-digits outside of that run.
Lucas finished with 31 points including four three-pointers as well as five rebounds and three assists. Ross contributed 17 points with three three-pointers of his own while Krystain Lee chipped in 13 points and six rebounds.
Buckle up. https://t.co/JldYlMkbkT

— Billy Heyen (@Wheyen3) March 3, 2019

UPrep was tough but the Knights knew they had championship experience on their side, which they felt allowed them to withstand the Griffin runs.
"I think that was the key, was just staying tough when it didn't go well," Leasure commented. "It's easy to panic and not stay together. They stayed together and they just responded. That's what basketball's about, and they responded really well. I was really proud of them."
"Everybody was a little nervous," Knights forward Jermaine Taggart, who scored a team-high 27 points, admitted. "But I told my teammates, 'We've been here, last year.' We had a great point guard in Anthony Iglesia. He left us the blueprints and we struggled in the beginning, we had a couple fights in the locker room… but we all brought it together to focus on the winning instead of individual stats."
Taggart had a sparkling stat line in his second straight sectional final, going 11-of-22 from the field and finishing a rebound shy of a double-double. He was named Class AA's Most Outstanding Player, while Long and forward Harry Bruu were named to the all-tournament team.
Jermaine Taggart coming at ya! pic.twitter.com/poFtSnEkA4

— Paul Gotham (@PickinSplinters) March 3, 2019

Long made nine of his 12 free throws and three of his seven three-point attempts, scoring 24 points despite being in foul trouble with four personals. Bruu grabbed three big offensive rebounds, six boards in total, to go with his eight points. Big man Connor Zamaria was the third Knight to reach double-digit points and the only player to put up a double-double, recording 11 points and 10 rebounds.
Connor Zamiara converts the rebound & putback. Going to the 4th: @McQuaidBball 65 UPrep 50 pic.twitter.com/T2ujiNqKl9

— Paul Gotham (@PickinSplinters) March 3, 2019

"Everybody doubted us," Long said. "They said we weren't gonna be good coming into this year. That hurt me a lot because I feel like I'm the leader of this team and that's a shot at me. So knowing that I came into this season working really hard knowing that I'm gonna win a championship for my teammates and my teammates are gonna help me along the way to keep me in check… it feels great."
McQuaid's postgame festivities were organized chaos. One by one, the players exited the locker room and headed for the bus, soaking up the cheers of friends and family members along the way. Most of them decided to show off their championship shirts in lieu of warmer clothing, earning a shade of parental chagrin in the freezing temperatures. Leasure and his staff were in the middle of the crowd, hugging and laughing and enjoying the feeling of being champions once again.
"It's something so special to watch them as a coach, to see them achieve that," Leasure said. "See them realize the character it takes to do something like that, it's a huge life lesson for them.
"It's a special experience to see them achieve that."
UPrep vs McQuaid
03/02/19 9:00 p.m. at Rochester, NY – Blue Cross Arena
At Rochester, NY – Blue Cross Arena
MCQUAID 81, UPREP 75
UPREP (11-11)
Jakhi Lucas 9-21 9-13 31; Kayshawn Ross 5-12 4-4 17; Christian Edwards 5-14
1-2 13; Harold McCullough 3-5 0-0 8; Na'Zea Folks 1-9 2-4 4; Krystain Lee
1-3 0-0 2; Raekwon Dargan 0-0 0-0 0; Kendrick Cheyshad 0-2 0-0 0. Totals
24-66 16-23 75.
MCQUAID (18-4)
Jermaine Taggart 11-22 3-3 27; Kobe Long 6-17 9-12 24; Connor Zamiara 4-8
3-4 11; Harry Bruu 3-6 2-2 8; Jon Catone 3-5 1-2 7; Michael Maloney 1-1 0-1
2; Justus Ross-Simmons 1-3 0-2 2; Rueben Daniel 0-0 0-0 0; Keith Warren 0-0
0-0 0. Totals 29-62 18-26 81.
UPrep…………………….   22   15   13   25  –   75
McQuaid…………………..   20   22   23   16  –   81
3-point goals–UPrep 11-28 (Jakhi Lucas 4-10; Kayshawn Ross 3-7; Harold
McCullough 2-4; Christian Edwards 2-5; Kendrick Cheyshad 0-1; Na'Zea Folks
0-1), McQuaid 5-14 (Kobe Long 3-7; Jermaine Taggart 2-6; Justus Ross-Simmons
0-1). Fouled out–UPrep-Na'Zea Folks; Christian Edwards, McQuaid-Jon Catone.
Rebounds–UPrep 34 (Na'Zea Folks 9), McQuaid 39 (Connor Zamiara 10).
Assists–UPrep 12 (Kayshawn Ross 4), McQuaid 12 (Harry Bruu 4). Total
fouls–UPrep 22, McQuaid 17. Technical fouls–UPrep-None, McQuaid-None.
A-1500