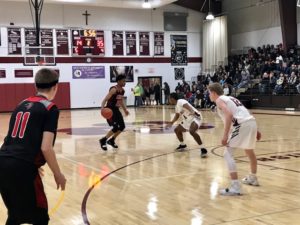 By PAUL GOTHAM
ROCHESTER, N.Y. — JJ Garwood is not afraid to admit it. At times the Northstar Christian head coach loses track of his role during games.
Who can blame him.
Thursday night Garwood, like the rest of the crowd at the Wegman-Napier Center on the campus of the Aquinas Institute, had a chance to sit back and watch Miles Brown add to his legacy.
Brown, who scored 40 and 31 in respective games over the past weekend to move into to the top spot all-time among Section V scorers, has now set his sites on the New York State list. If last night's performance is any indication, the senior guard will make quick work climbing the rungs of that list.
"Quite honestly as a coach sometimes I get caught in fan mode watching him," Garwood said after Brown matched his season high with 48 points in a 101-96 Northstar victory over Aquinas. "Some of the things he does are so unique and special. What more can you say."
The 6-foot-2 guard connected seven times behind the 3-point arc as Northstar (8-0/No. 15 NYSSWA Class A) built a 26-point lead before holding on to beat the Li'l Irish.
End 1st: @milesballers with 3 of his 11. @NCA1972 leads @AQBoys_Hoops 32-10 pic.twitter.com/Iu9UYZSkgv

— Paul Gotham (@PickinSplinters) January 4, 2019
"He's just so difficult to defend," Garwood said of his player who is now averaging 36.6 points per game. "He's such an unselfish player. If you come and double, he'll dish it off. If he gets in the paint and a shooter's open, he'll kick out. He also has the uncanny ability to really get the ball and be assertive when we needs to stop a run from the other team."
With Thursday's output, Brown has 2,497 career points and climbed to No. 14 all-time in NYS.
"There's not enough that anybody can say about him," Aquinas coach John McCauley said. "He's a special talent. You can't speed him up. You can't get him to turn it over. There's nothing you can do."
For everything that Brown has accomplished, Thursday night he went one step further. In a four-possession sequence starting at the end of the first quarter, he personally outscored Aquinas 12-6.
With Northstar leading 26-8, Brown drilled a pull-up 3-pointer from the top of the key. Next trip down the floor, he drew contact on 3-point attempt and converted the trio of charity tosses to end the stanza.
Brown then opened the second quarter with back-to-back triples for a 38-14 Northstar lead. Six minutes still remained in the first half.
"He hates losing so much that you're always going to get his A game," Garwood said referring to the 48 points Brown scored against Leadership Academy, then ranked in the state, earlier this season. "When we play these big-time games, we get his A+ game. He's a big time player. He's incredible."
Twelve points in four possessions and after watching him play, one almost thinks that is not enough. After all, a player could score a maximum of four points in a possession. If any high school student-athlete is capable of pouring in more than 12 in four trips down the floor, Miles Brown is the one.
Consider this: at one point in the second quarter, Brown had accounted for 15 of Northstar's 17 points in the period. The other bucket? Josh Capolaretti finished underneath with a pass from? You guessed it, Miles Brown.
"He's a handful," McCauley added. "The best part about him is he doesn't take bad shots. Every shot he takes is a good shot. It's a shot that he wants to take.
"I told my guys that 'He can go left. He can go right. He can euro step. Just try to make it tough.' Hopefully, he'll slow down. Hopefully we'll be able to make a run."
Miles Brown gets in the lane for 2 of his … 31 first-half points. @NCA1972 leads @AQBoys_Hoops 57-32. Unofficial career high for @milesballers is 48. Tyler Warner has 10 for AQ. pic.twitter.com/YO23x4lQCu

— Paul Gotham (@PickinSplinters) January 4, 2019
Brown converted two free throws to give Northstar its largest lead of the game at 70-44 with 4:58 remaining in the third quarter.
Sean Smith then hit four 3-pointers over the next six minutes to help Northstar keep its lead to 20.
"They're a complete team," McCauley noted. "They've got four guys that can legit hurt you. It's not just the Miles Brown show. He does a great job of empowering those guys. He gives them the ball. He encourages them to shoot. He's tough."
Aquinas (1-7) did make a game of it late. Tyler Warner scored 16 of his season and team-high 26 in the second half, but it was AQ's long-range attack that closed the gap.
Jack Scanlon connected on a trio of 3-pointers while Jack Bleier and Justin Johnson connected one time apiece as Aquinas cut the deficit to four at 98-94 with less than 20 seconds remaining in the game.
"I'm proud of my guys because we fought," McCauley said. "We showed character. We didn't hang it up."
With junior big man Steve Mahar returning to action for the first time this season, the Li'l Irish might finally have the lineup they want on the floor. Mahar gives McCauley another inside presence alongside the 6-foot-11 Warner, another 11th grader.
"We continue to show fight which I know will manifest itself in the end of the year," McCauley said. "We're playing young guys, guys that are still getting experience, still trying to learn positions."
Brown finished with seven rebounds, five steals and four assists. His twin brother, Mike, collected 15 points, eight assists, five steals and five rebounds. Smith added 18 points. Ryan Garwood had 15.
Scanlon had 19 points for Aquinas. Freshman Myles Blackwood scored 16. Bleier, another 9th grader, had 12. Johnson scored 13 for the Maroon and White. James Jones and Mahar chipped in four apiece. Luke Putnam had two points.
Brown will need 11 points to pass Jamesville-Dewitt's Bernard Blunt (2,507) and move into 13th on the NYS all-time list. Ahead of him are former and current NBA players Kenny Anderson (2,621 points), Sebastian Telfair (2,785) and Lance Stephenson (2,946).
Brown, however, will not be able to catch the leader Joe Girard III. The Syracuse University commit opened the season with 3,306 points. Girard recently poured in 59 in a Glens Falls win at the City of Palms Classic.
Brown has received Division I offers from Stony Brook University and Central Arkansas. Members of the Monmouth University coaching staff were on hand to watch Northstar's win over Lyons last Friday. A Stony Brook assistant was in attendance on Thursday night.
****CORRECTION: This article originally stated that Miles Brown matched his career high. Brown's career high is 53 points against Early College on January 30th of 2018. His 48 points on Thursday night against Aquinas matched his season high.