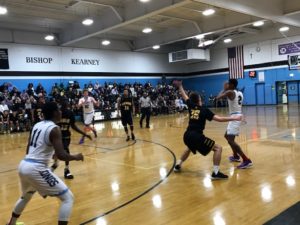 By PAUL GOTHAM
ROCHESTER, N.Y. — An oft forgotten metric used to assess a team's strength is a squad's response to a big win. Go out the next game and lose, then said team was playing over its collective head in the previous win. Put the previous win in the rearview mirror and come out on top again? That's the sign of a good team. Go out the next game and win by 21 in an opponent's barn? That, is the definition of a contender.
Comes as no surprise that the previous paragraph describes the McQuaid Jesuit Knights.
Little more that 48 hours after handing RCAC rival East its first setback of the season,  McQuaid took to the hardwood of Ed Nietopski Gymnasium.
Four scored in double figures as McQuaid erased an early deficit and went on to defeat Bishop Kearney, 80-59 in non-league action.
With the start of sectionals less than a month away, the reigning Class AA champions looked the part Monday night.
"It feels great," senior center Connor Zamiara said.  "We're putting it together right at the perfect time."
The Jesuit Knights closed the first half on a 17-5 run to take a lead they did not surrender and pushed their advantage to double digits early in the fourth quarter.
Less than a month ago, this same team struggled  to put away arch rival Aquinas. In that contest, the Jesuit Knights opened an early double-digit lead. They stretched the advantage to 20 in the first quarter and then held off a late Aquinas push.
Monday night, McQuaid matched BK's early run before taking over the game in the second half.
"We have a lot of returners, but we have guys in different roles," said head coach Jack Leasure. "We are starting to understand how to play with high IQ in situations. Sometimes that takes a little while to learn. Today was a positive step in that direction."
As it has been for most of the season, the bulk of McQuaid's scoring came from Kobe Long and Jermaine Taggart. The junior guards, averaging a combined 45 points per game, scored 20 and 29 respectively in the win. Those points, though, come as the result of an offense which has found its stride.
Jermaine Taggart connects on the baseline jumper pic.twitter.com/0jemOlZf5C

— Paul Gotham (@PickinSplinters) January 29, 2019

"Both of them are very talented scorers," Leasure stated. "Their teammates know that. What they're starting to do better is play with a little more patience and let things develop. Trust everybody and the shots become easier. We're doing a better job of not settling for tough shots."
With Long and Taggart forcing the defense to focus on them, Harry Bruu and Zamiara picked their spots. Bruu scoring a dozen and the 6-foot-6 Zamaira adding 10 points from the paint.
Kobe Long extends the lead to 12 with a drive and scoop. 5:10 to go @McQuaidBball 64 Kearney 52 pic.twitter.com/JWq5Yr24ls

— Paul Gotham (@PickinSplinters) January 29, 2019

"We know they're both great scorers," Zamiara said of his teammates. "We trust it. Our offense promotes that. We all have trust in each other.  We're all just going to keep giving them the ball. They're going to keep knocking down shots."
Trailing 20-14 after the first eight minutes of play, McQuaid switched to a 3-2 zone. The adjustment took Kearney out of its early rhythm.
"In the first quarter, our defense was not there," Bruu said. "That was one of our points of emphasis this year is our first quarter defense. Today, we did not do that. In the second third and fourth quarters we had to maintain our focus and make sure that we locked down on defense."
Taggart gave McQuaid its first lead of the game with a step-back jumper to make it 31-30 with two remaining in the first half. Long followed with a 3-pointer from the top of the key. Michael Maloney found Rueben Daniel for two of his seven points on the night.
Kidtrell Blocker gave Kearney a spark when he closed the first half the same way he opened the second: with a 3-pointer. But by the end of the third, McQuaid led by seven. Three possessions into the fourth stanza, they pushed the advantage to double digits.
Kidtrell Blocker connects at buzzer, but @McQuaidBball closes the half on a 17-5 run to take a 40-34 lead over @KearneyBoys into the locker room. pic.twitter.com/6ymEUKCgfY

— Paul Gotham (@PickinSplinters) January 29, 2019

"We just had to focus on coming out strong in the third quarter and making sure that the lead didn't slip away," Bruu said. "This team has a lot of energy. When we get a run that fuels our energy."
Long finished with eight assists for McQuaid. Zamiara hauled in 13 rebounds. Taggart and Bruu snared eight caroms apiece.
BK's Miles Monchecourt scored 10 of his game-high 30 points in the first quarter. The junior scored six straight to give the Kings their largest lead of the game at 18-10.
Miles Monchecourt finishes in the lane @KearneyBoys 27 @McQuaidBball 21 4:44 to go in the half pic.twitter.com/zX9JMw1vc2

— Paul Gotham (@PickinSplinters) January 29, 2019

Michael Gentile added seven points for Kearney. Blocker had 20. Antwan Williams chipped in with two points.
McQuaid improved to 11-3 with the win. Last time out they knocked off East, 68-65.The Jesuit Knights host Class A1 contender Irondequoit on Wednesday and rival Fairport on Saturday.
Kearney fell to 6-10.