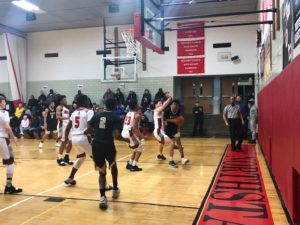 By PAUL GOTHAM
ROCHESTER, N.Y. — For a fleeting moment Thursday night it appeared that Northstar Christian's undefeated season had met its end.
The Buffalo East Panthers (VI) scored on six of seven possessions to take a seven-point lead with 58.2 seconds remaining in the third quarter.
From there, the Knights needed less than five minutes of game time to turn deficit into a double-digit advantage and keep their unbeaten streak alive.
"Going into the season coach said we have to be mentally strong," Northstar guard and Section V's all-time leading scorer Miles Brown said after the 85-69 win. "Going into any situation just go through it strong, keep your head up. That's what's what we did tonight. They got a little run going. We just kept our head high, went out and fought a good battle and pushed it all the way to the end."
Brown scored eight straight and 11 overall during a decisive 21-3 run.
"Being aggressive," said Brown who finished with 42 points on the night. "I just got to get my shot going early. That's what I was looking for the whole game, that pull-up jump shot. I got it going."
Brown's sixth 3-pointer of the night gave Northstar (13-0) a lead it did not surrender at 61-58 and forced a Buffalo East timeout with 6:03 remaining in the game.
Miles Brown 3 pic.twitter.com/Ckq7ZVHcZh

— Paul Gotham (@PickinSplinters) January 18, 2019
"We constantly say it all the time" 'guys we're going to face adversity on the court,'" Northstar head coach JJ Garwood said. "You've been here before. You got to respond positively, and they always do."
Four possessions later, Ryan Garwood drilled a 3-pointer from the left corner that prompted a fist pump from his dad and head coach.
"I'm not afraid to admit it," the elder Garwood said. "Sometimes I go dad mode and get a little proud."
Northstar (No. 11 NYSSWA Class A) led 72-61 with 4:27 remaining in the game.
"That was pretty cool to see my dad that hyped up after I made a three," the younger Garwood commented. "Sometimes he does it. He doesn't really do it that much because he doesn't want to over hype his son and stuff."
The play represented Northstar's ability to respond to a challenge. Garwood's shot was Northstar's third on the possession as the relentless Knights were not to be denied.
"They got a lot of height on their team," Brown said. "We are a lacking a little bit of height. We just had to get rebounds. We executed the game plan going into second half."
"I always tell our guys we're going to hit our average," the elder Garwood explained. "We're going to shoot our average, so the offensive rebounds we get are extra shots. It gives us extra points. Offensive rebounds usually add one point to our score. Those things are huge."
Danny Carter scored six of his team-high 25 points to pace Buffalo East (No. 14 NYSSWA Class C) in the third quarter. David Hughes hit a baseline jump hook to give the Panthers a 50-48. Hughes then gave Dontaye Miller an inside-out feed for a 3-pointer. Carter led Kabah Kabah for a bucket and followed with a baseline drive. Carter capped the spurt converting one of two free throws for a 58-51 lead.
Danny Carter 3 pic.twitter.com/MPvb8GFtzk

— Paul Gotham (@PickinSplinters) January 18, 2019

Miller finished with 16 for Buffalo East, the reigning NYSPHSSA Class D champion. Jaiden Green had 13. Hughes added 11.
Miles Brown's twin brother, Mike, started the decisive rally with a second-chance 3-pointer late in the third quarter. Miles Brown scored on the first possession of the fourth cutting the deficit to two. Khalil Iverson converted a rebound and putback to knot the game at 58.
Mike Brown takes advantage of a second chance to connect from long range, but @NCA1972 trails Buffalo East 58-54 heading to the 4th. pic.twitter.com/JUllatCwJp

— Paul Gotham (@PickinSplinters) January 18, 2019

"You got to fight," Garwood said of his team's comeback. "You've got to control what you can control.  You can always control your attitude and effort. You don't control the bounce. You don't control the whistle, but you can control your attitude and effort. Those things helped us overcome adversity."
Brown grabbed seven rebounds and handed out four assists. The senior guard moved into fifth place on the New York State career scoring list with 2,681 points. Former NBA veteran Sebastian Telfair sits in fourth with 2,785 points.
Mike Brown collected nine points, six assists and five rebounds. Iverson corralled nine caroms. Sean Smith had eight points.
Ryan Garwood's dagger from the corner was his fifth triple of the night, part of a season-high 22 point performance.
"He's still the second-best shooter in the house," said a smiling JJ Garwood who holds the New York State record for 3-point accuracy at 43 percent (232-for-539).
"Don't listen to him," the younger Garwood responded.