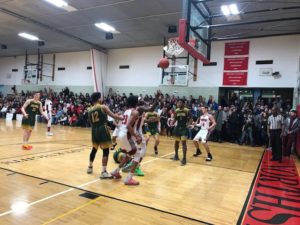 By PAUL GOTHAM
ROCHESTER, N.Y. — As far as JJ Garwood sees it, there is no coincidence that his Northstar Christian Knights play C.G. Finney at the midway point and end of each season. Garwood's counterpart, Joe Marchand, is responsible for Private-Parochial League scheduling and the two teams challenge each other.
"Whether Joe will admit it or not, he does the league scheduling, and he schedules us at home midseason, at his place late season," Garwood said after his Knights downed Finney, 95-81, Friday night. "That's fine with me because I know we're going to get battle-tested. I know it's going to be a great game. I love it. I think he might admit, but that's how he does the scheduling, and I think it's terrific."
Northstar (No. 13 NYSSWA Class A) grabbed the lead early and did not surrender it.
"We told our kids one more stop a quarter, one more basket a quarter and we win the game," Marchand said. "I was very pleased with how we played. Letting up 12 threes in the first half hurt us. We switched our defense and held them to 37 (points) in the second half, so we learned a little bit about ourselves for the next go around."
Miles Brown paced a Northstar offense which connected on a season-high 20 3-pointers. Section V's all-time leading scorer poured in 17 straight points to end the first half as the Knights took a 59-43 lead into the locker room.
"It's not the first or even the second or third time I've seen him do that," Garwood said of Brown. "Look at (recent game) Aquinas. He scored 12 points in four possessions."
Brown connected five times behind the 3-point arc and finished with 38 points.  The 6-foot-1 guard scored six late in the third quarter when Northstar pulled away from Finney.
Leading 62-56, twin brother Mike Brown connected on one of his five triples on the night. Sean Smith followed with a rebound and putback. Miles Brown converted a steal and layup. Smith hit for three. Miles Brown grabbed an offensive board and scored and followed with another steal and layup.
In six minutes, Northstar turned what was nearly a one-possession game into a 17-point advantage.
"I told the guys 'we need three straight stops,'" Garwood noted. "We needed to do that three times in the third quarter. I know when we get three straight stops, that's going to translate into a four-to-eight-point run for us. When we do those things, we continue to build leads. That's what helped us balloon that lead rather quickly."
The loss snapped a nine-game Finney (No. 6 NYSSWA Class C) winning streak.
"You have to capitalize off their mistakes and you have to limit your own mistakes,"Marchand stated. "We told the kids 'go home and think about the mistakes you made. There are five of you. If each one of you made one mistake on defense that cost two points and one mistake on offense there's 20 points.' There are a lot of ways for us to make up some of these points. They (Northstar) can say the same thing. We just got to hope they don't get better by the next time we play them."
Markus Robinson paced four Falcons in double digits with 32 points. The eighth-grader connected 15 times from the floor – 14 of those inside the 3-point arc.
"You got to respect the drive," Garwood said of the Finney star."Let's get beat with the pull-up jumper because I know he can finish at the rim. He got his because he's a great player. We prevented enough of those dribble drives and made him shoot a couple shots from the outside that he maybe wasn't in a good rhythm with. At least we got the stops we needed when we needed them."
Keegan Occor added 18 points for Finney. Caleb Anger had 16, and Xavier Smith chipped in with 12. Josh Taylor rounded out the scoring for Finney with a 3-pointer.
"Not the result we wanted," Marchand stated. "But something we can walk away with and say how do we get four points better a quarter."
Mike Brown finished with 15 points, eight assists and five rebounds for Northstar. Sean Smith connected six times from long range and finished with 24 points, five rebounds and four assists. Ryan Garwood added 14 points, five rebounds and four assists. Garwood had four treys. Josh Pickett grabbed nine rebounds.
Miles Brown corralled 11 rebounds for the double-double. He dished out eight assists and had four steals. Brown connected on 11-of-20 shots from the floor including 5-of-10 from behind the 3-point arc. Section V's all-time leading scorer has 2,620 career points moving him into eighth on New York State's all-time list. He is one point behind former NBA great Kenny Anderson.
Northstar and Finney meet again on February 8th.
Fordham University assistant coach Mike DePaoli was on hand to watch the game. Brown has received scholarship offers from Stony Brook University and Central Arkansas. Fordham will play St. Bonaventure at Rochester's Blue Cross Arena, Saturday afternoon. A 4:30 PM tip time is scheduled.
A buzz was created on social media when a 6-foot-9 player/transfer dressed in street clothes came out with Northstar and sat on the Knights bench during the game.