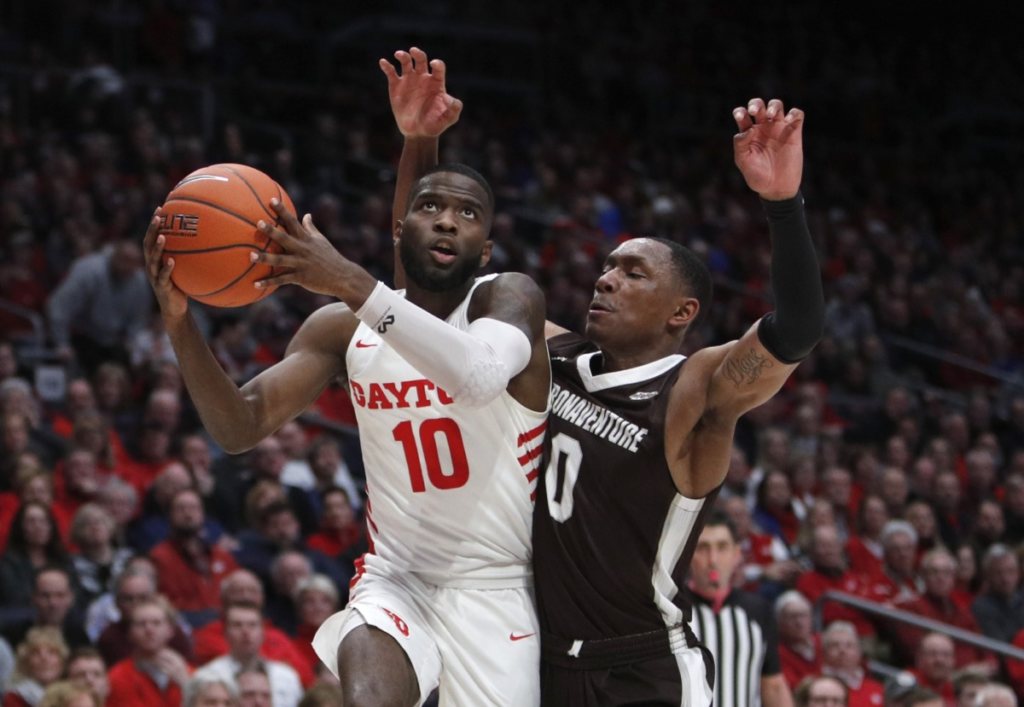 By CHUCKIE MAGGIO
St. Bonaventure's disruptive big man was relegated to the bench in sweatpants, the Bonnies missing their trump card for a second straight Saturday afternoon due to concussion symptoms. Still, the Bonnies, backed by an exuberant Reilly Center crowd, went toe-to-toe with the Rhode Island Rams.
Kyle Lofton maneuvered his way past Jeff Dowtin, exploded through the lane and got his shot over Fatts Russell and Jacob Toppin. Russell countered by using a Cyril Langevine ball screen to shake Lofton and launch a fadeaway three-pointer at the top of the key, contorting his 5-foot-10 frame to drill five three-pointers as part of a 29-point afternoon.
The six-point final margin was proof that even Osun Osunniyi is an exception to the Atlantic 10's rule. A dominant big man is valuable, but an elite point guard is requisite to winning the next league championship, whenever play begins again. If you have a star at the point, you have a chance in most contests.
Contenders like Bonaventure, Rhody, Saint Louis, Richmond, Dayton and Duquesne each have generals at the point. Even more impressively, all six followed guards who were among their team's leading scorers.
Which point guard is the A-10's best? Ranking the conference's special six:
1. Jalen Crutcher, Dayton. It remains to be seen how Crutcher performs as the Flyers' go-to guy without upcoming NBA lottery pick Obi Toppin in tow, but the Memphis native was a model point guard before Toppin's storybook season.
Crutcher has 470 career assists, leading the Atlantic 10 over the last three seasons. He ranks second in the conference over that span in three-pointers (194) and sixth in minutes played (3,177). He registered six 20-point games in conference play alone last season and shot over 50 percent nine times against league foes.
Ask Saint Louis about Crutcher's late-game prowess. He is not only the best guard entering the 2020-21(?) season, he can stake a formidable claim to top player superlatives.
2. Kyle Lofton, St. Bonaventure. Lofton probably doesn't receive enough credit in this space for assuming the starting role from graduating Atlantic 10 Player of the Year Jaylen Adams and proceeding to lead the Bonnies to 37 victories and an A-10 Tournament final in his first two seasons.
Lofton led the A-10 in assists last year on the eighth-best offense. He became the first A-10 player to play 38 minutes a game while averaging 10 points and five helpers since former Xavier standout Tu Holloway. And he's already 55th on St. Bonaventure's all-time scoring list, 37 points away from the top 50 with two full seasons of eligibility remaining.
Bonaventure coach Mark Schmidt will only add to Lofton's responsibilities, but the Hillside, N.J. native has shown that no task is too monumental; only four Division I players have logged more total minutes over the last two seasons than his 2,461.
3. Jordan Goodwin, Saint Louis. The "big guard" of the group didn't come to Saint Louis as a point guard but quickly assumed a ball handling role. The 6-foot-3, 200-pound Goodwin made First Team All-Atlantic 10 last season after double-double averages of 15.5 points and 10.4 rebounds and also dished three assists a night.
Goodwin's rebounding capability (only player 6-foot-3 or under who ranked in the top 100 in the NCAA in rebounds per game) masks his passing ability. The Illinoisan has 323 assists through three seasons, 47 away from tying Darryl Lenard for sixth in school history.
Barring unforeseen circumstances, and there are plenty these days, Goodwin will also break Anthony Bonner's SLU steals record with his 11th steal once play resumes. His quick hands and superior rebounding ability landed him on the A-10's 2020 All-Defensive Team.
Goodwin is proof that you don't need to be a prototypical point guard to be one of the league's best. The Billikens, who pride themselves on physical play and stingy defense, value his all-around game greatly.
4. Jacob Gilyard, Richmond. The reigning A-10 Defensive Player of the Year may have a legitimate beef here. Nos. 3a and 3b?
Gilyard led Division I with 3.2 steals per game last season, finished 10th in the nation in assist-to-turnover ratio and compiled 178 assists. He played 36.6 minutes a game and shot almost 37 percent from three-point range, too.
Though not as extreme as Dayton's, the Spiders' "What If?" March scenario has played in their heads all offseason. Gilyard, a 5-foot-9, 160-pounder from Kansas City, recorded 10 assists and six steals at Duquesne in Richmond's regular season finale and was primed for a stellar A-10 Tournament with the Spiders on the bubble.
Gilyard's case is also improved by two of his best scoring games of 2019-20 occurring against high-level opponents: 29 points against Dayton and 21 points at Alabama.
5. Fatts Russell, Rhode Island. Russell shot 150 more times than Crutcher last year but still managed to collect 138 assists while averaging a shade under 19 points a contest.
The Rams go as their slender point guard goes, winning 12 of 15 games when Russell scored 20 or more points last season. He earned All-Atlantic 10 First Team and A-10 All Defense Team honors last season, swiping nearly three steals an outing.
Russell figures to benefit from the immediate eligibility of Makhi and Makhel Mitchell, twin transfers from Maryland, and Syracuse transfer Jalen Carey in his quest to bookend his career with NCAA Tournament appearances.
6. Sincere Carry, Duquesne. Carry, balanced at the point, averaged 12.2 points and 5.3 assists last season. The consistent rising junior scored 705 points, recorded 319 assists, corralled 219 rebounds and swiped 94 steals in his first two seasons.
Though his three-point shooting leaves some to be desired (he made 45 of his 134 deep attempts last season), Carry scored at least 15 points in 11 contests last year. A double-double against St. Bonaventure was among his best games of the season, though he reached the 20-point plateau against George Mason, Dayton (away) and UMass (away) during conference play.
How Carry received just one D-I offer out of high school despite being ranked the No. 70 point guard in his class remains a mystery. After originally committing to Division II West Liberty University, he and coach Keith Dambrot found each other.
There aren't many better coach-player combinations in the A-10.