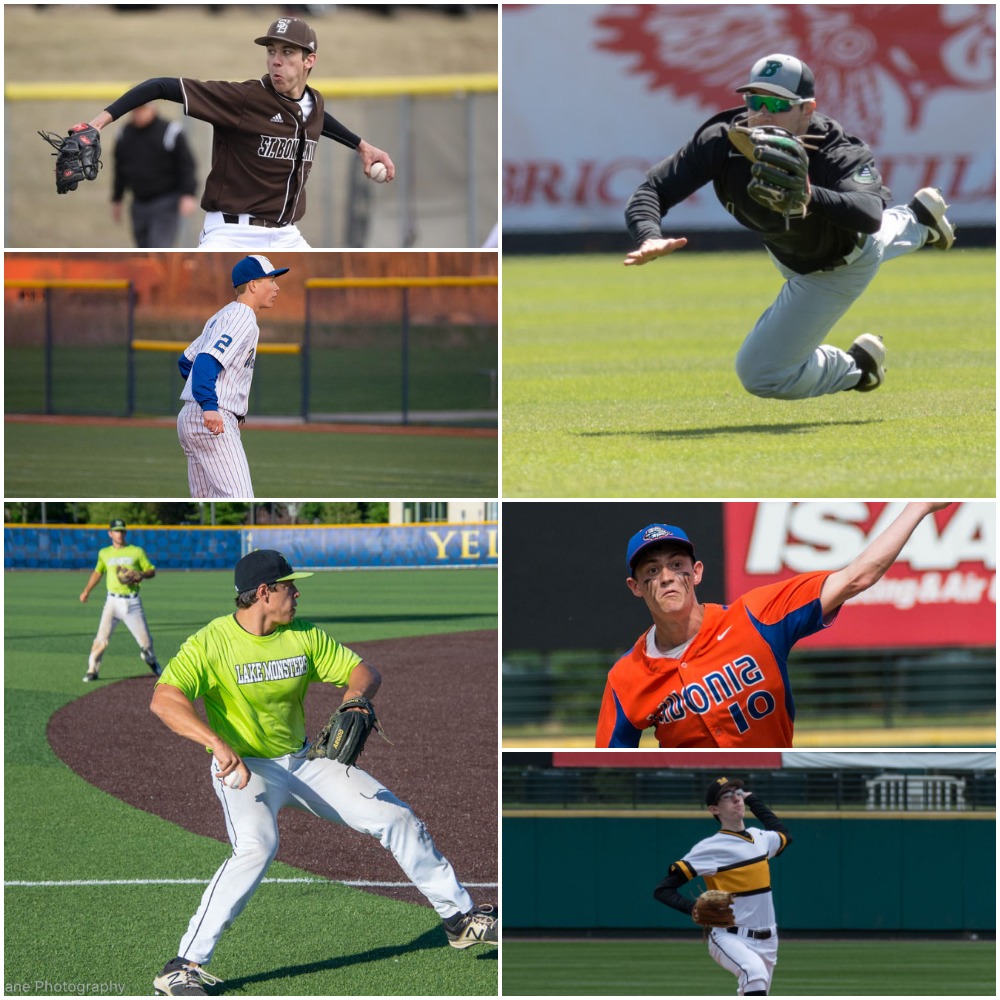 By BILLY HEYEN
The Major League Baseball First-Year Player Draft takes place on Wednesday and Thursday. In a standard year, the draft might've taken on a heavy upstate New York flavor. Much more is uncertain due to the COVID-19 pandemic, though, as the draft has been reduced from 40 rounds to five that will total 160 selections.
There is still a chance one or two upstate prospects are taken in the five rounds, most likely on the second day of the draft. And teams can sign an unlimited number of undrafted players, so a few former area stars could at least be offered contracts (although with a maximum bonus of $20,000, many players could choose to return to a reboot of this season's collegiate eligibility). 
The draft will be broadcast on ESPN and MLB Network both days, starting at 7 p.m. Wednesday and 5 p.m. Thursday. Below is a guide to what Section V baseball fans should expect heading into the draft.
Read more: Rochester baseball history through the MLB Draft
Draftable upstate New York targets
Jason Savacool, RHP, Baldwinsville HS
Savacool is a bonus for this list out of Section III's Baldwinsville, but he's also the most likely player outside of the New York City-area to be drafted from New York in 2020. He's committed to Maryland (where he'd team with Newark product Ben Cowles if Savacool isn't drafted or doesn't sign). The tall right-hander throws a fastball in the low-to-mid 90s and has a workable three-pitch mix, according to Fangraphs.
Fangraphs and MLB Pipeline both rank Savacool just outside their top-150, meaning he'll be right on the edge of being picked or not in the five-round draft. 
Savacool isn't a total stranger to some followers of Section V baseball. In 2018, he ended Victor's season in the state semifinal. In 2019, Savacool started for Baldwinsville against McQuaid in a game the Bees pulled out on a walk-off. 
Max Troiani, OF, Bentley University (Pittsford Mendon)
Troiani made a name for himself in last summer's Cape Cod League, the premier summer baseball competition for collegiate players. Scouts roam the Cape all summer looking for the next big thing, and Troiani earned a league all-star nod competing against the best in college baseball.
Bentley's status as a Division II school and Troiani's lack of standout power and sure position leaves him likely on the outside looking in. But Fangraphs mentions him as a college hitter to watch outside of its top-223 players, noting that the "young senior from D2 school showed contact skills on the Cape."
If Troiani isn't drafted, he's likely to be offered a contract by more than one MLB club. The NCAA's eligibility ruling on the pandemic would allow Troiani to return and play one more season at Bentley, if he preferred. 
Troiani hopes to get into finance whenever his baseball career ends, but as he told Pickin' Splinters last year, he'll chase the baseball dream while it's there. 

Other notables eligible to sign
Any player eligible for this year's draft who goes undrafted can be offered a contract by MLB teams after the five rounds are complete. Eligible players include high school seniors, four-year college juniors and seniors, and Junior College players of any year. That means a large number of former Section V players are technically eligible. This is a non-comprehensive list of some of the players most likely to catch a team's eye and be offered a contract.
Like mentioned above, the maximum $20,000 signing bonus available to undrafted players this season could lead most or all of these names to return to school regardless of their opportunities to try and work their way up in what should be a (somewhat) more normal draft in 2021. 
Shane Marshall, OF, Binghamton (Webster Schroeder)
In a regular draft, Marshall's mix of power, speed and glove would've set him up as a surefire pick. He has a case to be grouped with Savacool and Troiani, but draft predictors don't list Marshall, so he leads off the names in this second section. As a sophomore at Binghamton in 2019, Marshall hit .376, and he homered in four consecutive games during the Bearcats' conference tournament.
Much as with Greg Cullen at Niagara during his junior year, Marshall likely would've attracted scouts upstate in his first draft-eligible spring. The early ending to the season likely limited his chance to make a full impression. If the scouts were watching,  Marshall hit .333 and stole five bases before the season was canceled. 
Earlier this spring, Pickin' Splinters reported that more than a dozen scouts have reached to Marshall about the upcoming draft.
Erik Johnson, LHP, Niagara County Community College (McQuaid)
Johnson was offered a free agent contract by the San Diego Padres after his freshman season at NCCC, he told Pickin' Splinters earlier this spring. That makes it obvious that the lanky southpaw is on major league radars. 
It's likely Johnson wouldn't have proven much more in his sophomore year with the Thunderwolves, having already been dominant as a freshman. His choice now will come down to attending Coastal Carolina and proving himself against Division I competition or taking a potential contract offer when it's unlikely a minor league season will be played.

Mitchell Henshaw, C, St. John's (Brockport)
Henshaw started 11 of St. John's 12 games in the shortened 2020 season. A year ago, he hit .284 with three home runs for the Red Storm. Prior to that, he dominated at Potomac State College for two seasons.
Both last season and this, Henshaw split time between catcher and designated hitter for St. John's. His prospects of getting a contract offer might come down to how teams view him defensively behind the dish. 
Reid VanScoter, LHP, Coastal Carolina (Livonia)
VanScoter's likeliest draft future includes being selected a year or two down the line. He threw only one game for Binghamton in 2019 before missing the rest of the season with injury. He had yet to return before this season was canceled.
MLB teams looking at VanScoter's southpaw upside could only look at his dominant high school numbers and his 24 strikeouts in 30 innings as a Binghamton freshman in 2018.
Donnie Moffat, LHP, St. Bonaventure (McQuaid)  
Not the hardest thrower, Moffat was St. Bonaventure's most successful pitcher as a junior, compiling a 2.58 ERA and allowing opposing hitters to hit just .224. At a lanky 6-foot-2, teams could dream on adding strength and velocity to Moffat's already-effective lefty arsenal.
The other question mark with Moffat, a high-school starter, is whether he can be more than a reliever in pro ball after rarely starting for the Bonnies. Even with a three-batter minimum implemented at the major-league level this year, professional clubs can't get enough of effective southpaws. 
Brain Linton, RHP, Johns Hopkins (Geneseo)
A power arm out of the Division III Blue Jays' bullpen, Linton likely needed at least a full season to prove to MLB teams that his stuff could play at a higher level. He began his college career as a hitter before transitioning to the mound during his freshman year, though, which hints at untapped upside.
Another season (or two) for Linton in which he carves up lower-level competition might be enough to get him a look.
Justin Graham, SS, St. John Fisher (Webster Schroeder)
Graham has combined high-end glove work with a high-average bat to make himself one of Division III's best players for four years. He's never hit lower than .345 in a season with the Cardinals. 
Unlike Linton, Graham has been a standout for multiple years, long enough to catch MLB scouts' eyes if they're looking his way. Graham, a lefty swinger, could deserve a shot to prove he can cut it against higher-end talent. 
Most recent Rochester-area MLB Draft picks
2019
Tanner Cooper, RHP, FLCC (Canandaigua) – 35th round by Cincinnati
2018
Adam Scott, LHP, Wofford (Canandaigua) – 4th round by Cleveland
Greg Cullen, IF, Niagara (McQuaid) – 15th round by Atlanta
Victor Cavalieri, LHP, Houghton (Northstar) – 36th round by Atlanta
See all of the Rochester area's MLB Draft picks here
2020 MLB Draft Order
Detroit Tigers
Baltimore Orioles
Miami Marlins
Kansas City Royals
Toronto Blue Jays
Seattle Mariners
Pittsburgh Pirates
San Diego Padres
Colorado Rockies
Los Angeles Angels
Chicago White Sox
Cincinnati Reds
San Francisco Giants
Texas Rangers
Philadelphia Phillies
Chicago Cubs
Boston Red Sox
Arizona Diamondbacks
New York Mets
Milwaukee Brewers
St. Louis Cardinals
Washington Nationals
Cleveland Indians
Tampa Bay Rays
Atlanta Braves
Oakland A's
Minnesota Twins
New York Yankees
Los Angeles Dodgers
The Houston Astros forfeited their first-round pick as punishment for their sign-stealing scandal.