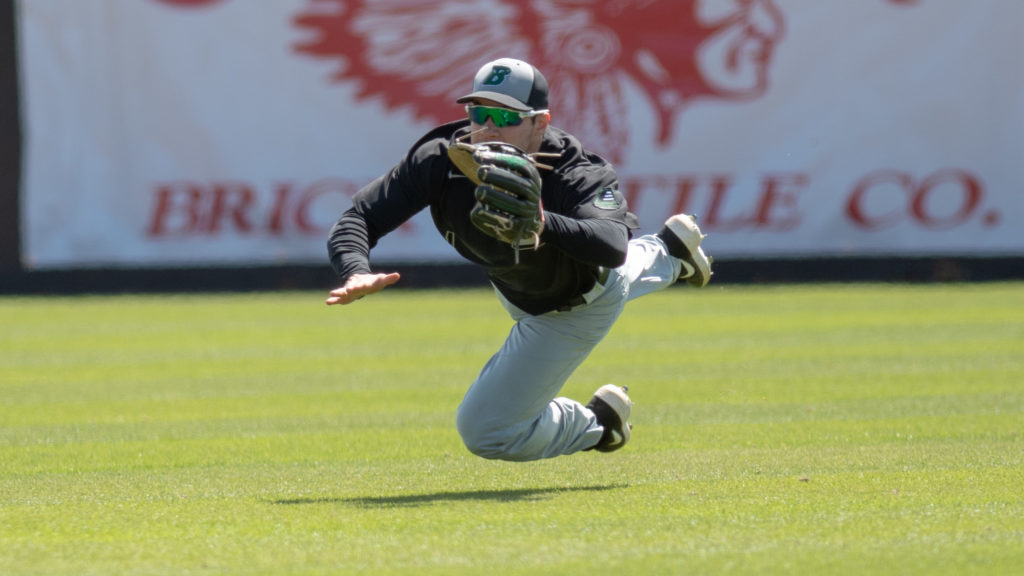 By PAUL GOTHAM
The 2020 college baseball season offered great promise for Shane Marshall and the Binghamton University Bearcats. Picked as the America East preseason favorite, Binghamton looked to add to their combination of 10 regular season and championship titles over the past 13 years.
Entering his junior year, the now draft-eligible Marshall had the opportunity to continue showcasing his abilities for Major League Baseball franchises in hopes of being selected in the annual draft.
Binghamton's season along with the rest of the sports world came to a grinding stop in mid-March. Since then MLB and the Major League Baseball Players' Association have been negotiating terms of the draft which may include reducing the number of rounds from 40 to 5.
Don't expect Marshall to spend his time contemplating misfortune, though. The former Webster Schroeder Warrior is looking ahead and keeping his choices in mind.
An all-conference performer as a sophomore, Marshall led the America East in hitting (.376), finished second in slugging (.584) and was sixth with an on-base percentage of .423. He reached base in 40 of 42 games and his 1.55 hits per game ranked 23rd in the nation. He hit .455 and drove in 20 runs in the final 20 games.
"His explosiveness I think is probably the best way I can describe that separation (between Shane and other players)," 28th-year Binghamton head coach Tim Sinicky said by phone earlier this week. "There's an explosiveness when the ball comes off the bat. There's an explosiveness when he breaks out of the box and he's running to first base. He explodes around the bases when a ball's in the gap."
Marshall capped the 2019 season hitting .571 (12-for-21) in five America East tournament games. The 6-foot centerfielder connected on home runs in four straight contests including one round tripper in an 18-4 win over UAlbany, a game in which Marshall finished 2-for-4 with a walk, three RBI and two runs scored.
"He's a super, fast-twitch guy, very dangerous," Albany coach Jon Mueller said. "You want to keep him off the bases, but he's also a guy that can cause some serious problems with his power.
"He creates a lot of problems when you are trying to game plan for him. He's got good plate discipline, but he's so naturally explosive with his whole game. He runs. He hits. He hits for power. He's become more selective as he's gotten older."
His performance in 2019 came as no surprise after Marshall collected 25 hits in 22 starts as a freshman including a combined eight hits in the first four games of his collegiate career.
"He's been a little freakish athletically since the day he stepped foot on campus," Sinicky added. "That was evident in the weight room when he first got on campus. It's not just his baseball skills; it's his athleticism that really speaks to why he is that way."
Marshall credits Zane Scott for his work in the weight room. The two met at PCX in Webster while Marshall was in high school.
"He really got me to think about fast-twitch muscles and being very explosive."
A first-team All-State selection as a junior when he was part of a Schroeder squad which advanced to the state finals, Marshall closed his high school career hitting safely in 27 consecutive games.
"Hitting is very reactionary. You have a split-second and you have to be explosive to be able to see the ball for a longer period of time and still get the barrel on the ball. Me and him worked on that in high school. Once I got to college obviously, the strength and conditioning coaches there were on the same page. I still talk to Zane about his philosophy."
Part of his emphasis in college has been to harness that explosiveness.
"Sometimes, I get a little too aggressive; I'm just swinging out of my shoes," he admitted. "I got to tone it down in different scenarios."
He has also transferred his athleticism to the field where he committed just one error last season in 108 chances while roaming centerfield.
"He's run down some balls that I thought had no chance of being caught," Sinicky said. "You just try to take that explosiveness and make it efficient and make it where it becomes the ability to utilize that gift that he has. There are a lot of guys that can be explosive but it doesn't really become a factor in their game. He's been able to use that explosiveness and get it under control to become the player that he has."
Major League teams have taken note with representatives from more than a dozen franchises contacting Marshall about the upcoming draft.
Scouts from Pittsburgh, San Diego and Toronto have reached out to Matt Dryer to get his feedback on Marshall.
"Shane is a throwback, hard-nosed, tough ballplayer," said Dryer, a two-time MLB draft pick and owner of Diamond Pro the local indoor facility where Marshall has trained since high school. "That along with tremendous athletic ability gives him the key ingredients to flourish at the next level."
Marshall, though, is in no rush to make a decision.
"For my baseball career, I want to play as long as possible and get as far as possible," said Marshall a member of the Benchmarks: All-Decade Team. "I do look at Binghamton as a place with a lot of people that I know and good coaching that I really like. To me, I'll see what happens, what plays out and then make a decision once everything is on the table."
The 2020 MLB draft is scheduled to be held in June.