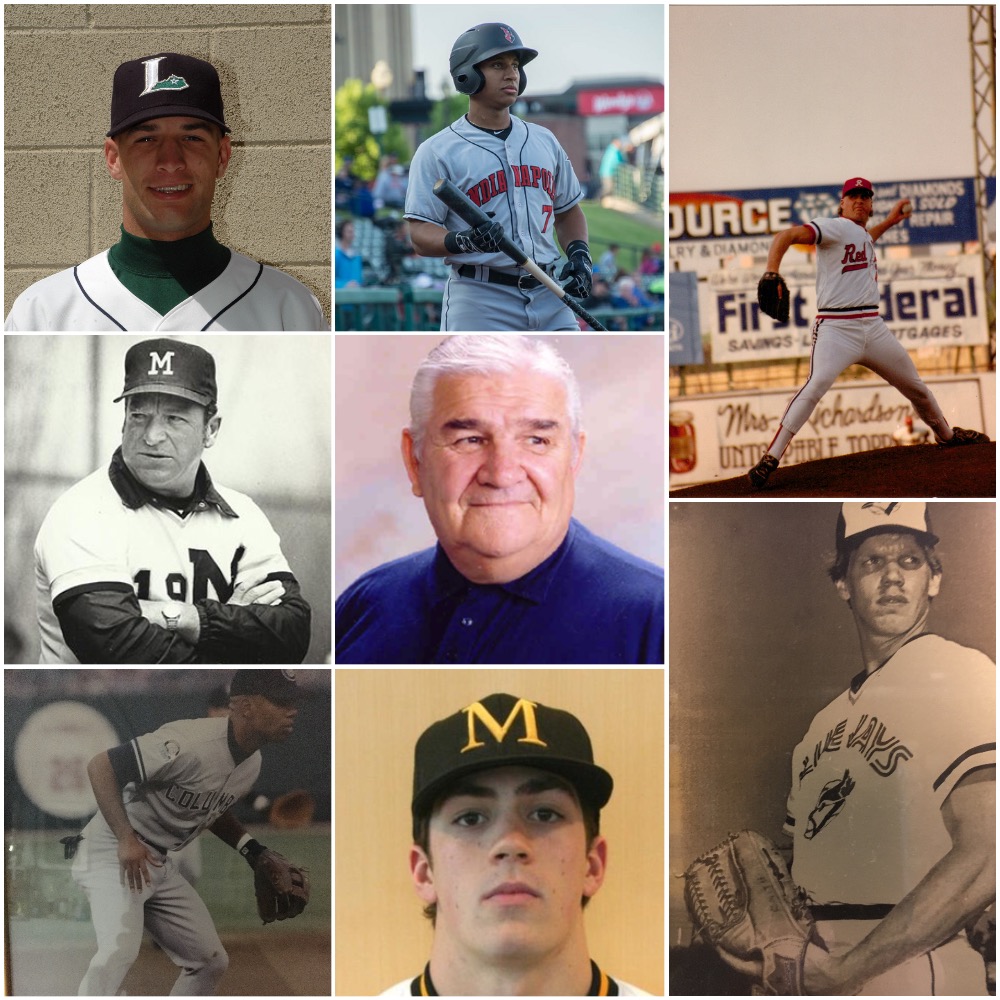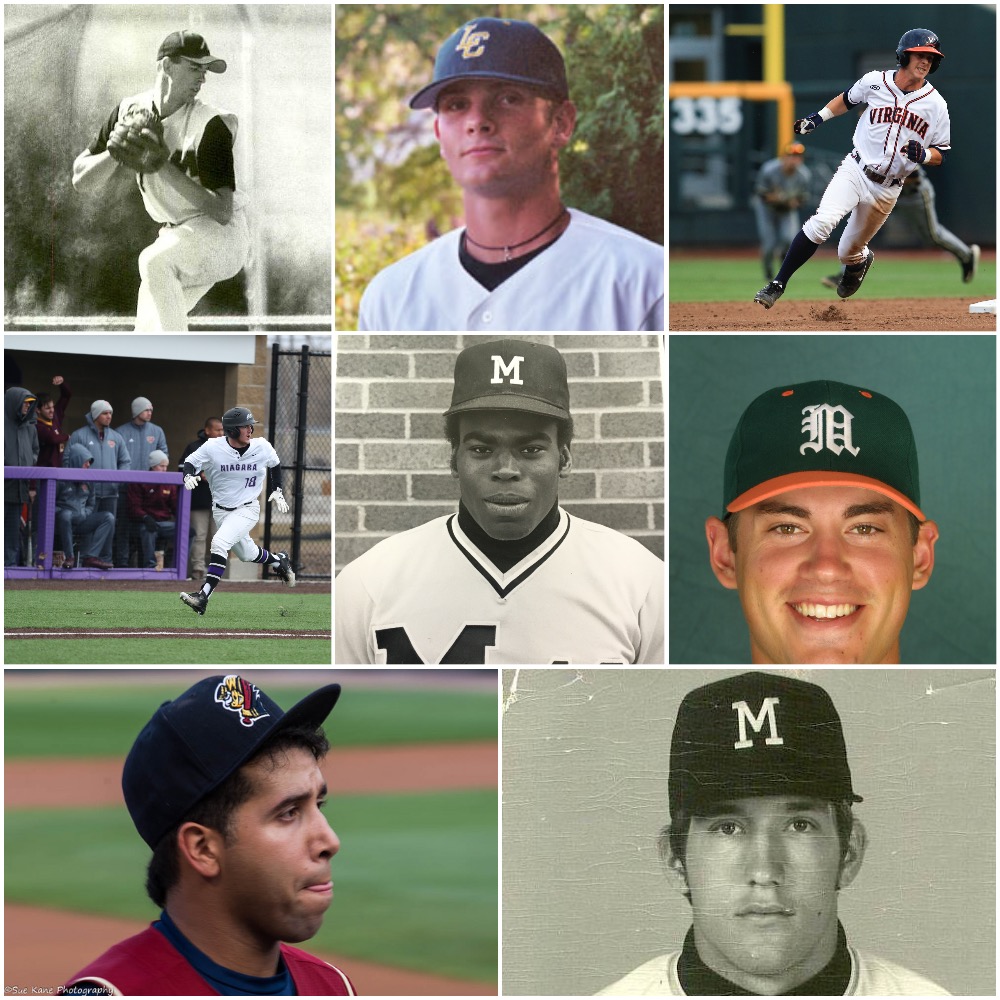 Note: Readers are encouraged to comment with any names that they believe should appear in the chart but are missing. This list represents players drafted and/or signed since the MLB Draft began in 1965.
Read: The Red Wings, Nietopski and Chamberlain: Rochester baseball history through the MLB Draft
*Players denoted with an asterisk attended college in the Rochester area but not high school.
| | | | | |
| --- | --- | --- | --- | --- |
| Name | Year | HS/College | MLB team | Round |
| Stevie Branche | 2020 | RIT | Cincinnati | Free Agent |
| Tanner Cooper | 2019 | FLCC (Canandaigua) | Cincinnati | 35 |
| Adam Scott | 2018 | Wofford (Canandaigua) | Cleveland | 4 |
| Greg Cullen | 2018 | Niagara (McQuaid) | Atlanta | 15 |
| Victor Cavalieri | 2018 | Houghton (Northstar) | Atlanta | 36 |
| Cody Eckerson | 2018 | Niagara (Pal-Mac) | Atlanta | Free Agent |
| Ernie Clement | 2017 | Virginia (Brighton) | Cleveland | 4 |
| Logan Harasta | 2017 | Buffalo (Webster Thomas) | San Francisco | 7 |
| *John Ghyzel | 2017 | U of R | Cincinnati | 18 |
| *Will Gorman | 2017 | RIT | Arizona | 32 |
| Conner Simonetti | 2016 | Kent State (Fairport) | Washington | 13 |
| *Marc Iseneker | 2016 | St. John Fisher | Texas | 28 |
| *Matt Brooks | 2016 | MCC | Marlins | 35 |
| Matt Portland | 2015 | Northwestern (Victor) | KC | 17 |
| Danny Mendick | 2015 | UMass-Lowell (Mendon) | CHW | 22 |
| Steven Klimek | 2015 | St. Bonaventure (Arcadia) | Baltimore | 33 |
| Jordan Schwartz | 2014 | Niagara (Hornell) | Oakland | 4 |
| Grant Heyman | 2014 | Southern Nevada (Sutherland) | Arizona | 8 |
| Conner Simonetti | 2013 | Fairport | Cincinnati | 35 |
| Ryan Fennell | 2012 | Pittsford Sutherland | Cincinnati | Free Agent |
| Grant Heyman | 2012 | Pittsford Sutherland | Toronto | 11 |
| Trey Pascazi | 2012 | East Rochester | Toronto | 23 |
| Brian Dupra | 2011 | Notre Dame (Athena) | Washington | 7 |
| *John Polonius | 2011 | Genesee Community College | Cleveland | 30 |
| Jon Schwind | 2011 | Marist (Hilton) | Pittsburgh | 41 |
| *Andre Kinder | 2011 | Peru State (Albion) | Philadelphia | 42 |
| Chris Bostick | 2011 | Aquinas | Oakland | 44 |
| Cito Culver | 2010 | Irondequoit | NYY | 1 |
| Brian Dupra | 2010 | Notre Dame (Athena) | Detroit | 11 |
| *Cory Brownsten | 2010 | MCC/Pittsburgh (Lockport) | Atlanta | 15 |
| *Dan Jurik | 2010 | St. John Fisher | Atlanta | 25 |
| Yimy Rodriguez | 2010 | Peru State (Arcadia) | LAD | 27 |
| Dusty Odenbach | 2009 | Connecticut (McQuaid) | Kansas City | 8 |
| Matthew Tone | 2009 | Cortland (Irondequoit) | Minnesota | 14 |
| Christian Segar | 2009 | McQuaid | CHC | 49 |
| *Christopher Page | 2009 | Genesee Community College (Batavia) | Cincinnati | 50 |
| Bryan Gardner | 2008 | Ithaca (Fairport) | Cincinnati | 34 |
| Patrick Urckfitz | 2008 | MCC (Penfield) | Houston | Free agent |
| Andy Parrino | 2007 | LeMoyne (Brockport) | San Diego | 26 |
| Paul Nardozzi | 2007 | Pittsburgh (Victor) | Detroit | 31 |
| Brian Dupra | 2007 | Greece Athena | Texas | 36 |
| Kevin Miller | 2004 | Bucknell (Greece Olympia) | Pittsburgh | 26 |
| Rick Guarno | 2003 | Arkansas-Little Rock (Bishop Kearney) | Colorado | 4 |
| Matt Dryer | 2002 | Miami (FL) (McQuaid) | San Francisco | 15 |
| Casey Saucke | 2000 | Churchville-Chili | Baltimore | Free agent |
| *Rich Terwilliger | 1998 | FLCC | Houston | 18 |
| Matt Dryer | 1998 | McQuaid | San Francisco | 35 |
| Brian Ridley | 1998 | Waterloo | Houston | |
| Pete Selden | 1998 | MCC/UB (Holley) | Florida | 45 |
| Tim Redding | 1997 | MCC (Churchville) | Houston | 20 |
| Pete Selden | 1997 | Holley | CHC | 39 |
| *Aaron Bouie | 1996 | Albion | Tampa Bay | 33 |
| *Ryan Fuller | 1995 | MCC (Corning) | CHC | 60 |
| Joe Valenti | 1994 | Mendon | Houston | 32 |
| James Sapp | 1994 | MCC (Geneva) | Houston | 90 |
| Justin Smith | 1994 | Villanova (Mendon) | Philadelphia | Free Agent |
| *Greg Keagle | 1993 | Florida International/MCC (Horseheads) | San Diego | 6 |
| James Sapp | 1993 | Geneva | Houston | 49 |
| R.D. Long | 1992 | Houston (Webster) | NYY | 38 |
| Cory Mee | 1992 | Notre Dame (Hilton) | LA Dodgers | Free Agent |
| Pete Agostinelli | 1992 | MCC/USC-Sumter (Brockport) | Philadelphia | Free Agent |
| Stuart Downing | 1991 | Fairport | Cincinnati | 52 |
| Dante Reid | 1989 | Geneva | Toronto | 17 |
| *Brian Fry | 1989 | MCC (Medina) | Cincinnati | 32 |
| R.D. Long | 1989 | Webster | Cleveland | 48 |
| Brad West | 1989 | Dansville | Houston | 57 |
| Rich Smith | 1989 | Maryland (Irondequoit) | Baltimore | |
| Dave Brust | 1989 | Maryland/ MCC/Ball State (Cardinal Mooney) | Atlanta | Free agent |
| Tim Riemer | 1989 | MCC (Lyndonville) | Cleveland | Free Agent |
| Terry Jones | 1988 | MCC | Toronto | 23 |
| Bob Hurlbutt | 1988 | MCC (Wayne) | Houston | 31 |
| Rick Czajkowski | 1988 | Bath-Haverling | Houston | 40 |
| Rick Slomkowski | 1988 | Fairport | Baltimore | Free Agent |
| Dave Allen | 1987 | Greece Athena | Philadelphia | 9 |
| Scott Wallman | 1987 | Sutherland | Baltimore | 33 |
| *George Hildreth | 1987 | MCC | Baltimore | 44 |
| *Thomas Draper | 1986 (Jan.) | MCC (Medina) | Cleveland | 10 |
| Dave Dasch | 1986 | Ithaca College (Cardinal Mooney) | Minnesota | 15 |
| Robin Riemer | 1986 | MCC (Lyndonville) | San Francisco | 33 |
| Dave Dasch | 1985 | Ithaca College (Cardinal Mooney) | Montreal | 21 |
| Fred Ludwig | 1985 | Penfield | Baltimore | 29 |
| Dan Kelly | 1985 | LeMoyne (Bishop Kearney) | Baltimore | Free Agent |
| *Ralph Backes | 1983 (Jan.) | MCC | Cleveland | 6 |
| Peter Palermo | 1983 (Jan.) | MCC (McQuaid) | San Francisco | 7 |
| *Mickey Street | 1983 | RIT | Cleveland | 10 |
| Dave Butters | 1982 | Sutherland | Minnesota | 10 |
| Mike Fennell | 1982 | LeMoyne (Fairport) | New York Yankees | 11 |
| Terry Marks | 1982 | Southern California/MCC (Aquinas) | San Franciscio | Free Agent |
| *Michael Weiermiller | 1981 | UofR | Minnesota | 14 |
| *Jeff Hall | 1980 | RIT | Boston | 4 |
| Paul Goeggelman | 1980 | University of Colorado/MCC (Marshall/Charlotte) | | Free Agent |
| Dennie Taft | 1980 | MCC (Fairport) | San Francisco | Free Agent |
| Michael Giedlin | 1979 | Alfred-Almond | Pittsburgh | 43 |
| Eddie Lee | 1979 | MCC/ Southern Alabama (Madison) | Boston | 18 |
| *Bill Harmatuk | 1978 | MCC (Corcoran) | | Free Agent |
| *Darryl Bailey | 1977 (Jan.) | MCC (Medina) | Milwaukee | 1 |
| Kevin Knuth | 1977 (Jan.) | MCC (Aquinas) | Cincinnati | 4 |
| Mike Jones | 1977 | Sutherland | Kansas City | 1 |
| Ken Lelek | 1976 | MCC (Aquinas) | Chicago Cubs | 4 |
| Ken Lelek | 1976 (Jan.) | MCC (Aquinas) | Pittsburgh | 3 |
| James Johnson | 1976 (Jan.) | MCC (Canandaigua) | Cleveland | 11 |
| Ted French | 1976 | Waterloo | Kansas City | 13 |
| Thomas Dimino | 1976 | MCC (Marshall) | Cincinnati | 17 |
| Ken Lelek | 1975 (Jan.) | MCC (Aquinas) | Montreal | 1 |
| *Kevin Newby | 1975 (Jan.) | MCC (West Genesee) | Montreal | |
| *Scott Makela | 1975 | RIT | Houston | 10 |
| David Smith | 1975 | MCC (Greece Arcadia) | Milwaukee/ | Free agent |
| John Pilato | 1974 (Jan.) | MCC (Gates-Chili) | Pittsburgh | 4 |
| Robert Harold | 1974 (Jan.) | MCC (Franklin) | Pittsburgh | 5 |
| Scott Delgatti | 1974 | MCC (Cardinal Mooney) | NYY | |
| James Del Re | 1974 (Jan.) | MCC (Pittsford) | Pittsburgh | 6 |
| *Randy Law | 1974 (Jan.) | MCC (Kenmore West) | Pittsburgh | 10 |
| Bill Muoio | 1973 (Jan.) | MCC (East High) | Pittsburgh | 11 |
| Charles Steffen | 1973 (Jan.) | MCC (Jefferson) | NYM | 5 |
| James Mitchell | 1973 | Cardinal Mooney | LAD | 14 |
| Alan Dreschler | 1972 (Jan.) | MCC (Greece Athena) | Pittsburgh | 7 |
| Charles Steffen | 1972 | MCC (Jefferson) | NYM | 39 |
| *Tim Pierce | 1971 | MCC (Albion) | Pittsburgh | 7 |
| Gary Junge | 1971 | Clarkson (Rush-Henrietta) | CHC | Free Agent |
| *Anthony Glassman | 1971 (Jan.) | U of R | San Diego | 2 |
| Bob Sekel | 1971 (Jan.) | Spencerport | Pittsburgh | 5 |
| Pete Castle | 1970 | MCC (Cardinal Mooney) | Pittsburgh | 9 |
| John Main | 1969 | Lyons | NYM | 22 |
| Doug Farrell | 1969 | Cardinal Mooney | NYM | 23 |
| John Waffle | 1969 | Cardinal Mooney | Pittsburgh | 46 |
| Warren Bacon | 1969 | RIT (Canandaigua) | San Diego | Free agent |
| Robert Hubbard | 1968 | Spencerport | Angels | 15 |
| Gary Conboy | 1968 | GCC | Pittsburgh | 25 |
| Paul DeVaney | 1967 (Jan., sec.) | Rochester Business Institute | LAD | 5 |
| Barry Sheldon | 1967 | Batavia | NYM | 7 |
| Billy DeMars | 1967 | Irondequoit | Baltimore | 23 |
| John Bachman | 1967 | Edison Tech | NYM | 37 |
| Stephen Reid | 1966 | DeSales | Cleveland | 8 |
| Daniel McNulty | 1966 | Waterloo | Cleveland | 9 |
| Terry Murphy | 1966 | Cardinal Mooney | St. Louis | 13 |
| Paul DeVaney | 1966 | DeSales | Angels | 14 |
| John Smith | 1966 | Irondequoit | NYM | 38 |