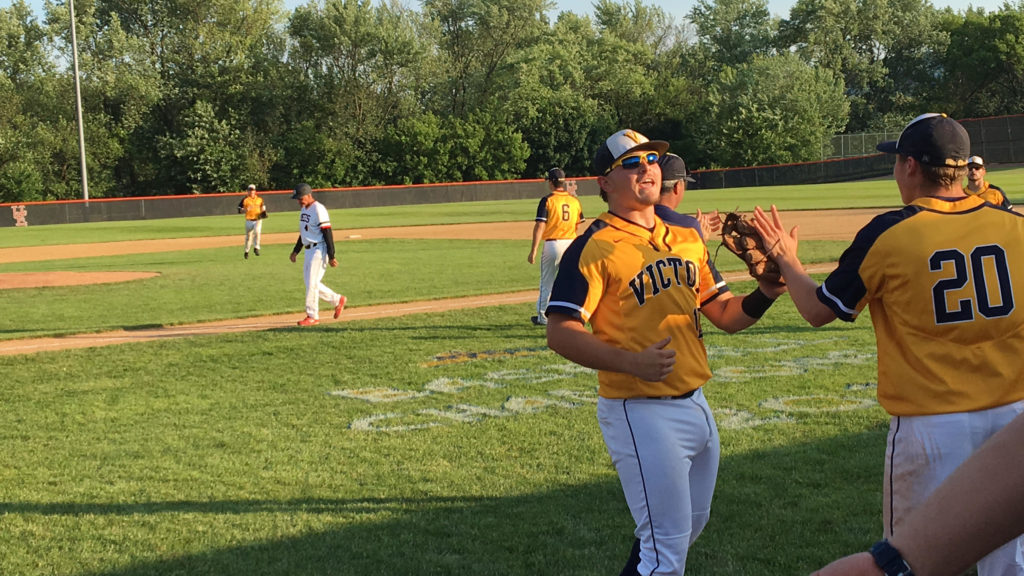 By BILLY HEYEN
ENDICOTT, N.Y. — For all intents and purposes, Friday's fourth inning ended Victor's season. The Blue Devils gave up five runs and used four different pitchers to get three outs. They needed to make up those five runs with just nine outs left against a pitcher with what Victor first baseman Chris Varone called a "lively" fastball and good slider and curveball.
The hole, for a Victor team that head coach Sean Rucker said "hung in a lot of close ballgames," was too much this time.
"It happens, you lose, it's baseball," Varone said.
Victor was able to make up two of the five-run deficit. But by the final out, Baker of Section III had knocked out the Blue Devils, 7-4, to move on to the New York state Class AA final. Victor scratched and clawed against one of the state's top pitchers, sophomore Jason Savacool, to put up what multiple Blue Devils thought after the game was the most runs he's allowed all year. But in the end, on the penultimate day of the New York high school baseball season, Victor came up just a bit short.
"We had a great season," Rucker said. "I know it hurts, and if it doesn't, the season really didn't mean much to you. And I tell you what, this season really did mean a lot to these guys. They pulled the rope the same way. They hung in for each other."
After Victor won the sectional final on May 26, Rucker compared his team to a yellow school bus. The Blue Devils showed up everyday with a consistent destination in mind. He said that destination was a sectional title.
Last season had ended prematurely for Victor. After spotting themselves a big lead against McQuaid in the sectional semis, the Blue Devils let the Knights stage a big comeback, knock them out and had to watch from the sidelines as McQuaid went on to take the sectional crown.
This season, it was Victor's turn to avenge defeat. When the Blue Devils arrived at Frontier Field for the Section V Class AA final, McQuaid awaited in the third-base dugout. But this time it was Victor celebrating when Chris Varone walked to walk-off the game and the sectional title.
This is what Rucker said that day: "I always have the big picture in mind as far as where we're going, as far as destination, and we got there today."
When the Blue Devils knocked off Lancaster, 3-1, in the Far West Regional the following week, Victor shortstop Santino Rosso felt like it was a bonus. He'd have one more week to practice with his teammates. He'd have one more week of this high school baseball season.
Whether Victor won Friday or not, there wouldn't have been any more practices. There would have been a game at 1 p.m. Saturday, a game that Baker gets to play in instead of the Blue Devils.
Victor made uncharacteristic mistakes on Friday evening. The Blue Devils committed multiple errors, including one that led to Baker's first run. A bad hop made one grounder too tough to handle for Victor second baseman Ryan Lukas in the five-run Bees' fourth.
Then, there were the squeeze bunts. Victor has gained a reputation for the suicide squeeze. But two went awry on Friday. The first came with the bases loaded and none out in the second. Owen Delforte, before singling up the middle to score a run, missed on a squeeze bunt and Baker's infield was able to tag the runner from third out. The next batter went for the squeeze again, missed, but somehow the rundown was butchered by the Bees so Victor got a run anyway.
It was that kind of day for the Blue Devils. Andrew Westbrook had started Victor's sectional final win and Far West Regional win. But between a bad hop and a loss of control, he couldn't make it through the fourth on Friday.
"Our defense wasn't as good today," Westbrook said. "Fell behind in some counts, forced me to throw fastballs right down the middle."
Baker just took the lead 3-2 on this hit. Westbrook's day is done. Brandon Meeks on to relieve him. Bottom four, two on two out for the Bees with the top of the order up. @PickinSplinters @PBRNewYork pic.twitter.com/jXmv2XxTPS

— Billy Heyen (@Wheyen3) June 8, 2018
Four runs wasn't anything to sneeze at against Savacool, but the Blue Devils struck out 12 times, including twice in the first after Santino Rosso led off with a triple before eventually being stranded on third. It wasn't meant to be Victor's day.
But as for the season, Varone felt his senior send-off would be remembered. After all, the Victor school bus had reached the destination it set out for at the beginning of the season, even if it came up a bit short of its new one.
"The brotherhood of it," Varone said of what he'd remember. "All of us, we bonded together throughout the year. We won sectionals. Obviously everyone is gonna remember that. It's a great feeling. Obviously my last one, my last feeling, my last ride. It was an awesome year for all of us and I'm proud of everyone."