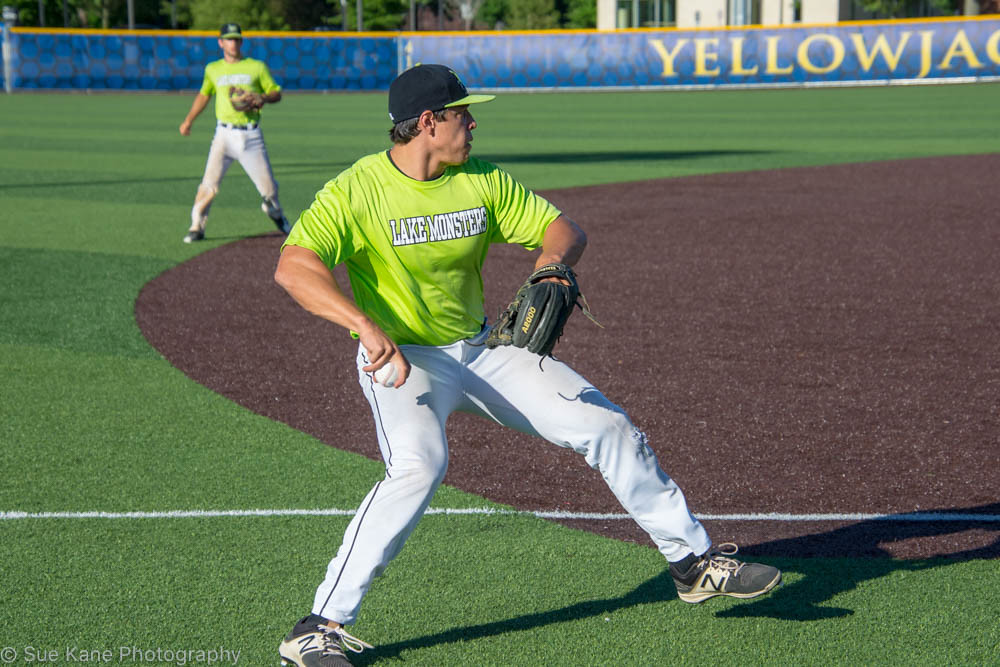 By PAUL GOTHAM
Max Troiani spent the summer of 2018 interning for RDG+Partners during the day and playing baseball for the Lake Monsters of the Interstate Collegiate Baseball League at night.
Earlier this week Troiani, now a centerfielder for the Orleans Firebirds of the Cape Cod Baseball League, spent the afternoon completing a written test for the Los Angeles Dodgers.
The change of scenery has suited him well.
The former Pittsford Mendon star, who earned a temporary spot with Orleans, currently ranks among the top 20 hitters in one of the nation's premier collegiate summer leagues.
"If you told me a year ago I'd be hitting around .300 in the Cape League, I'd say you're absolutely nuts," Troiani commented by phone. "No, I didn't think this was going to be possible or even that I would have the opportunity to do it. I'm just grateful for it moving forward."
Safe to say the temporary tag has been lifted.
WE HAVE OFFICIALLY SEEN IT ALL! Max Troiani (@BentleyFalcons) is a popular man and is even willing to sign feet! pic.twitter.com/Cn3UHwKJEx

— Orleans Firebirds (@FirebirdsCCBL) July 3, 2019
"When opportunity and performance meet, it's a good moment," he stated. "It took courage for someone to take a chance on me and say 'hey he's going to be competitive in this environment.' I could have made a lot of people look silly."
Instead of making others look silly, Troiani collected five hits in his first nine at-bats of the summer. He later put together a stretch of five multi-hit performances in nine games. Against some of the top collegiate pitchers in the country, Troiani is hitting .299 with eight RBI and 11 walks for an on-base percentage of .382.
VIEW MORE SUE KANE PHOTOS HERE. 
"One of the things that a lot of guys from DII and DII don't understand is you're just getting max five to eight miles an hour more on the fastball," said Troiani who plays his college ball with Bentley University in the Northeast 10. "That just means you have to be quicker with your swing. That's something I'm doing."
Troiani earned second team All-State his senior year at Mendon. A two-time All-County performer, he was named Monroe County Division II Player of the Year in 2016.
"His athleticism and speed for a kid his size it's pretty remarkable," Vikings coach Jeff Amoroso said of his former player. "I'm not surprised by his success right now. Max is the best hitter I've ever coached."
Named the NCBWA National Player of the Week in late April, the 6-foot, 210-pound centerfielder homered five times in three games that week for the Bentley Falcons. He finished the week hitting 7-for-13 with eight RBI and five runs scored. He had 23 total bases.


"I told the coach at Bentley 'you're going to have this kid walk in your door that is different than the rest because of his combination of speed, size, athleticism and his ability to hit the baseball,'" Amoroso said recalling his conversation with head coach Bob DeFelice. "Max has a really unique combination of skills that you don't see every day."
Troiani originally planned to spend his summer as intern with an investment banking firm in Boston.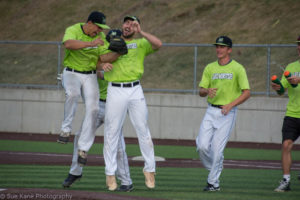 "I said 'Max if they like you in finance now, don't you think they're going to love you in finance in two years, or three years or four years when you get done chasing this dream?'" said Amoroso recalling a recent phone conversation with Troiani. "All you're showing is this incredible drive to chase your goals. Your baseball window, as with all athletes, is small. The finance world is not going anywhere."
New York Yankees scout Matt Hyde recommended Troiani to Orleans coach Kelly Nicholson. The Firebirds offered Troiani a two-week contract intended to help the squad fill out its roster while the College World Series took place. Troiani proved his worth.
Now he lives with a host family on Cape Cod and is walking distance from the beach. During the day, Troiani completes personality tests as part of scouting routines for MLB teams. At night, he plays in front of crowds numbering in the thousands on fields where current major leaguers Ryan Braun, Dallas Keuchel and Josh Donaldson, among others, once played.
Older brother Zach summed it up best in a text message after seeing his kid brother playing among the best in the nation.
"Dude I just wanted to say that was one of the coolest baseball environments that I've ever been in."