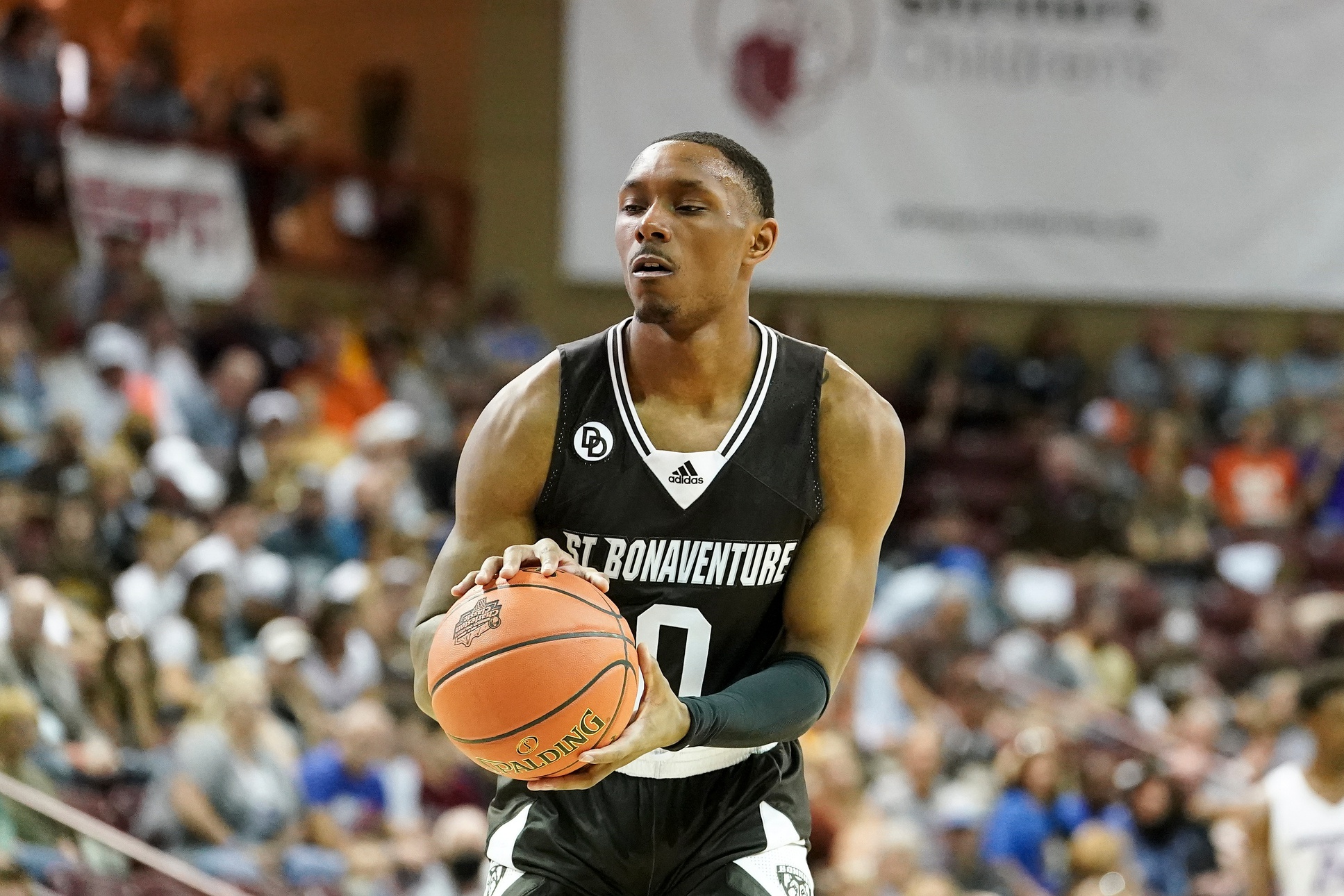 By CHUCKIE MAGGIO
You could have devised a script where Kyle Lofton redeemed himself for two late misses during the Atlantic 10 Tournament quarterfinal game by sinking two winning foul shots a week and a half later in the National Invitation Tournament. Hollywood's directors would send your work to the trash bin.
Too cheesy of a plot twist after St. Bonaventure's chances of making the NCAA Tournament abruptly ended the same way. Too Disney-esque, especially in a third consecutive power-conference road game.
Lofton, who admitted to crying in his room after the loss to Saint Louis in Washington, D.C., seized his second chance. The senior point guard converted both at the line, while prep school classmate Osun Osunniyi swatted Virginia guard Kihei Clark's layup attempt at the other end to seal the victory.
Bona defeated the Cavaliers 52-51 in Charlottesville, Va.'s John Paul Jones Arena. The Bonnies advanced to the NIT semifinal round at Madison Square Garden, where they will meet Xavier next Tuesday.
"If you told me that we were gonna be here (after games at Colorado, Oklahoma and Virginia), going to Madison Square Garden, I would've thought you were a fool," Bonnies coach Mark Schmidt candidly remarked. "But our guys played exceptionally well. That's a heck of a team, and I thought we guarded just as well as they did. It was a rock fight; we got down by five, 50-45, and didn't give up."
SBU held Tony Bennett's team to just 17 first-half points and finished the game much the same way, preventing the home squad from making a field goal over the last 2:59. The Bonnies erased a five-point Virginia lead during that span on the strength of Jaren Holmes making a pair of free throws and Dominick Welch drilling an off-balance 3-pointer to cut the deficit to one, followed by Lofton's heroics and Osunniyi defending his two-time A-10 Defensive Player of the Year status.
Schmidt's team won just its second game when shooting under 40 percent this season, previously 1-5 in that scenario. The 52-point output is its lowest in a victory this year. Bona made just three of its 15 3-pointers, but all nine of its free throws. Virginia, by comparison, went 6-of-8 from the line.
No individual Bonnie tallied more than 10 points but, much like the 2021 A-10 title, they triumphed with defense. UVA had lost just once in its previous nine games when the opponent recorded 52 points or fewer.
"We come into the timeouts and they're always like, 'Hey, we need stops. We need stops,'" Schmidt said. "We knew this game was gonna be like this. There's not a lot of possessions in the game. It was gonna be a rock fight, and we needed to be tough. They were gonna make some shots but we've gotta buckle down and we did that. And we finished."
Virginia made seven of its first 10 field goal attempts in the second half, as well as two free throws, to score as many points as it had all first period in a little over six minutes. Jayden Gardner and Kadin Shedrick produced 14 of those points, while Armaan Franklin hit a 3-point jumper.
Franklin, who temporarily left the game in the first half, led all scorers with 17 points on 5-of-11 3-point shooting. Shedrick recorded eight points, making three of his four attempts from the floor. The Cavaliers assisted on 13 of their 20 baskets.
The Cavaliers asserted themselves on the glass over the final 20 minutes, outrebounding the Bonnies 20-11 and scoring eight second chance points. When Franklin hit a 3-pointer off a Welch turnover to push Virginia back in front by five points with 2:59 remaining, his second straight trey, ESPN set UVA's win probability at 81.2 percent.
"Usually when you play Virginia and you're down by five, it feels like you're down by 15," Schmidt acknowledged.
These Bonnies, however, welcome those tall odds. Holmes took a controversial charge to foul defensive stalwart Reece Beekman out with 1:38 remaining, while Gardner missed the front end of a one-and-one at the line that would have extended Virginia's lead to two points.
Lofton's free throws could only square the game at 52 had Gardner, who posted 14 points, sank just one at the stripe. The Hillside, N.J. native, who also passed Jaylen Adams for third all-time on the program's career assist list with his 591st, was thankful to get a second chance in the clutch.
"I prayed for it," Lofton said. "I said, 'If I'm in this position again, I'll hit 'em.' And then it happened. God is really real."
Each point, including Abdoul Karim Coulibaly's four in relief of a foul-tested Osunniyi, mattered in the defensive duel.
Bona won true road games over Pac-12, Big 12 and Atlantic Coast Conference teams to reach the NIT's Final Four for the first time since 1977. The Bonnies play a Big East team with a championship appearance on the line.
"We didn't play perfect, but we won because we were tough," Schmidt said. "That's what I'm proud of."