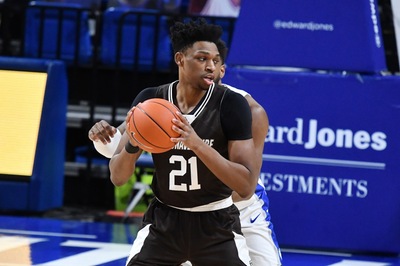 By CHUCKIE MAGGIO
St. Bonaventure's run looked familiar. The Bonnies, as they had against Virginia Commonwealth last month, erased a slow start against a formidable foe in swift fashion, shifting the momentum as they went.
Down as many as 13 points after just eight minutes played, Bona held the Saint Louis Billikens without a field goal for a nearly six-minute period to bring itself within five at the halftime break. The Bonnies' momentum continued into the second half, where they scored the first six points unanswered to take their first lead of the game.
SBU's momentum, however, was fleeting. The Bonnies made just seven field goals in the last 17:11, allowed five second half 3-pointers and held a 25-4 disadvantage in bench points. Javonte Perkins scored 21 points, 17 in the last 13:46, to lead the Billikens to a 70-59 victory at Chaifetz Arena.
The 8-3 Billikens snapped their two-game losing streak and gained an important win for their postseason resume. The Bonnies saw their league-best seven-game win streak come to an end, dropping to 9-2 overall and 7-2 in the Atlantic 10.
"That's a good team, and they were really desperate," Bonnies coach Mark Schmidt remarked to Olean Times Herald beat writer J.P. Butler. "We didn't play great. I thought we played hard, and we dealt with some adversity, and we fought back."
The Bonnies' early adversity surrounded a slow-developing offense that missed nine of its first 10 field goal attempts as well as Jaren Holmes's early foul trouble. Holmes was charged with three personal fouls in 6:24, planting him on the Bona bench for the rest of the first half.
Bona never trailed by a bigger margin than it did during the 20-7 start. Behind Lofton, who scored 11 first-half points and made three of his last four jump shots before the break, and an effective zone defense that held Hasahn French scoreless, the Bonnies ensured they would not be blown out again at Chaifetz.
Perkins responded by carrying the Billiken offense, making five of their nine second-half field goals. He hit four 3-pointers, two fewer than the entire Bona team, and was perfect on four foul shots in the last two minutes.
Perkins conducted a personal 7-0 run to stretch SLU's advantage to 10 points with 4:35 to play, a defining run for the game's outcome. The Bonnies persisted, as Holmes and Jalen Adaway hit 3-pointers late, but Saint Louis closed. The Billikens, for whom the free throw line is an annual trouble spot, made 11 of their 12 free throws in the second half and 13 of 18 overall.
"We turned the ball over too many times," Schmidt said. "We made some mistakes in our zone, and every time we made a mistake they made us pay. In terms of effort, we have to get better execution-wise but I thought the effort, down 17-4, for us to cut it to five at halftime and come out the second half and play well for that first three or four minutes, it gave us some hope."
Bona showed signs of fatigue late, especially as play ran continuously from the 15:45 mark of the second half until there was 9:17 remaining. Held to 36.4 percent shooting, the team failed to reach 60 points for the first time in the 2021 calendar year. The Bonnies also allowed 70 points for the first time since the season opener against Akron.
Schmidt refuted the notion that the Bonnies' lack of depth caught up to them as Billiken reserves Demarius Jacobs and Marten Linssen scored 11 points and eight points, respectively, to give SLU a lift. Jacobs, Linssen and Fred Thatch Jr. each played more than 10 minutes. Linssen even replaced French, who still recorded seven rebounds in 17 minutes despite not scoring, to avoid possible hack-a-Hasahn situations late.
"It was two players… It's not like they came off with eight new guys," Schmidt said. "Those two kids, (Jacobs and Linssen) were the difference."
Alejandro Vasquez, who replaced Holmes in the first, was the only Bona reserve to play over three minutes. Three Bona starters (Lofton with 17 points, Holmes with 12 and Adaway with 10) found double-figures, while Dominick Welch swished three 3-pointers and Osun Osunniyi had seven points, eight rebounds and five blocks.
The Bonnies remain first place in the A-10 and have a chance to start a new win streak at home on Wednesday against La Salle. Schmidt left Missouri knowing the Bonnies matched their rival's physicality, but didn't execute as well as Travis Ford's group.
"I knew our guys were gonna meet the challenge physically," Schmidt noted. "We just needed to play better; we need to execute better at both ends. But I thought 'Shoon did a terrific job inside, blocking shots and so forth, keeping the guys in front and so forth.
"It was the execution part of it. We've got some tough guys and it wasn't gonna be a toughness issue. It was gonna be more of an execution issue, and that's where we failed."