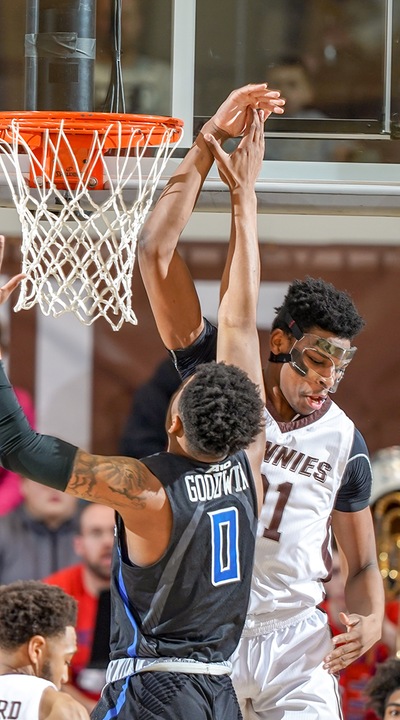 By CHUCKIE MAGGIO
Kyle Lofton doesn't need a refresher on what transpired the last time St. Bonaventure visited Chaifetz Arena.
"It wasn't even a game," Lofton remarked Thursday. "We talk about that stuff every day. We just look at it like, 'Alright, this is it. It's not gonna happen anymore.'"
That meeting last March 7 served as a play-in for the Atlantic 10 Tournament's last double-bye but, as Lofton recalled, was not the matchup it promised to be. The Billikens raced to a 25-10 lead over the first 11:28, baiting the Bonnies into a series of low-percentage or 3-point jump shots while sinking five early 3-pointers themselves. Travis Ford's group led wire-to-wire in a 72-49 thumping.
The Billikens were surging back then, carrying a four-game win streak into the regular season finale. The Bonnies were in flux, having dropped two of three as their hold on the top four slipped. That encounter has no bearing on Saturday's contest, as Bona coach Mark Schmidt made clear ("Teams that we beat last year, do they have extra incentive to play better because we beat them last year? Probably not," he said Friday), but the sides are in distinctly different positions.
Both teams are better than they were last March. Saint Louis was a trendy pick to win the league and started 7-1 before struggling after a month-long COVID-19 pause. The Billikens lost at home to Dayton last Tuesday, allowing Jalen Crutcher to score 27 points, then dropped Wednesday's visit to La Salle after being doubled up from behind the 3-point arc.
SLU's start to league play has raised questions about its NCAA Tournament candidacy, while NCAA.com's Andy Katz called the Bonnies the "new class of the A-10" earlier this week. A matchup that was already billed as a heavyweight fight before the midweek commotion may matter even more now.
"I need to push the right buttons," Ford told the St. Louis Post-Dispatch after Wednesday's loss. "I have to do a better job of putting these guys in a better position. Now we're just going through the motions while playing hard. We're just not making enough winning plays and an enormous amount of mistakes."
The Billikens generally win with physicality. They are 6-2 when they outrebound their opponent, 1-1 otherwise. They're also 0-2 when their opponent shoots better from the field, like La Salle did Wednesday.
Behind Jordan Goodwin, who is averaging a double-double at 6-foot-3, SLU is the 12th-best team in the country in rebounding margin. Goodwin and point guard Yuri Collins also power the Billikens to over eight steals a game, making SLU a threat to turn teams away before the ball even gets near two-time all-league post player Hasahn French.
French has averaged a double-double against three A-10 opponents: the Bonnies (10.6 points and 10 rebounds per contest), Fordham, and George Washington. The 6-foot-7, 240-pound forward scored 16 points and grabbed a league career-high 18 rebounds in last year's meeting, making seven of his 10 field goal attempts. He also blocked three shots and had a hand in Bona center Osun Osunniyi committing four personal fouls.
The Billikens have a guard ("or whatever he is, averaging a double-double," Schmidt said) who leads the conference in rebounding, along with a forward who performs like an undersized center. Javonte Perkins, a 6-foot-6 wing, leads the team in scoring and averaged 23 points before the Billikens went on pause. Gibson Jimerson went from bench contributor to regular starter and is SLU's best outside threat, knocking down 44 percent of his 3-pointers.
The Billikens are deep both inside and on the perimeter, but the Bonnies are first emphasizing the muscle test.
"We can't get bullied," Schmidt assessed. "We've gotta do a good job on the backboard. The guards have to go in and rebound, but second and third opportunities, that's what kills you from a defensive standpoint. So far we've done a decent job, but we haven't played anybody as physical as Saint Louis. I think Duquesne is right there, but it's a bully game. (The Billikens) try to get the ball to the paint, and they force double teams and they kick it out.
"And Goodwin is just a unique player… leading the league in rebounding, you expect that from big guys. So that's an important part of this thing, too; we've gotta keep him under control in terms of offensive rebounding. He's gonna get his defensive rebounds but we've gotta keep him off the offensive glass, and a lot of that has to do with dribble penetration and so forth."
St. Bonaventure is scheduled to appear in its fifth nationally-televised game of the season after being victorious in the first four. The national attention has been building since the Bonnies vaulted into first place in the Atlantic 10 with a Friday night victory over Duquesne last month.
The attention, though, can be fleeting. Perception, as has been the case with Saint Louis, can quickly turn both nationally and intraconference. The light dims, fairly or unfairly, with a loss in Missouri.
"I think me and the guys, we see that one of the big keys is staying humble, not getting big-headed about it," Lofton said. "We know where we've been the last couple years and then we know how we got here, what got us here: hard work, not listening to the noise. Just continuing to work, day in and day out.
"I think we've gotta continue to do that, whether we're first or last in the conference."