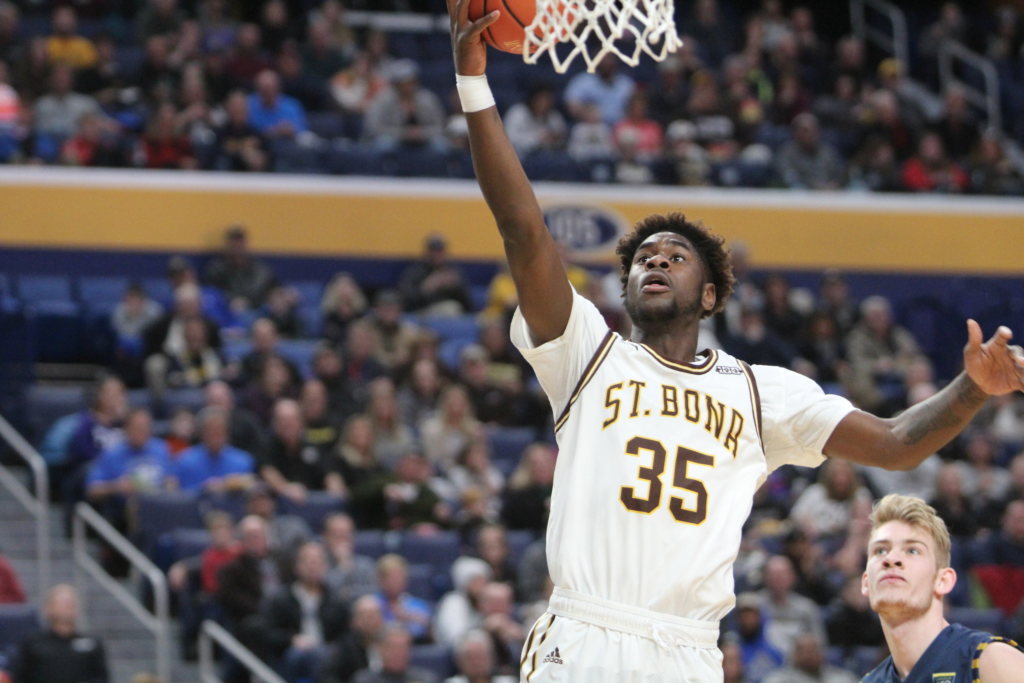 By CHUCKIE MAGGIO
To prepare myself for the first edition of Bonnies Mailbag in over a year, I went to the archives and evaluated my performance on the last version, from June 2019.
I predicted the Bonnies to finish fourth in the conference for the second consecutive season, viewing the final double-bye in the Atlantic 10 Tournament as a Bona-Rhode Island battle with VCU, Davidson and Dayton in the top three slots. Bobby Planutis was going to be a sharpshooting stretch four, while Robert Carpenter and Matt Johnson would be among the first three players off Mark Schmidt's bench.
Bonaventure was a victory away from securing that No. 4 seed, succumbing to a Saint Louis team that exceeded expectations. But Davidson and VCU disappointed, while Dayton was invincible and Richmond, a preseason NCAA afterthought, finished three games ahead of Bona. Planutis, Carpenter and Johnson all transferred after one year in a Bona uniform. And who saw a worldwide pandemic canceling March Madness?
In the words of Hall of Fame broadcaster Chris Berman, "That's why they play the games."
With this in mind, you had questions about the Bonnies and I did my best to answer them.
Q: Does Anthony Roberts's waiver from the NCAA mean he's going to start?
A: I'm not sold on Roberts's immediate eligibility changing the starting five. The Bonnies featured the same lineup in 10 of the final 11 games of 2019-20, the lone exception being Amadi Ikpeze's start on Senior Night.
Kyle Lofton, Dominick Welch, Jaren Holmes (formerly English), Justin Winston and Osun Osunniyi started 16 games together and the Bonnies went 11-5 in those games; they were 8-7 with any other combination.
The three starting guards also happened to be the team's three leading scorers and minute-loggers last season. Winston is four inches taller than Roberts and had the third best Player Efficiency Rating (PER) on the team.
SBU wouldn't have recruited Roberts, let alone pushed the NCAA for a waiver, if the coaching staff didn't believe he could be an important piece. But there's little reason not to run it back with the all-returnee lineup.
Q: What returning player do you expect to make the biggest leap from last year?
A: Winston was on the cusp (41 total points shy) of giving Bona a fifth double-digit scorer last year. No longer in a timeshare with Planutis, Winston will play more than 20 minutes per game and could realistically jump from 8.7 points per contest to the 10-12 range.
Q: Any update on recruiting? Have not heard anything.
A: St. Bonaventure currently has one open scholarship for the 2020-21 and 2021-22 seasons, the result of a nine-man(!) junior class. The Bonnies have open offers to seven 2021 recruits according to Verbal Commits. The positional breakdown: one point guard, two shooting guards, two small forwards, one power forward and one center.
Four of the players SBU offered call New York State home, while two are playing at Bona pipeline prep school Putnam Science Academy this season. Prospective shooting guard Bryce Harris happens to be from Brentwood, N.Y. and attend Putnam.
Q: With a huge senior class in 2022, has Schmidt let on that he is maybe looking to retire/move on? Has the university made a contract extension of late to secure him for years to come?
A: I haven't heard anything to suggest 2022 is Schmidt's last hurrah, just a year rife with expectations à la 2018. However, Schmidt's current contract is up after the 2021-22 season, which will undoubtedly lead to speculation about his St. Bonaventure future if the Bonnies make another NCAA Tournament run.
Let's cross that bridge when we come to it, for now.