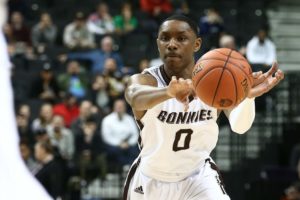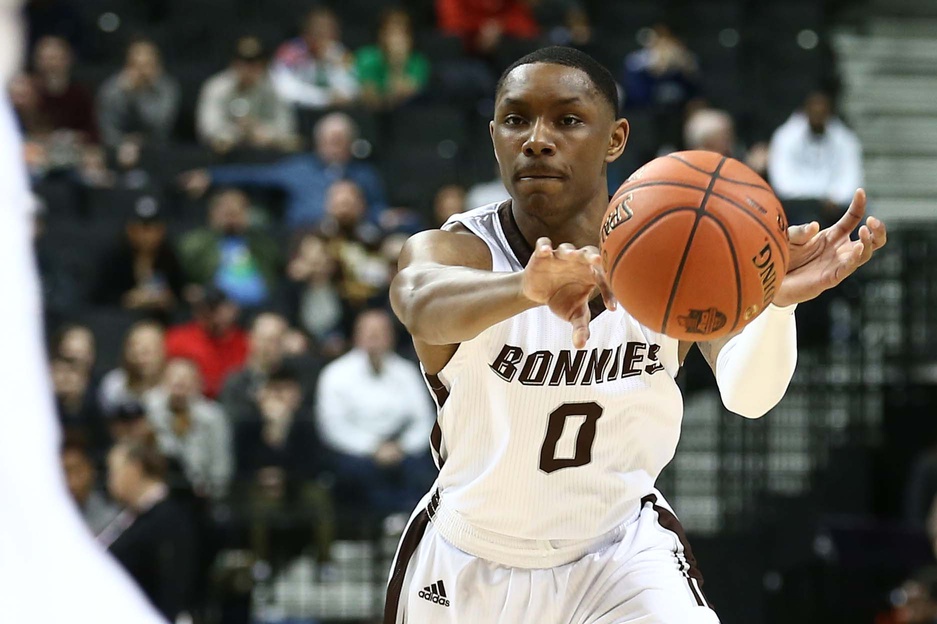 By CHUCKIE MAGGIO
You had questions about the Bonnies, Atlantic 10, Syracuse and conference realignment. Presenting the first Pickin' Splinters edition of an Intrepid favorite, Bona Mailbag.
Q: What are you expecting from (Bobby) Planutis?
A: In the official release of Planutis's transfer to SBU, coach Mark Schmidt said, "Bobby really fits in our system and with the way we want to play. He's a face-up forward who can really shoot it, so he can space out the defense. He has a great (shooting) stroke." Every video and first-hand account of Planutis shooting in the Reilly Center corroborates Schmidt's comments; the Hazelton, Pa. product is nearly automatic from three-point land.
The 6-foot-8 forward gives off Kevin Love stretch four vibes. His outside shooting (33 three-pointers in 67 attempts as a freshman at Mount St. Mary's) will be a welcome contribution to a squad that only made six threes a game last season. I expect Planutis to be what Josh Ayeni was expected to be, a consistent face-up shooter who can also grit his way to double-digit rebounds on any given day. Two summers with strength and conditioning coach Darryn Fiske will significantly improve his inside game, where he and Osun Osunniyi have the length to disrupt any opponent.
Planutis will be a favorite to start, and a candidate to average double figures, from the beginning of the season.
Q: Where would you currently predict the Bonnies to finish in the A-10?
A: These predictions can quickly turn into "Freezing Cold Takes" fodder, especially when you make them in June, but how's fourth place for the second straight year sound?
St. Bonaventure and Rhode Island have been jockeying for fourth in many offseason prognostications. The Bonnies beat the Rams in March, are home in the only head-to-head regular season matchup this season and have the "easier" conference schedule on paper. They're going to give VCU, Davidson and Dayton a run, especially since they might have the best one-two punch in the conference, but I'm hesitant to go against the status quo until we see how the newcomers perform.
Q: What is the Bonnies' rotation going to look like? Early starting five prediction, and first two or three off the bench? 
A: The two biggest summer constants are the inevitable Bonaventure football discussion and incorrectly predicting the starting lineup. There should be three locks this year, so maybe this summer will break the trend.
Projected 2019-20 starting lineup: Kyle Lofton, Dom Welch, Justin Winston, Bobby Planutis, Osun Osunniyi.
Lofton, Welch and Osunniyi are going to comprise three of the five slots; the only question with the sophomores is if Welch will be more of a two or three. Winston and Carpenter will compete for the three or four vacancies; I could see either or both of them on the court to tip off the exhibition game. Scouting services loved Winston, a four-star ESPN recruit, but the unreliability of star ratings with Bonaventure recruits makes this an educated guess. Winston's A-10-ready frame and Planutis's shooting promise garner them the nod in this space, with Carpenter, Alejandro Vasquez and under-the-radar guard Matt Johnson the first three off the bench, but I reserve the right to change my mind 30 times before November.
Q: If the returning players and this year's recruits live up to expectations, will Schmidt start running more and go with a deeper rotation?
A: Schmidt's ideal offense is always a fast-paced one that scores early in the shot clock, and if the team adapts to his playbook quicker than last year, we'll see more running. The Bonnies, like many teams, benefit from quick transition buckets; they always have.
If the rotation is deep, it's probably deep out of necessity. No matter how nice the recruiting class looks on paper (and the staff might not be done), Schmidt will still tell you that depth is overrated, the only time you need depth is when you're in foul trouble and when you're 20 you shouldn't be getting tired.
Q: Prediction on how Syracuse basketball does next season?
A: Either a quick March Madness exit or a Final Four appearance. That's how it usually goes, right?
Q: Any thought of UMass leaving A-10 for AAC?
A: I'll answer your question with some questions of my own: Would the AAC even want UMass? Would a team with 19 conference wins in the last four years want to move to an arguably better conference, with perennial Top 25 programs?
This doesn't seem like a great move for either side. VCU, on the other hand, would compete immediately and is nationally prominent right now.