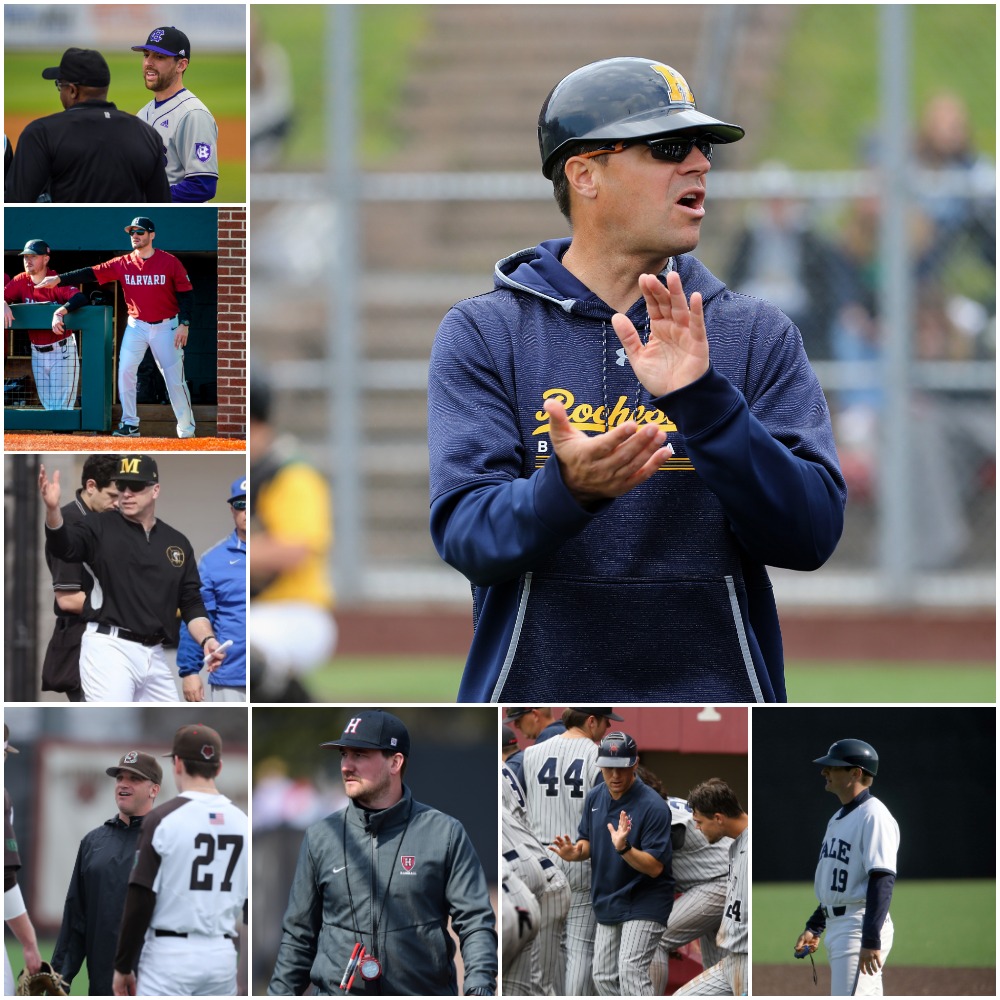 By JOHN LIKANJE
University of Rochester (U of R) head coach Joe Reina's coaching tree spans from Cambridge, Massachusetts down to Richmond, Virginia. His multitude of connections within the industry have aided eight of his former Rochester apprentices to seven different programs on the East Coast.
Reina's proteges are David Brust (Monroe Community College), Blayne Fuke (Vassar College), Ed Kahovec (College of the Holy Cross), Brady Kirkpatrick (Harvard University), Mike McCormack (Brown University), Nate Mulberg (University of Richmond), Josh Schulman (Yale University) and Bryan Stark (Harvard). Five of them played at the U of R (Fuke, Kahovec, McCormack, Mulberg and Schulman) and four were assistants (Brust, Kahovec, Kirkpatrick and Stark).
Everyone has crossed paths one way or another and still do to this day. But their primary connection is Reina, who they credit for launching their coaching careers.
"He taught me a lot about how to conduct yourself on the road when you're recruiting," Kahovec said. "For a lot of new coaches, that recruiting piece is certainly something to be learned because it's not a natural instinct until you start coaching."
"He certainly let me run the offense," Brust said. "He lets you do your thing. He does not micromanage at all."
"He taught me how to run the pitching staff and be the recruiting coordinator," Kirkpatrick explained. "It was a big step in my young coaching career and I was happy he gave me the opportunity."
Reina was an inspiring father figure to his players and coaches as well.
"A lot of interactions we had early on had very little to do with baseball," Mulberg said. "It was about me, my family and getting to know me as a person. Feeling that he had that other side to him as a coach was really what left a lasting impression on me because I knew baseball was such a big part of my college experience."
"One of the things I am still so grateful for was Coach Reina's patience with me and developing and trusting me over time," Schulman said.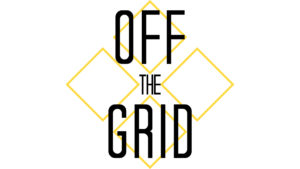 Staying local
Brust, Kahovec and Stark are Rochester natives. Brust played basketball and baseball at Cardinal Mooney High School. Kahovec was a three-season athlete in volleyball, basketball and baseball at Victor. Stark played hockey and baseball at Greece Athena.
Brust continued his baseball career at Ball State University and spent three years in the Atlanta Braves' minor league system. He was determined to return to college coaching after stints in the New York Collegiate Baseball League (NYCBL) and as a volunteer assistant at Monroe Community College (MCC). He joined Reina's staff in August 2012 with the long-term goal of pursuing a head coach opportunity elsewhere. Reina happily obliged and took Brust under his wing that year.
"I knew Joe just a little bit," Brust said. "He had a position open and I believe it was Coach Stark who was leaving."
Brust was impressed by the amount of people Reina was acquaintances with in the coaching community. He recalled attending a showcase on Long Island and meeting fellow coaches.
"He has just an incredible rolodex of friends in the coaching world," Brust said. "You just kinda start to meet the coaching world and he puts you in places to just watch and observe. He's certainly an easy guy to work for."
"Over the years, you meet all these people," Reina said about having multiple connections in the industry. "You kind of gravitate towards a certain group, a certain personality that fits your mold.
"It's the same thing with selecting assistant coaches. When we have an opening, we bring them in and meet with them. You kind of get a feel of 'Okay, is this person someone I would like to have my sons play for?' You can figure out some things by asking some questions. That's really what drives my selection in coaching guys and having guys coach with me."
Brust took Reina's teachings with him back to MCC, where he has won four regional titles (2015, 2016, 2018, 2019) and made three National Junior College Athletic Association (NJCAA) World Series appearances in seven years.
"College coaching is about relationships with your players," Brust said was his main takeaway from his lone year at the U of R. "Making sure that they turn into responsible young men. The experience of learning commitment, dedication and what it means to be a student-athlete is just a significant amount of work."
"One thing I loved about him was that he was a school teacher," Reina said about Brust. "Teaching's in his DNA. Tremendous instructor."
Stark played college ball at Oswego State. Upon his graduation, he remained at his alma mater for one year before volunteering under Reina for the 2012 season.
"I had a long way to go now that I look back on it," Stark said. "Even my communication with the players. I didn't know how I wanted to talk to them or how I should talk to them."
Stark moved on to the Naval Academy for two years and transitioned to associate head coach at Harvard University.
Kahovec played at the U of R from 2005 to 2008. After graduating, he played for a professional club in Germany before returning to his alma mater in a volunteer role and becoming a full-time assistant. As a coach, Kahovec backed up Reina as the Yellowjackets compiled a 91-66 record, including a 57-33 mark in conference play.
Kahovec recalled a specific example of Reina's humanitarianism towards him: "In 2010, I had a pretty major surgery. When I woke up from that surgery, there were five people in that room: my parents, my grandparents and Coach Reina."
"Having the opportunity to coach him and be there with him, he becomes like a son to you," Reina said. "You just wanted to support him through the recovery process. Support his family."
When Kahovec was recruited by Bard College to become the new head coach in 2012, Reina encouraged him to take the position. The fact that he allowed one of his assistants to lead a rival program strengthened Kahovec's respect for him.
"Coach Reina is as competitive as they come without holding his assistants back. A lot of times, coaches don't like losing their assistants and will really work to try to keep them. But Coach understands the potential his assistants have. He knows, in the best interest of their professional careers and personal lives, for them to pursue other opportunities encourages growth."
Kahovec led the Bard program from 2013 to 2016 and was promoted to head coach at the College of the Holy Cross on May 21st. He currently resides in the Boston area with Kirkpatrick and Stark as his roommates.
"Oh, we definitely hang out together," Kahovec exclaimed. "We're very busy so opportunities don't present themselves too often. But we're very close and spend down time together whenever possible."
Two phone calls lead to an everlasting friendship
Mulberg was Kahovec's first ever recruit. His interest in Rochester sparked from his cousin, who considered playing soccer there in 2008. Mulberg contacted Reina and remained in constant communication with both him and Kahovec. A year later, Kahovec drove down to New Jersey to scout him at a tournament. That was the deciding factor in Mulberg's decision to attend the U of R: they were the only school who attended his games particularly to watch him play.
"I wanted to go to a great academic school," Mulberg said was his mindset during the recruitment process. "Coach Kahovec called me once a week. Coach Reina called me about once a month. I felt like I was their No. 1 priority."
Schulman wouldn't have considered playing college ball on the East Coast, much less Rochester, if not for a phone call from Kahovec on July 7, 2010. The Texas native visited campus the following January and was instantly gratified by everything the school had to offer.
If Schulman hadn't attended Rochester, he most likely wouldn't have met his future best friend, Mulberg, either. They immediately connected and did almost everything together from broadcasting basketball games to working as interns for the Red Wings. They explored different career interests as well. Mulberg sacrificed Sunday fall practices to work Buffalo Bills games. Schulman wanted to attend law school. But their desire for the game led them to where they are today: assistant coaches at the Division I level.
"He's been a mentor in terms of my growth and ability to just lean on him." Schulman said about Mulberg. "Nate and I's friendship is, to date, one of the most I value. Period. I would not be where I'm at right now if it weren't for Nate because of how great of a friend and a human being he has been."
They also had the privilege of coaching against each other for the first time on March 8th. It was Mulberg's first game against a Rochester baseball alum as well. Richmond was scheduled to face Harvard in the Spider Invitational later that week before the cancellation of sports due to the COVID-19 pandemic.
A helping hand
Mulberg credits Reina for helping him break into the coaching industry. He took his Bachelor of Arts in English and minor in Economics to volunteer at Franklin & Marshall College. Mulberg was promoted to a full-time assistant on Reina's recommendation to head coach Ryan Horning, a former St. John Fisher College assistant.
Mulberg continued on to Bucknell University, earned his Master of Education in Sports Management from Millersville University and joined Richmond in 2017. During his time with the Spiders, he had the honor of coaching the Israeli National team, which had qualified for the 2020 Tokyo Games. Mulberg lent a helping hand to Kahovec as well.
"As he got into the coaching ranks at Franklin & Marshall, we were all talking at the same events," Kahovec said. "In fact, two of our Holy Cross baseball players who have been granted a fifth year of eligibility are playing at Richmond next year. I think part of that is because of the connection Nate and I have through the University of Rochester."
Ivy League connection
Four of Reina's proteges coach in the Ivy League: Kirkpatrick, McCormack, Schulman and Stark. McCormack is the longest-tenured coach among the quartet as he has been at Brown since 2012. The Massachusetts native played at Rochester his freshman year in 2005 before transferring to his hometown school, Worcester State University.
"Rochester was sparked after a showcase in Massachusetts," McCormack said about his recruitment process. "Reina sent me a letter afterwards. Not knowing anything about Rochester or the program, I started to look into it and it sparked my interest."
"The biggest thing I've taken from Coach Reina over the years is just be true to who you are. He's one of those guys that he affects everyone around him. He's bringing the energy every day and he's being himself. He's a very selfless person."
McCormack and the Bears have won 85 games in his seven-year tenure, including 15 wins in 2016.
Kirkpatrick had no previous ties to Rochester before coaching the 2016 fall season. He played three years at the University of Maryland and spent two post-grad seasons at the University of San Diego. Kirkpatrick credited Reina for letting him coach the pitching staff and become a capable recruiter.
"A bunch of energy," Kirkpatrick recalled about Reina. "Very passionate. He was very excited to have me there. His willingness to help with anything I needed. Setting up my office to get my keys. Meet people. He was just on top of it all."
Kirkpatrick worked at a Harvard camp and became acquainted with head coach Bill Decker and Stark through Reina. The three of them established a friendship, which helped Kirkpatrick seamlessly transition from Monmouth University to Harvard once a position opened up in 2018.
"Coach Stark was someone who I relied on when I was at Rochester," Kirkpatrick said. "Coach Reina set us up and we talked a little bit because he was at Harvard and I was at Rochester. He helped me with some of the stuff that I went through. He also helped me out with recruiting and still does to this day."
Walking on
Fuke is one of the more unique branches of Reina's coaching tree. He's a Hawaii native, former Navy Reserve Officers' Training Corp (ROTC) member and took notes on his glove during games.
Fuke was accepted to the U of R in 2006 on a ROTC scholarship. He walked on to the team and made an immediate impact: .265 batting average (35-of-132) with four doubles and 11 runs batted in while starting all 38 games.
"I loved the campus," Fuke said. "I loved visiting there. I tried to do both ROTC and baseball and a week in, I knew I couldn't do it. So I just focused on playing baseball and finished out my four years. And I loved it. It was a good group of guys."
Not only did Fuke want to focus on baseball, but he wanted to play for Reina; Which is why he sacrificed his ROTC scholarship to commit to baseball full-time.
"He definitely seemed like a players' coach," Fuke said about Reina. "He seemed more hands-off when it came to games. He let the players play."
Defensively at third base, Fuke produced a .917 fielding percentage. But the key to his success at the hot corner was his quick wits on knowing where to be positioned. Fuke scribbled notes about every batter with a golf pencil. Opposing coaches as well as Reina were both shocked and impressed by this original tactic.
"Yea, I would put tape on the back of my glove to keep a scouting report," Fuke explained. "Mainly where I needed to play defensively."
Fuke wanted to remain involved in baseball after undergrad and contacted college coaches during his senior year. Unlike Kahovec, he didn't consider remaining in Rochester because he didn't want to coach his former teammates. Vassar College offered him a volunteer assistant role and he accepted with his Bachelor of Arts in Economics from the U of R.
Fuke volunteered for two years before being promoted to a full-time assistant in 2014. In his six-year tenure as the assistant coach, Fuke has helped the Brewers win 104 games, including 19 victories twice (2014, 2017).
Commitment to his community
Reina is a lifelong Rochester native. The Yellowjackets head coach attended Gates-Chili High School, played and coached at MCC and has been at the helm of the U of R program since 2001. He has been praised for his commitment towards players and coaches who have come through the Rochester program.
"A lot of pieces need to fall in place in order to have success," Reina explained. "With our administration and giving me the opportunity to take over a program that had been playing baseball since the late 1800's. It's the players that have come in and gone through the early morning workouts. All the morning practices and playing in those game days where it was 38 degrees out and freezing cold.
"It's the parents that support you. But it's also the people you bring in that help you. From my early days with Bill Rasmussen, who's now the varsity coach at Rush-Henrietta, who was a huge piece in really developing this program to where we thought it could get to."
The main takeaway Reina wanted his assistant coaches to take was the recruitment process. He is fully aware of how difficult, yet essential it is for all coaches to know how to recruit high school and junior college players.
"One of the things I tried to do whether it was Eddy, Bryan, Brady or Dave Brust was take myself and put myself in their shoes when I was their age and just starting out," Reina explained. "Knowing what I wanted to look for at that age versus what type of player we were looking to get at the time.
"I used to start out by going to events with them and we would split up once we got to the event. That night, we would come back together and go over the list. I know with Eddy, he and I, I remember us sitting at a Denny's on Long Island until 3:30 in the morning going over player-by-player. We have a rating system of one through five. Five being the best player possible."
Reina doesn't take his success for granted either. He's happy with the effect his program has had not only in the community, but around the country as well.
"Be part of their success," the 19-year head coach said. "Not only within the four years that they're here, but once they leave Rochester and the success they have professionally, family-wise, community-wise. That's my biggest takeaway. I love the guys that have come in and played for me, done everything that I've asked them to do."
Reina is looking forward to some form of summer ball this year and updates on the reopening of the U of R campus.