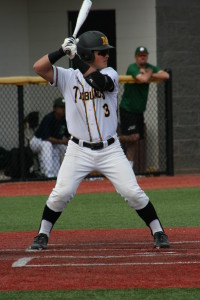 By PAUL GOTHAM
ROCHESTER, N.Y. — By the time tournament Most Valuable Player, "Bubba" Boutelle (Gowanda) rounded third for his inside-the-park home run, the outcome had all but been decided.
The score didn't matter.
Boutelle paced a 17-hit attack as the Monroe Community College Tribunes defeated the Mercyhurst North East Saints, 17-5 and claimed the 2016 NJCAA Region 3 Division II Championship Series.
"The game was done, but you never want to give team like them hope," Boutelle said. "You got to put the final dagger in or as Coach (Dave) Brust would say 'put your foot on their throat. Keep it going. Keep the pedal to the metal.'"
Boutelle's three-run shot to the left-center gap capped a six-sun seventh for a 17-4 Tribune lead. The freshman designated hitter plated Collin Stack (Maple Grove) and Anthony Santoro (Henninger) as the Tribunes earned their second straight regional crown and 25th in program history.
"You think triple out of the box, and you start letting up at third and he keeps waving you on," Boutelle said referring to Monroe third base coach Cory Brownsten. "It always catches you off-guard. He does it to everyone."
The hit was Boutelle's third of the day. He drove in four runs in the win.
"It was a fastball right over the plate," Boutelle explained. Just drove right in the gap."
The MVP homered in Friday's win and collceted five hits in the series.
"It's kind of surprising," Boutelle said of his individual recognition. "We had a lot of guys have multi-hit games and a lot of RBI. This is just surreal. It's humbling."
Boutelle's multi-hit effort was his fourth straight and fifth in the last six games.
"He was the difference," Monroe coach Dave Brust said of his eight-hole hitter. "That just crushed them which is what you need to do with a team like Mercyhurst. They could score 10 runs at the drop of a hat. Their lineup is that good."
Matt Brooks (Auburn) reached on an error to start the seventh inning. One out later, Connor Lewis (St. Marguerite d'Youville) singled, and three straight Tribunes reached via hit by pitch. Luke Brust (Honeoye Falls-Lima) drove in a run with a sacrifice fly before Boutelle put the exclamation point on the victory and the championship.
"It just deflated them," Dave Brust said of Boutelle's inside-the-park job. "He delivered when we needed him."
Colin Johnston (Greece Athena) hurled six innings for the win. The freshman improved to 8-2 on the season. Johnston struck out six and walked one. He faced one over the minimum from the second through the fifth innings but was at his best in the sixth.
After hitting the leadoff batter, Johnston surrendered back-to-back RBI doubles to Keyshawn D'Orso and Drew Delsignore as Mercyhurst cut the lead to three at 6-3. With the Monroe bullpen scrambling to warm-up, Johnston retired the next three batters.
"That was huge," Brust said of Johnston's effort. "His style is really difficult for big-hitting teams. He sinks it in on them. He keep the ball down. He mixes it up. He's just a tough guy to beat up for long. He's going to have his little rough patches, but he always works through them.
With a runner in scoring position, Johnston set down two on punch outs and got a routine ground ball to end the threat.
"That low, three-quarter arm slot sinking fastball it tough to elevate," Brust noted.
Brooks ignited a five-run outburst in the home half of the inning with a 400 FT. solo shot to straightaway center field.
"It was the first pitch of the at bat, and I was just trying to get a good swing on the ball," Brooks commented. "He left one high, and I definitely got a good piece of it."
Alex Saville (Vernon-Verona-Sherrill) followed with a flare to shallow center, and the first four Tribs of the inning reached base.
"We needed to put the ball in play on the ground," Brust said as he credited assistant coach Mark Perlo with late-game adjustment made by hitters. "Focus up on hard contact. Once that started happening it went along with our team approach of winning the inning. We want to focus on one inning. If you look at innings two through seven, I think we won all those innings."
Lucas Godlewski (Little Falls) allowed one run over three innings to earn the save.
"For Colin to finish up strong was important for our bullpen," Brust noted. "It's nice having Lucas Godlewski come in on a fresh inning. Any college relief pitcher, it's a little easier to deal with when you have a fresh inning. I thought that was big."
Monroe improved to 30-14 with the win. Mercyhurst ended the season 30-19.
Game 1-winner Zach Vennaro (New York Mills) earned tournament Most Valuable Pitcher.
Dave Brust was named Region 3 Coach of the Year.
Monroe advances to the Northeast District Championship next weekend. The championship will be played at Monroe Community College starting on Saturday.