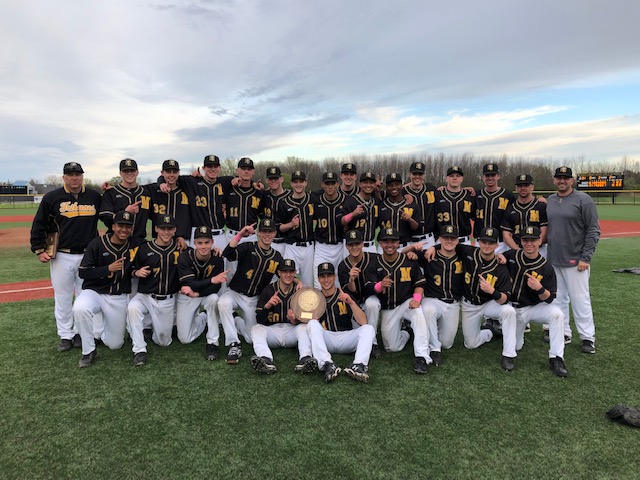 By PAUL GOTHAM
ROCHESTER, N.Y. – With a game scheduled for Sunday "if necessary," the Monroe Community College Baseball team gave all mothers in attendance an early gift: a day to spend to with their families.
Jordan Bryant (Mitchell District/Mitchell,ON) came out of the bullpen and hurled three-plus shutout innings. Evan Magill (Notre Dame Catholic/Ajax, ON) sparked an offense which put crooked numbers on the scoreboard in three of the first four innings, and the Monroe CC Tribunes claimed the 2019 NJCAA Region III Division II championship with a decisive 15-7 victory over Mercyhurst NE on Saturday.
"It feels great," Bryant said after MCC's second straight regional title. "Indescribable. This group of guys, everybody just came together and did what we had to do. Everybody did their job. Everybody played their part. Infield made plays. Outfield made plays. Hitters hit, and pitchers pitched. There's not much more you can want."
The sophomore right-hander entered the game with one out in the fifth, fours run in and a runner on third. He ended the threat without any further damage.
"Just got to be an animal out there," he said of his mindset entering the game. "When you're out on the mound, I like to believe that it's a must-win situation every single time. I don't like when the batter beats me. I always want to be the winner."
Bryant struck out four, walked one and limited Mercyhurst NE to two hits over 3.2 shutout innings to earn Most Valuable Pitcher of the tournament.
"He just used his slider," Magill said of his battery mate. "It was 90 percent sliders. Once they started getting on the slider thinking it was all sliders, he went to his fastball, and they couldn't catch up to it."
Bryant allowed a two-out hit in the sixth before ending the inning with a ground ball. He gave up a one-out single in the seventh, but did not allow the runner past second, and he ended his performance with a clean eighth.
"It just felt right every time I threw it," Bryant said of the slider. "Couple times I left it hanging, but I got away with it. Guys were chasing. Magill did a good job of calling the game back behind the dish. Slider's my go-to pitch. It helped me get through a couple of situations."

Magill cleared the bases with a double in the first inning to give Monroe a lead it did not surrender for the afternoon.
"I was honestly just trying to put something on the ground, hard on the ground up the middle to score that guy from third," the Tournament MVP said. "I put a good swing on it to right center and got the runs in."
Cas Sobaszek (Rush-Henrietta) started the inning with a double. Sam Loew (Binghamton) and Trey Brown (Aquinas) worked back-to-back walks to load the bases for Magill.
"It was a slider up in the zone," Magill said of the pitch.
One day after a 21-5 trouncing of UConn-Avery Point, a game in which the they scored in every inning, the Tribunes crossed home plate in each of the first four frames. The Black and Gold put crooked numbers on the scoreboard in three of the first four innings on Saturday and four of the eight innings that they came to the plate on Friday.
"That's just the motivation of these guys," sixth-year head coach Dave Brust said of his team. "They're motivated to get better and it shows on the field."
Magill finished the day 3-for-4 with four RBI.


"His 18 innings behind the dish were key," Brust said of his catcher. "His management of our pitchers made the difference."
Sobaszek went 3-for-5 with a walk, an RBI and three runs scored. Brown doubled, was 2-for-4 with two walks, two RBI and four runs scored.
"Cas was steady pressure on offense," Brust stated. "Every time he was on base, they had to worry about him and what he was going to do. His ability to steal bases as well as go first to third is great. The same thing could be said about Trey."
The win was the seventh straight for Monroe  (27-19).
"That's a testament to our sophomores," Brust noted. "After tough losses this season, I put it on them to make sure we improved. They did it."
Phil Ferranti (Webster Schroeder) drove in three runs. The sophomore connected on a second-inning double and set an MCC program with that, his 40th career two-bagger.
Logan Martella-Tasick (Penfield) went 2-for-5 with an RBI and three runs scored. TJ Lucey (Fairport) collected two hits, three RBI and two runs scored.
Loew singled and drove in a run. Sean Flannery (Wayne) had a hit and scored a run.
Liam Devine (John F. Ross CVI/Guelph, ON) retired all three batters he faced in the ninth. Matt Petrossi (Fairport) started and pitched into the fifth.
Chris Reilly led Mercyhurst NE going 3-for-5 with an RBI and a run scored. Dylan Kurcon tripled, had two hits and drove in three runs.
The regional title is the fourth in Brust's sixth year as head coach.
Monroe will host SUNY Ulster in next weekend's East District Championship. The winner moves on to the NJCAA Division II World Series.