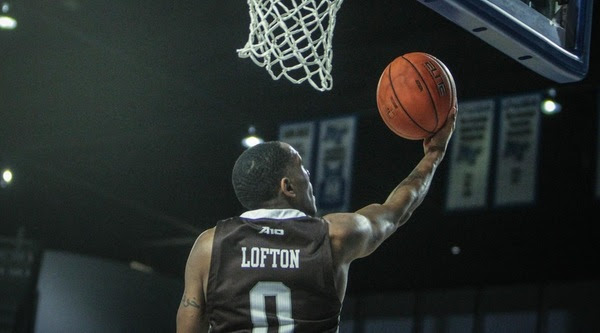 By CHUCKIE MAGGIO
The Saint Louis Billikens put St. Bonaventure and most of the Atlantic 10 on notice in the regular season finale, before and after the game.
First, the Billikens ran away from the Bonnies, holding them to 25 percent shooting (13-of-51) from the field in a 72-49 victory at Chaifetz Arena. Then SLU honored its seniors postgame and its best two players weren't among them.
Hasahn French and Jordan Goodwin, both juniors, combined for 30 points and 27 rebounds in a convincing victory that earned the Billikens the fourth seed in next week's Atlantic 10 Tournament.
The Bonnies (19-12, 11-7 A-10) dropped to the fifth seed with the loss and will open A-10 Tournament play at Barclays Center on Thursday at 2:30 p.m. against the winner of Wednesday's George Mason v.s. St. Joseph's contest. If the Bonnies get past the Patriots or Hawks, they will get another shot at Saint Louis on Friday in the quarterfinal round, just six days removed from Saturday's rout.
Takeaways from the last game before Brooklyn:
Player of the Game: Hasahn French, Saint Louis. French recorded his 12th double-double of the season with 16 points on 7-of-10 shooting and 18 rebounds, his second-most boards of the season. The 6-foot-7 forward dominated his matchup against SBU sophomore Osun Osunniyi, helping hold Osunniyi to two points on only three shots.
Honorable mention: Jordan Goodwin scored 14 points, corralled nine rebounds and recorded five assists. Tay Weaver added 13 points.
Stat of the Game: Bonaventure's 25 percent shooting clip from the field was its worst mark of the season. The last time the Bonnies shot 25 percent in a game was the 2014 A-10 Tournament semifinal against St. Joseph's.
Stretch of the Game: Color commentator and former La Salle coach John Giannini half-joked that after one blowout loss he said the turning point was the opening tip. The Billikens weren't far off, jumping out to a 17-4 lead in the first eight minutes and hardly ever looking back, leading by as much as 25.
Quote of the Game: "We couldn't get the ball inside," Bonnies coach Mark Schmidt said on the WPIG postgame. "They didn't respect our inside game, so they pressed up on us and we didn't have much off the bounce. And we knew that going in that it was important for us to get the ball inside, try to have them double-team or at least respect us inside. We didn't do that."