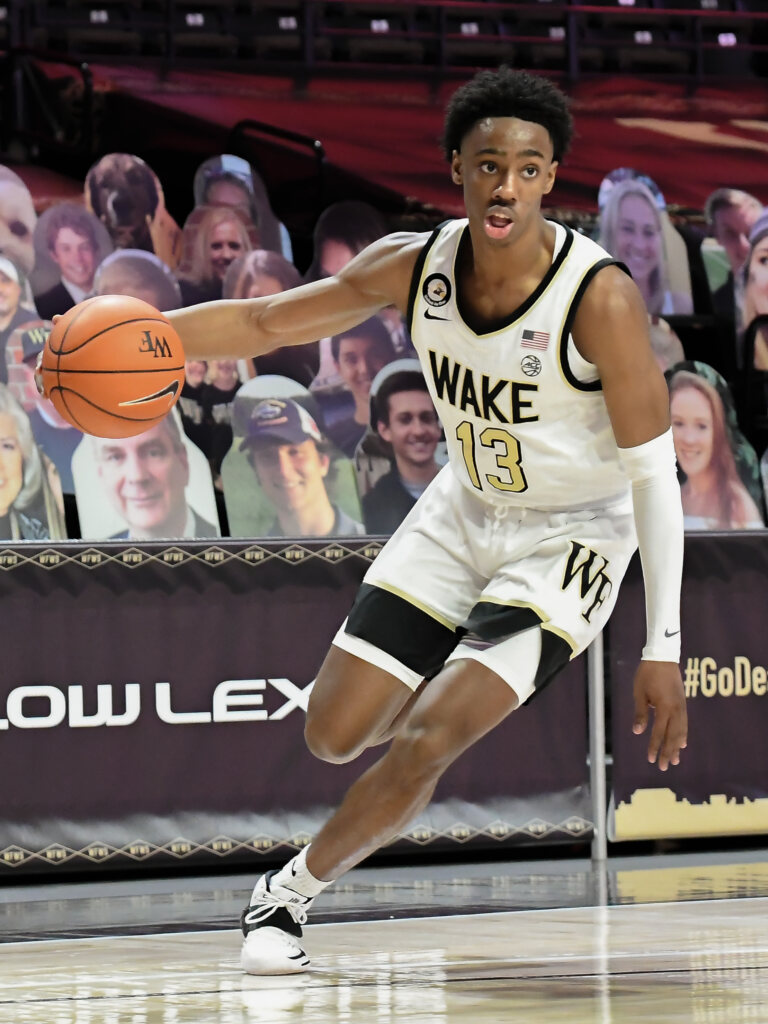 By CHUCKIE MAGGIO
A rarity occurred last weekend, after Quadry Adams announced he was transferring from Wake Forest to St. Bonaventure after school lets out this spring.
Demon Deacons coach Steve Forbes, who had attempted to persuade Adams to return for his sophomore year, publicly congratulated his now-former player on Twitter: "Congrats Q!"
The gesture was a change of pace in a transactional 2021 transfer cycle, where the portal is fuller than ever, and shows how well-regarded Adams was in Winston-Salem.
"I've always been the type of guy never to burn bridges," Adams remarked. "Forbes has been a great coach this year, a great mentor; he taught me a lot. Obviously he wanted me to stay… but I just came to an understanding that this might not be the best place for me for the future and he respected my opinion."
Kyle Lofton, naturally, was involved. Lofton was a senior at Union Catholic High School in 2017, Adams a frosh. Joint varsity-junior varsity practices were eye-opening experiences for Adams, who couldn't believe the star point guard he looked up to didn't receive any Division I scholarship offers.
"If this kid's not getting any offers," Adams thought, "I've gotta get better."
The 6-foot-3 Adams transferred to St. Thomas Aquinas before his sophomore year, scored 1,209 points in three seasons and was named both Greater Middlesex Basketball Tournament MVP and Central Jersey Home News Tribune Player of the Year in 2020. Trojans coach Bob Turco told the Home News Adams's "ability to rebound and get to the rim is second to none of anyone I coached."
Adams garnered 15 offers by September 2019, pledging to Wake over Southeastern Conference member Georgia, successful mid-major Drake and, by virtue of a straight-A classroom performance, Ivy League schools like Princeton and Columbia. 
St. Thomas Aquinas features a rigid curriculum and high academic standards. Coaches met weekly to review players' grades and assigned varsity athletes in danger of earning lower than a "B" to a 90-minute session with an academic advisor at the end of the school day. Adams never joined them.
"There were times I wouldn't have my phone, I'd come home and I'd have to study extra," said Adams, who is interested in political science and has explored the possibility of entering law school when his basketball career is over. "Even when I was young young, before basketball was super serious to me, I couldn't go to the park unless all my homework was finished and correct." 
Adams likened his stint in the Atlantic Coast Conference to a prep year. He played sparingly until Wake's final four games, in which he averaged 13 minutes after appearing in just five of the previous 18 contests. Forbes trusted his defensive ability enough to task him to guard agile Georgia Tech Yellow Jackets star Jose Alvarado in the regular season finale.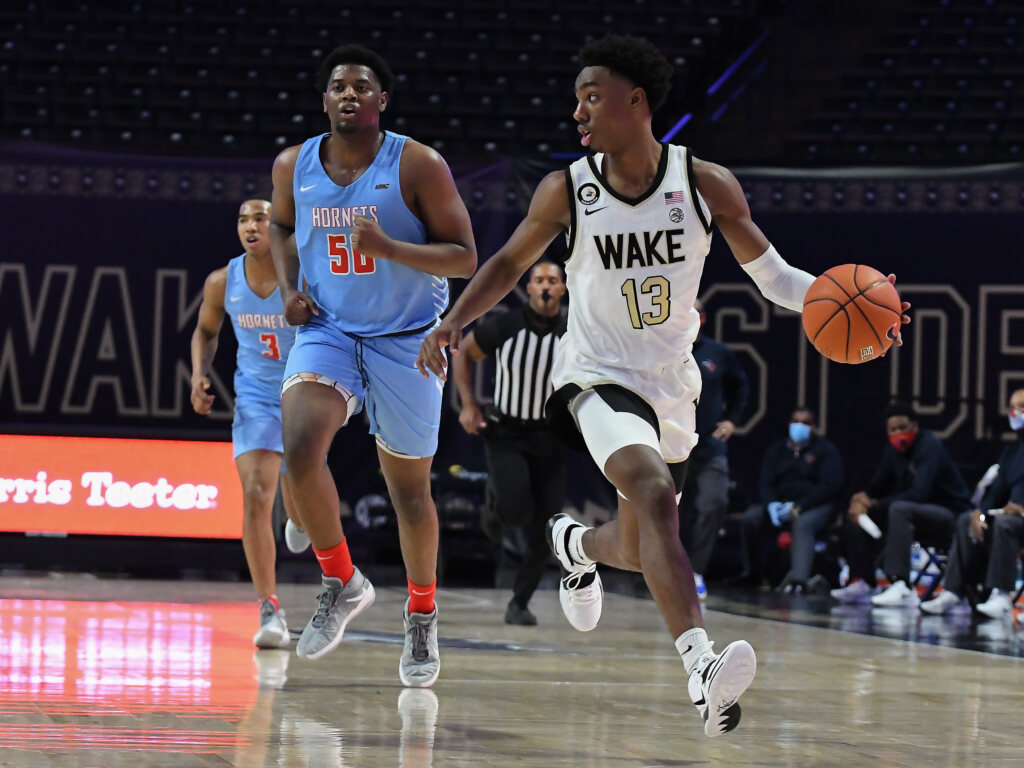 Defense, Adams admitted, wasn't a priority until he got to college, surveyed the talent around him and recognized it was a prerequisite to playing time. Everyone in the ACC, he noted, can score. What was he doing to differentiate himself in order to crack the rotation?
"Why put a young freshman on the court to score when we have other seasoned vets that can score just like him?" he said. "…I'm a good athlete, so I kind of thought about the fact that we didn't have a guy that could go out there and lock down their best player on command… I started really taking defense serious."
Tray Woodall, naturally, was involved. The Bona assistant grew up in Paterson, N.J., less than an hour from where Adams grew up in Piscataway. Woodall reached out to Adams less than three hours after his name entered the portal; only Vanderbilt University got in touch sooner. 
Already familiar with Bona after keeping tabs on Lofton's post-secondary exploits, Adams forged a quick Jersey connection with Woodall and took note of how the coaching staff ingratiated itself with his parents.
Georgetown, Georgia and the Ivy League programs got in contact again, hoping to secure a commitment this time, but Adams was already sold on Bonaventure. His second recruitment lasted a mere 10 days.
"Sometimes you just know," he commented. "And I really didn't want this to be a long process because I wanted to figure out who my teammates were, try to get in good with them before going down there. It would've been kinda weird if I committed and then I was going down there the day after, or something like that…
"It's a big weight off my shoulders. Recruitment is very overwhelming, and at times it can get out of control when I'm just trying to focus on finishing the school year strong and getting better every day in the gym."
The point guard position has been more stable at SBU than at most Division I programs in the last seven years. Jaylen Adams played 89.9 percent of the possible minutes in games he was dressed for between 2014-2018. Lofton has played over 94 percent of the 3,475 possible minutes since the start of 2018-19.
Bona's Zoom pitch, then, was simple: contribute when called upon, learn from the senior-laden guard group of Lofton, Jaren Holmes, Dom Welch and be tossed the proverbial keys to the car after they graduate.
"The guys in front of me are seasoned vets… This year, more or less, I'm here to learn," Adams stated. "I'm here to make an impact in whatever way I can, whether that be offensively, defensively. I can do both, but whatever they need me to do right now, I just want to win."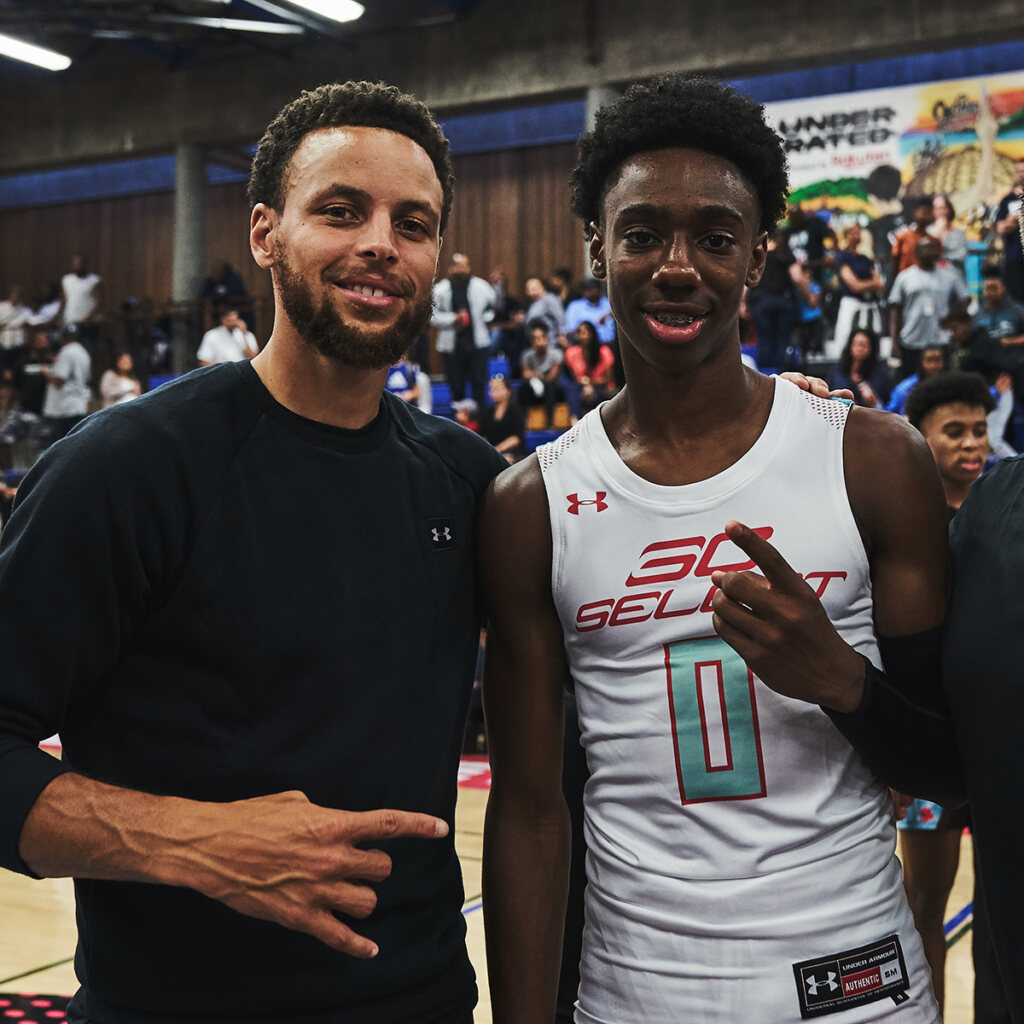 Stephen Curry, unexpectedly, is involved in the journey, too. Shortly after a crushing buzzer-beating defeat in the 2019 New Jersey state semifinals, Adams and his mother Cheryl Kemp shoveled out their snowed-in car and drove to Philadelphia for the Underrated Tour.
Curry, using his underdog path from lightly-recruited high school player to NBA MVP and champion as inspiration, conceived the camps to provide resources and exposure to high schoolers rated three stars or lower. 
Coaches and scouts looked on as Adams, then unranked by recruiting services with no scholarship offers, was the camp standout. He was invited to the "Championship Stop" in Oakland as well as Curry's Under Armour Select Camp. The offers, and his own piece on The Players Tribune co-authored by Curry, followed.
"Always stay underrated," Curry told Adams at the end of the article. The Bona squad won't be underrated in his first A-10 campaign, but he is content with contributing to another championship chase.
"Definitely a change of environment," Adams said of where Bona stands. "I don't mean that in any way to take shots at anybody else, but it's the truth…
"Whatever I can do to add to that success, whether Coach Schmidt needs another scorer, which he really doesn't; we have a great starting five. But if he needs another scorer, needs another defender, needs somebody to get the team involved, I can do it. That's really what I look to bring to the team this year."