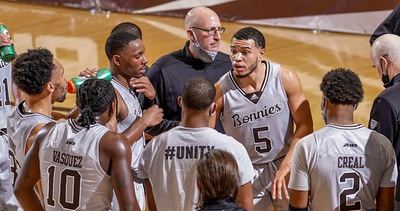 By CHUCKIE MAGGIO
A slight slip of the tongue may have conveyed St. Bonaventure's focus better than anything else Mark Schmidt and his players said Sunday.
"Right now our ultimate goal is to get to the championship- I mean to the tournament," Jaren Holmes said after the Bonnies defeated Davidson at the Reilly Center. "But right now we're focusing on winning one game at a time and staying together."
Bonaventure's chances for an NCAA Tournament at-large bid look promising entering Wednesday night's return trip to Davidson, as the Bonnies began Tuesday among the teams in ESPN's projected field. But the team is unsurprisingly locked into championship aspirations: regular season and conference.
Are the Bonnies nervous about the postseason? After their impromptu postgame dancing after defeating Davidson, do they look nervous about anything?
"Our goal when we first started was to win an Atlantic 10 regular season title; that's the goal," Bona coach Mark Schmidt remarked on Sunday. "All that other stuff, the tournament and at-large bids, those will take care of itself. You can't get ahead of yourself."
The next step of SBU's path to March is also the last scheduled road contest of its season. It also comes against the team it just topped, the latest wrinkle in an unpredictable year.
Bona hasn't met the same opponent in back-to-back games since 2017, when it scored consecutive victories over UMass in the regular season finale and A-10 Tournament second round. That was a different circumstance as the No. 12 seed Minutemen played St. Joseph's in the opening round in Pittsburgh the night before.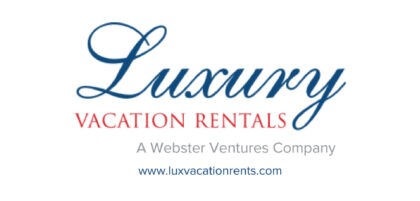 Davidson is also not planning to relieve a coach of his duties after the rematch. The Wildcats, as evidenced by their performance in the Maui Invitational to begin the season and 6-2 start to league play, are a threat to come back three days later and record an impressive victory at Belk Arena.
"It's gonna be a great challenge," Schmidt commented. "Everybody plays better at home, even though Davidson was undefeated on the road this year and lost… two games at home. But traditionally, everybody plays better at home and shoots better at home, more comfortable.
"We have to play better tomorrow than we did in game one, in all facets. Defensively, getting to the 3-point shooters; we've gotta rebound; taking care of the basketball, all of it. We've gotta execute both ends better if we expect to win."
The Bonnies performed better in each facet Schmidt mentioned at the Reilly Center, but the shift in venue could be a factor even with no fans in the arena. Davidson is 87-18 at Belk since the start of the 2013-14 season, 3-1 against Bonaventure.
If the Wildcats are to split the regular season series, coach Bob McKillop insinuated a strategy adjustment is in order. "I think we needed to get the ball inside a little bit more," he said on his radio show Monday. Schmidt conversely lauded how his roster held preeminent post player Luka Brajkovic to just one two-point basket in three attempts.
"You can't let him catch the ball in his sweet spot," Schmidt stated. "He's got right and left-handed jump hooks. He's a horse inside, so you can't play him straight up. You try to keep him from catching the ball in the sweet spot, but he's tall, he's strong; he's highly skilled…
"They're a team, I think a lot of times people get caught up in their 3-point shooting. But they're a team that tries to get the ball into the paint, by the dribble or by the pass. They try to pound it inside to him and I can expect them to try to do that (Wednesday). Hopefully we can keep it out of there and hopefully we do a good job, once he gets it, bring different guys at him."
A St. Bonaventure win would garner the Bonnies their seventh straight season with at least 10 A-10 wins. They would improve their conference win percentage to .769, which is especially relevant now that the league will seed that way due to an imbalance of games played.
SBU is a favorite to win the regular season title it so covets. Davidson is the big roadblock on paper.
"They do have fun," Schmidt said, "but at the same time they're really highly competitive, and a lot of times the fun is in winning. It's not too much fun when you lose all the time. The fun is in winning and I think that's what their ultimate goal is."