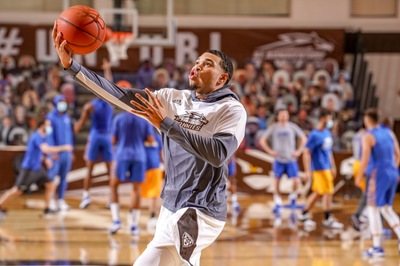 By CHUCKIE MAGGIO
Five years later, the anger and distrust still exists. From the time the NCAA Tournament's field of 68 leaked out of the meeting room in Indianapolis and into more-than-eager hands on March 13, 2016, any tourney-worthy St. Bonaventure team has the fan base on edge.
Bona winning all but three games thus far does nothing to calm the "bubble" nerves. A .733 win percentage landed Mark Schmidt, Marcus Posley, Idris Taqqee and Dion Wright in the Reilly Center basement looking ahead to the NIT. The selection committee deemed a 25-win Bonnies team First Four-worthy in 2017-18, forcing a trip to Dayton before a red-eye to Dallas.
Talk with a die-hard SBU fan over the next three weeks and the overwhelming sentiment will be the same: Nothing the team accomplishes for the rest of the regular season will be considered sufficient in the eyes of a committee that includes four power-conference athletic directors. If the Bonnies are on the bubble but are not cutting down the nets in UD Arena on Selection Sunday, the wait will pain the Bona faithful even if it's just three hours.
ESPN bracket guru Joe Lunardi placed the Bonnies among his "Last Four In" this morning, predicting them as a First Four participant if it started today.
With the large disparity in the number of games teams are playing due to COVID-19 layoffs, as well as the subjective "eye test" factoring in, this season is undoubtedly different. But how does SBU's current tournament résumé compare to year's past on this date? A look back: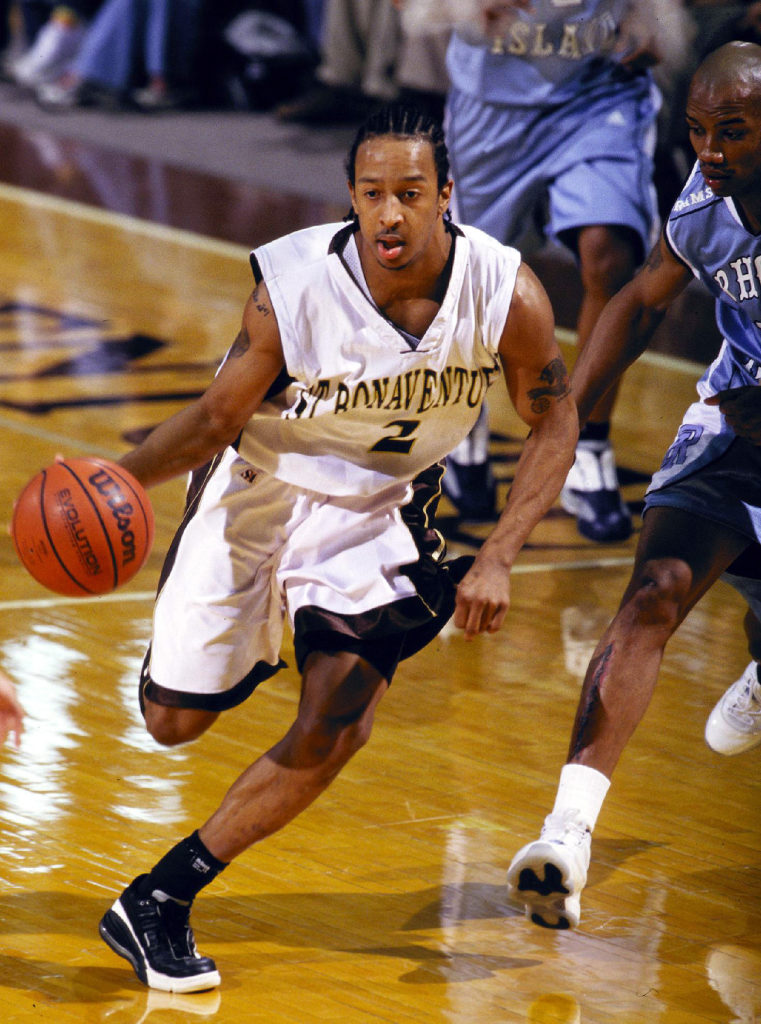 1999-2000
Record on Feb. 19, 2000: 16-7 overall and 8-4 in the Atlantic 10 after a 71-62 win over Duquesne.
Best win: Temple on Jan. 15
Worst loss: Wisconsin-Green Bay on road on Jan. 31
RPI: The Bonnies stood 68th in CBS Sportsline's RPI on Feb. 18
Bracketology: The Bonnies were not in CBS Sportsline's bracket prediction on Feb. 14 or 18.
Analysis: The Bonnies had work to do to earn an at-large bid, even with a win over eventual No. 2 seed Temple; four losses in five games after that victory did them no favors.
Bona won five of six to end the regular season, however, with the lone loss coming at Temple's Liacouras Center. After two wins in the Atlantic 10 Tournament, the Bonnies were confident enough in their NCAA chances to hold a public Selection Show viewing party in the Reilly Center.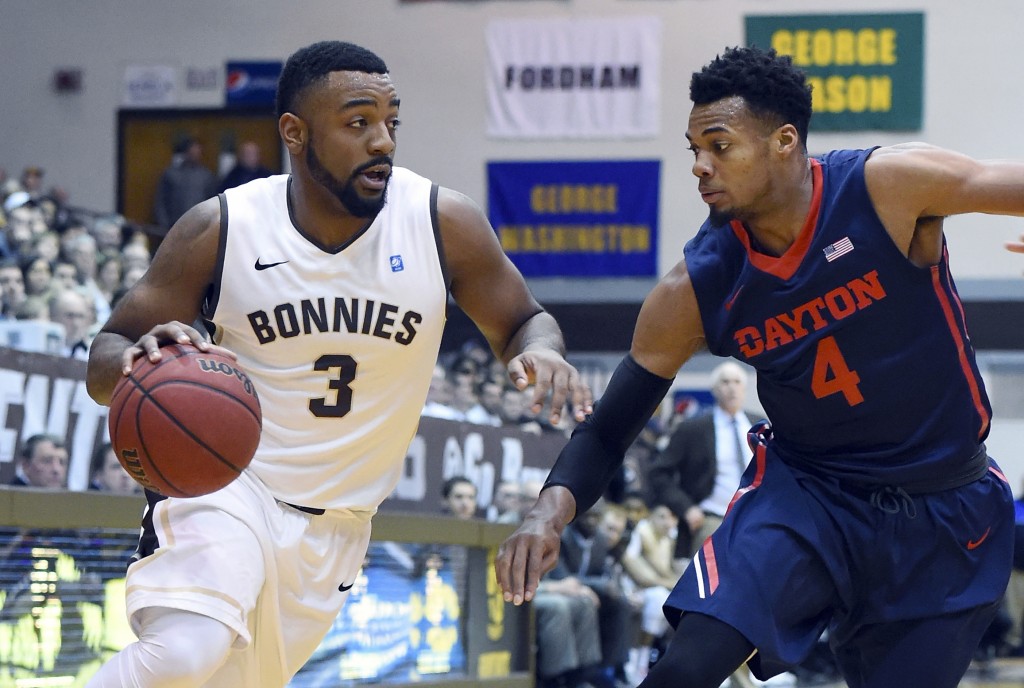 2015-16
Record on Feb. 19, 2016: 17-7 overall, 9-4 Atlantic 10
Best win: At St. Joseph's (No. 24 RPI)
Worst loss: La Salle (No. 230 RPI)
RPI: 53
Bracketology: Joe Lunardi had the Bonnies in his "Next Four Out"
Analyis: Bonaventure's chances looked dire after a stunning 71-64 loss at La Salle's Tom Gola Arena. The Explorers entered that game on a 10-game losing streak, with a 1-12 A-10 record. After avoiding a glaring loss for three and a half months, the Bonnies had stepped on a landmine. "I'm very upset," senior guard Marcus Posley said quietly outside the visitors' locker room that night. "We were supposed to win this game, but didn't take care of business."
SBU quickly reversed its fortunes with an upset victory at UD Arena three days later (five years ago tomorrow), re-entering the tournament picture.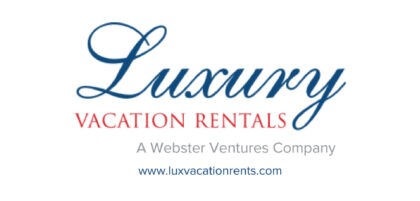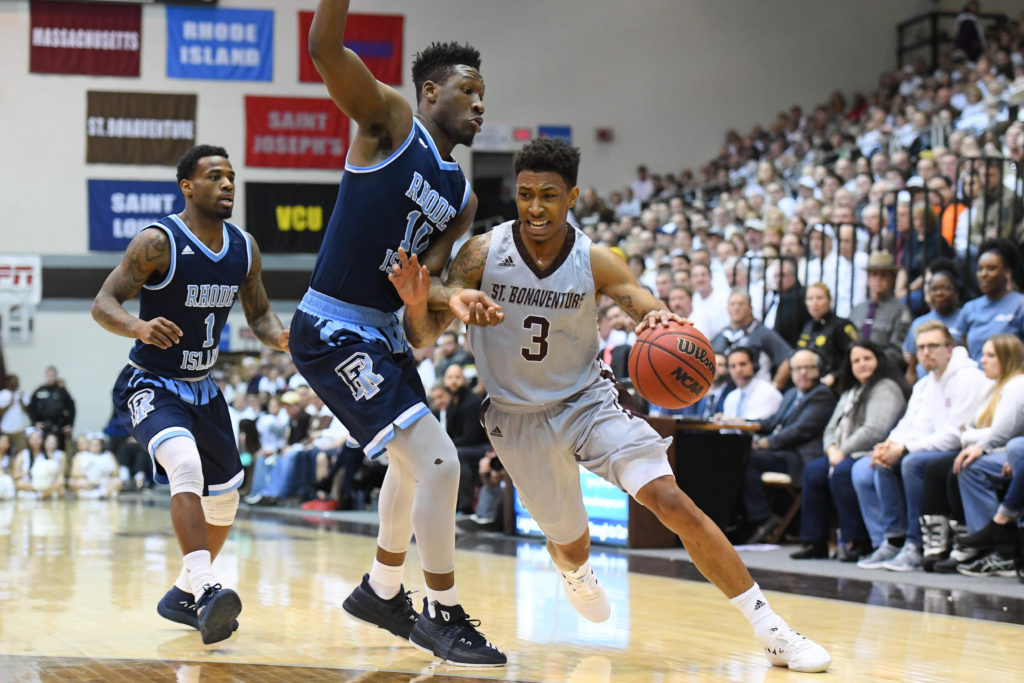 2017-18
Record on Feb. 19, 2018: 20-6 overall, 10-4 Atlantic 10
Best win: Rhode Island (RPI No. 7)
Worst loss: Saint Joseph's (RPI No. 175)
RPI: 27
Bracketology: Joe Lunardi had the Bonnies in his "Last Four In"
Analysis: The Bonnies had just ended Rhode Island's nation-best 16-game win streak on ESPN2's Friday Night Showcase, extending their own win streak to eight. Bona was in the midst of a perfect February, erasing some of the stain of its 2-4 start to league play.
"We couldn't go 0-2 against Rhody, the best team," Matt Mobley said when asked if the Bonnies needed that victory to make the tournament. "We all just wanted this win really bad. We knew what it meant for everybody, and we were able to get it done."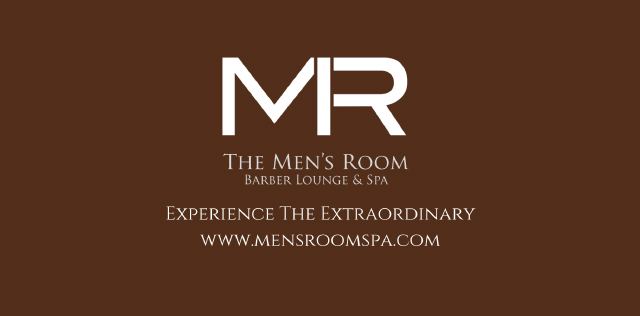 2020-21 (Present Day)
Record: 10-3 overall, 8-3 in the Atlantic 10
Best win: At Richmond (Quadrant 1; Richmond No. 60 in NET)
Worst loss: At Rhode Island (Quadrant 2; Rhode Island No. 87 in NET)
NET rating: 41
Bracketology: Joe Lunardi has the Bonnies in his "Last Four In"
Analysis: The Bonnies are 4-3 in Quadrant 1 and 2 games, perfect in six matchups against lower-rated teams and are set to host Davidson in a Quadrant 2 contest on Sunday. Saint Louis is expected to visit the Reilly Center before season's end and, at No. 32 in NET, is on the verge of making that a Quadrant 1 game for both teams. VCU, meanwhile, is 31st, so SBU's home win over the Rams is also on the brink of becoming Q1.
The Bonnies are in better shape today than they were in 2000 and 2016. But until their name crosses the CBS ticker on March 14, don't expect any exhales from the Southern Tier.