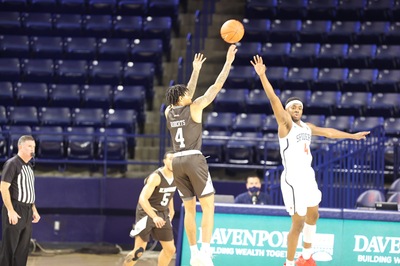 By CHUCKIE MAGGIO
Junior guard Anthony Roberts will not return to the St. Bonaventure basketball program, the program confirmed today.
Roberts, who totaled 16 points, eight rebounds and eight assists in three games as a Bonnie, left the team for personal reasons and had missed Bona's last four contests. The Detroit native opted not to enroll in classes or return to the university for the spring semester. Spring semester classes started Monday.
Roberts, who transferred to Bonaventure after two years at Kent State, has not entered the NCAA transfer portal. "We wish him well going forward in whatever he chooses to do," sports information director Scott Eddy said in a text message on Monday.
The Bonnies have seen three departures since the 2020-21 preseason, with freshman Quintin Metcalf and sophomore Justin Winston leaving in November and December, respectively. Winston committed to Robert Morris this past weekend.
Bona, which has won eight of its nine games to start the season, has nine scholarship players. Its next game is scheduled for Saturday afternoon at Davidson.