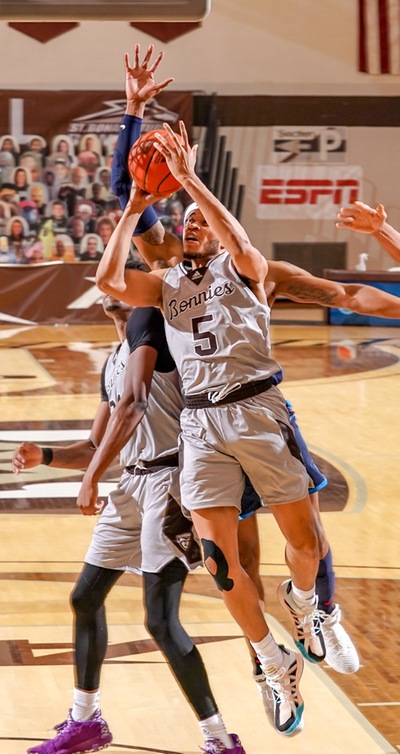 By CHUCKIE MAGGIO
The Duquesne Dukes like to believe a lot can change in a week.
While St. Bonaventure was surprising the Atlantic 10 on Wednesday night, storming back from a 15-point halftime deficit to top VCU, the Dukes were erasing a 13-point disadvantage at the same time in Allegheny County.
Keith Dambrot's side endured a 26-12 Rhode Island run over the last 10:52 of the first half at its temporary La Roche University home, creating a margin that grew as large as 17 points. Duquesne responded by shooting 65 percent (15-of-23) in the second half, taking a 66-65 lead with 5:23 remaining and holding the Rams to just one field goal the rest of the way. The Dukes won 71-69, improving to 4-5 overall and 3-4 in the A-10.
"We aren't dead yet," Dambrot told the Pittsburgh Post-Gazette after the game. "I didn't come here to wave the white flag."
The Dukes' response from a 14-point loss at St. Bonaventure last Friday night was reason for optimism in Pittsburgh, as was Maceo Austin's return to practice following a leave of absence from the team due to personal reasons. Saturday evening marks the return game for the familiar foes, who meet at La Roche eight days after they last played. The second matchup was moved up from March after Bona's scheduled contest was postponed due to Saint Louis's COVID-19 pause.
Bona held Duquesne to 48 points in last week's ESPN2 "Showcase," the third time in four games the Dukes managed that number. Their offense answered a frigid 19-of-53 shooting night in the Reilly Center by converting half of its field goal attempts against Rhody. Chad Baker, the starting freshman forward who tallied six points in 20 minutes impacted by foul trouble, broke out by hitting all five of his 3-pointers.
Baker's career high, his first double-figure performance, caught Bonnies coach Mark Schmidt's eye on film. Michael Hughes and Marcus Weathers combined for 27 points, a workmanlike effort from the Dukes' post presence, but Baker joining a capable shooter in Austin makes Duquesne a more threatening squad than it was even a weekend ago.
"It was a close game," Schmidt said of last Friday, when his team closed the victory on a 19-6 run. "It ended up being 14, but it was a one or two-possession game until the last couple minutes. They present a lot of problems with their inside game. Weathers and Hughes are horses inside. Weathers faces up eight, 10 feet off the block, presents problems. They're really well-coached; they'll make adjustments. And (Tavian) Dunn-Martin, every time we play down there it seems like he has a career night.
"We've got our work cut out. We've got to play better than we did against them a week ago, playing down at their place. They're gonna be ready for us, so we've got to play that much better."
Dunn-Martin had just six points at Bona after missing eight of his 10 attempts and his only free throw, but Schmidt's recollection was almost spot-on. The 5-foot-8 senior scored 25 points in Bonaventure's win at Robert Morris's UPMC Events Center last Feb. 8, tying the second most prolific output of his career.
For all they lost on paper after Sincere Carry and Lamar Norman Jr. entered the transfer portal, the Dukes are playing .500 ball since Carry's departure.
"Keith knows what he's doing. He's won a zillion games; I've got all the respect in the world for him," Schmidt remarked. "You saw what they did against Rhode Island. They were down by 13, 14… A lot of teams, similar to us, could've laid down and just said, 'We've had injuries. We've had transfers. We're gonna feel sorry for ourselves.' But that's not happening with Duquesne, and that's a credit to the coaching staff and it's a credit to their players.
"The way they played and came back against Rhode Island, it's all you need to know. They're competitive guys, Keith's getting the most out of them and we're expecting a really difficult game."
The Bonnies, who welcome Alejandro Vasquez back to the rotation after he left Wednesday's game diving for a loose ball, jumped 15 spots in the NET rankings on Thursday morning. They currently rank 43rd in that metric, with VCU representing a Quad 2 win on their NCAA resume and Duquesne sitting in the "Quad 3" range.
Schmidt, to the surprise of no one who has regularly followed him, won't acknowledge the Bonnies' NCAA contention publicly but did say he likes the position he's in. He used the VCU game not only as an example of the team's resiliency but as a potential cautionary tale of not playing a complete game.
"After six games we're happy where we are, but we're not satisfied; we're not comfortable," Schmidt noted. "We can't stop working. I say it all the time: No player stays the same; either they get better or they get worse. No team stays the same; either they get better or they get worse. And we've got to continue to work.
"If we get complacent, if we get comfortable, then our skill's gonna erode and we're gonna start losing. Every game you've got to play your best. I'm proud of what we've done so far, but we've got a long way to go and our players understand that."