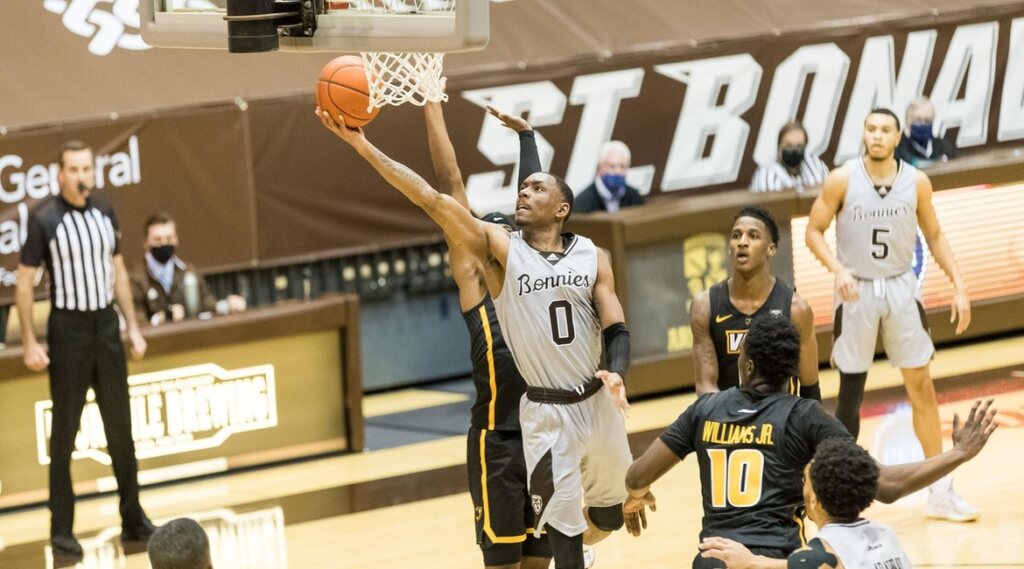 By CHUCKIE MAGGIO
The St. Bonaventure Bonnies have allowed just 56 points over 60 minutes in their last three second halves. Already the best defense in the Atlantic 10 entering Wednesday night's game at the Reilly Center, their performance against VCU was their best, and perhaps the most inconceivable, yet.
Bona walked to the locker room at halftime down by 15 points. A manageable seven-point deficit with less than two minutes remaining in the period ballooned to a 40-25 disadvantage at the break, capped by a shooting foul at the buzzer that allowed VCU to tack on two free throws.
"I don't know if it was embarrassed," Jaren Holmes said of the vibe in the locker room, "but we felt like maybe they had tried to 'punk' us."
"They were disappointed at how they played at both ends," Bonnies coach Mark Schmidt admitted. "We didn't have the energy. We weren't fundamentally sound. They took it to us."
The Bonnies were outmuscled in the post and outmanned on the glass over the first 20 minutes, outrebounded by 13 and held to 10-of-32 shooting. Rather than being "punked" again in the second half, however, they were able to flip the switch- and rapidly so.
Bona (7-1, 5-1 A-10) opened the second half on a 20-3 run, making eight of its 10 field goal attempts and overtaking the Rams for the lead just 5:44 into the period. Schmidt's team rode the momentum to a 70-54 victory, turning a possible blowout loss into a sizable win in a clash for first place in the conference.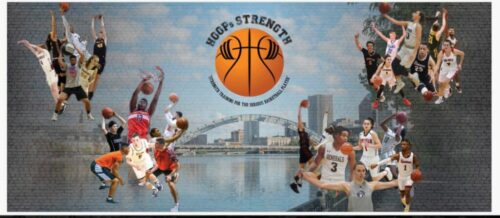 The furious rally was keyed by a series of high-flying pyrotechnics, set off by Kyle Lofton recovering a tipped ball that had skittered past half court and lobbing an assist to classmate Osun Osunniyi. The dunks continued from there: Jalen Adaway, blocked three times in Bona's slump, flushed one home over two Ram defenders; Osunniyi threw down another on an Adaway assist.
The Bonnies went from target to bully, and VCU went silent. After gliding to a double-digit lead despite committing 11 first-half turnovers, the Rams turned the ball over eight more times in the second and made just five of their 26 field goal tries (19.2 percent). Bona outscored Mike Rhodes's squad 24-4 in the paint and tallied 15 points off turnovers, able to eventually take advantage of VCU's miscues.
Bona shot just four free throws in the first period, making two of them. The brown and white shot 18 free throws in the second half, making nearly as many freebies (12) as the Rams scored points down the stretch.
It was a stunning turnaround after what Schmidt called the finest second half the Bonnies played since he accepted the job in 2007.
"The most important minutes of the second half were the first five minutes. First 10 possessions," Schmidt remarked. "It's like, the lead was going to go from 15 to 25 or we were gonna cut into it. And our guys responded; we couldn't have played better offensively, defensively, in the second half.
"To hold that team to 14 points- we did a good job on Hyland- to stop what they were doing against us in the first half, to hold that team to 14 points and the percentage that they shot, it's a credit to our guys. I'm really proud of what they did in the last 20 minutes."
Bona could have lost the game similar to how it lost last year's meeting in Richmond had it not been for Dominick Welch's return to the stat sheet. After being held scoreless last Friday night against Duquesne, Welch made five of his six 3-point tries, three of the makes coming in the first half, tin a 19-point performance.
The Buffalo native promised Bona fans he would bounce back from his slump, one he acknowledged is typical for him early in the season. He responded by taking the court early for pregame warmups, working on his corner and wing 3-point shots, and made four of the 10 field goals SBU converted over the first 20 minutes.
"I'm always gonna keep working. I'm always gonna get back in the gym and keep shooting, shooting my shot," Welch commented. "I've just been putting in the time, getting my rhythm back. Just trying to help the team as much as possible."
Holmes compiled 18 points, led a more aggressive Bonnies attack by drawing six fouls and was a rebound shy of a double-double. Five Bonnies had at least two steals, with the team recording 11. Lofton and Osunniyi combined to score 21 points on 10-of-19 shooting, with all nine of Osunniyi's points coming in the second half.
Nah'Shon "Bones" Hyland starred in the first half but was held to one 3-pointer in the second. The Bonnies, who were swarmed by VCU's "Havoc" press defense, went to the bench for just two Eddie Creal minutes during their run.
Schmidt trusted his five starters to complete the comeback. The result was a tale of two halves that could go down in Bona lore, a fifth consecutive win in what has been a nearly unblemished season.
"We're not gonna back down from anybody," Holmes said. "They came out in the first half and hit us in the mouth, so second half we had to come back and punch them two more times. It was just a great win.
"Obviously the defense is what did it for us. The offense is gonna be hit or miss each day, but to hold a team to 14 points in the second half is absolutely extraordinary at this level."