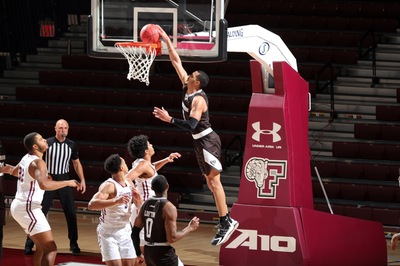 By CHUCKIE MAGGIO 
It's been a couple years since the St. Bonaventure Bonnies went to "war," as per Virginia Commonwealth's fight song refrain, with the Rams.
When the teams met in 2019, its "Big 3″'s freshman campaign, Bonaventure let VCU rush out to a 28-8 lead over the first 11 minutes and send many fans home well before the game ended in an 85-55 Homecoming humiliation. Last year, Osun Osunniyi missed the contest with a concussion and the Rams shot over 50 percent from the field, scoring 52 first-half points and running away with the 91-63 victory.
This year, barring any unexpected scratches, both sides are healthy, experienced, and squarely in the Atlantic 10 title hunt. The Bonnies, who opened as betting favorites, have their best chance to top the Rams since 2018 when they host Mike Rhodes's squad at the Reilly Center on Wednesday night.
"Every game is vitally important, and home games are most important," Bonnies coach Mark Schmidt remarked on a Zoom call Tuesday. "I say it all the time: If you want to compete for a title, you've gotta protect your home court… VCU's a good team. Young but talented, well-coached."
The Rams' postseason resume, which currently places them just outside the NCAA Tournament field according to ESPN bracketology expert Joe Lunardi, includes wins over Utah State and Memphis in the season-opening Crossover Classic. With its Capital City Classic rivalry game against Richmond originally scheduled for Saturday being postponed due to the Spiders pausing basketball activities due to COVID-19, VCU will be eager to return to action for the first time in a week.
A national audience watching CBS Sports Network will be transfixed by the point guard matchup between Bona's Kyle Lofton and VCU's Nah'Shon "Bones" Hyland. Hyland, a 6-foot-3 sophomore who made the A-10 All-Rookie Team last March, got the best of Lofton with 21 points in 27 minutes last season.
From complementary scorer to lead bucket-getter, Hyland has enjoyed a sophomore leap for the 10-3 (3-1 A-10) Rams. The Wilmington, Del. native who, presumably in jest, called himself more famous than fellow Delawarean Joe Biden in an interview with The Athletic, is averaging 18.1 points per game, doubling the nine he contributed last year. He embraces the brunt of VCU's scoring load, attempting 98 more field goals than teammate Vince Williams through 13 games.
The only A-10 player more voluminous than "Bones" this season has been GW guard James Bishop. Over half of Hyland's shot attempts (56.3 percent) are 3-point tries; he makes around 35 percent of them.
"He's really good. He's one of the better guards in our league," Schmidt assessed. "He's scoring the ball; he's the leader of their team. You can see that the team has confidence in him… He's got the respect of his teammates, and you watch him play, he's under control. It seems like he really enjoys playing. He's got a passion for the game and he's ultra-talented; we saw that last year. He can shoot the ball, he's long. He can get to the basket.
"He's gonna be a handful for the next three years. He's an exceptional player that seems like he enjoys playing and he's getting better."
The Rams feature a fast-paced, up-tempo offense and typically quick hands, leading the league with 150 total steals and over five blocked shots a night. Sophomore Hason Ward stands 6-foot-9 and is tied for the conference blocks lead with 28 despite playing less than 18 minutes a game off the bench. Hyland and freshman guard Adrian Baldwin Jr. have 29 steals apiece in the backcourt.
Other than Hyland, Schmidt directed most of his praise toward junior wing Williams, a 6-foot-6 wing who is seeing the most playing time of his career and is earning the role. Williams, who is averaging 10.8 points, 5.2 rebounds and 2.4 assists, expanded his range over the offseason and has already made 18 3-pointers. The Toledo, Ohio native made 12 3-pointers over his first two seasons, six each year.
"Williams, I think, is an X-Factor. When he plays well they usually win," Schmidt commented. "He's a three/four, shooting the ball much better this year… He's got a physical body. He plays both on the perimeter, inside; he can take you off the bounce. He's a very good player… He has it all. He can shoot it, he can drive it, seems like he has a good IQ."
Bona fans may do a double-take when Rhodes's lineup is announced, as Levi Stockard III, cousin of former Bona star Courtney Stockard, starts in the Rams' frontcourt. A transfer from Kansas State, the 6-foot-8 Stockard has made 30 of his 54 field goal attempts (55.6 percent) and plays just under 14 minutes per contest.
A physical presence that adds toughness to VCU's lineup, Stockard is one of 10 Rams who have played at least 100 minutes in the 2020-21 season. The Rams' depth, coupled with an active defense that turns teams over at a prodigious rate, poses problems for opposing squads.
"We've got to take care of the basketball better (than the last two meetings)," Schmidt noted. "They do a good job of running and trapping, trying to speed you up, and we've got to do a better job of handling their pressure. That's the key: you can't turn the ball over… That's how they play. That gets them going on offense.
"If they steal the ball, live ball turnovers kill you against VCU. So we've got to protect the ball. We've got to do a good job against their running and trapping. We have to know when to go and when not to go, when to attack and when to pull it back and run some offense. We haven't done a very good job against that, against VCU in the last couple years. Hopefully we can do a better job tomorrow."
The Rams a conference game in hand over the Bonnies and can overtake them in the league standings with a victory. The teams are only slated to play this one game in the regular season, so the winner holds a tiebreaker as well. Though Schmidt is not one to explore those stakes this early in league play, the game is consequential.
"It's still early," Schmidt said. "They're getting better, hopefully we're getting better."