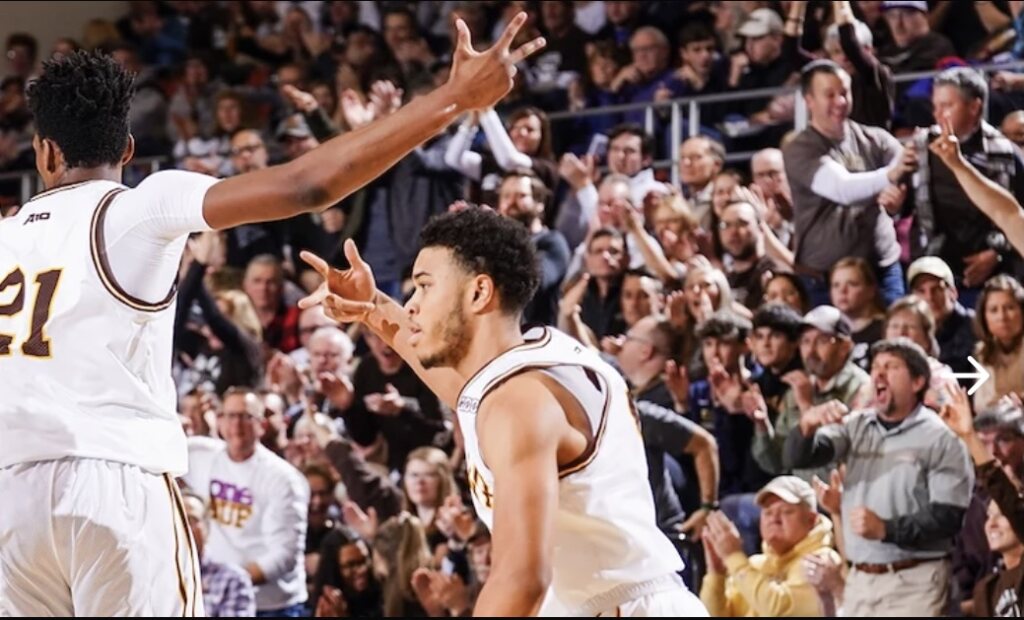 By CHUCKIE MAGGIO
They hold an early Atlantic 10 lead, haven't lost with a healthy starting five and are riding a three-game win streak. The St. Bonaventure Bonnies, however, are not satisfied with how they're playing entering Friday night's nationally televised contest with longtime rival Duquesne.
"Believe me, we're not playing great," Bonnies coach Mark Schmidt said Tuesday, before his team traveled to the Bronx to play Fordham.
"I'm not even playing my best basketball," point guard Kyle Lofton tweeted in part Wednesday night, after he scored 14 points and added six assists in a 14-point victory over the Rams.
I'm not even playing my best basketball rn loll , 🤦🏾‍♂️ I'll come alive soon ⏳ 🙏🏾 #workaholic

— Kyle Lofton (@Kloft0) January 14, 2021
The program is off to its best start to a season since 2014-15, when the Bonnies started 6-1, but the team is not content. Its offense, for instance, ranks eighth in the A-10 in scoring average and has scored 70 or more points just once in the last four games. Bona has made just 34 of its 107 3-pointers, one of the worst percentages in the conference.
The premise that the Bonnies' offense is underperforming, supported by the fact that neither Osun Osunniyi or Dominick Welch reached double-figures in either of the last two games (Osunniyi hasn't since Dec. 19), is reason for optimism at SBU. Schmidt's squad is maintaining the league's No. 1 defense through six games but is still focused on developing its chemistry.
"We've only played six games," Schmidt noted on a Zoom call Thursday. "So we've got a long way to go and we've gotta improve in all areas. You saw it yesterday: some possessions we looked really good and some possessions we looked really bad, both on the offensive and defensive ends. 
"We've got a lot of work to do. Individually we do, as a team we do. We're not nearly where we have to be, and every day, even today even though it was a walkthrough, we had some teaching moments. We've gotta get better; that's just the bottom line. If we want to compete for an Atlantic 10 title we're not nearly where we need to be in order for that to happen. Tomorrow's gonna be another test for us to see if we can improve on what we've done in the first six games."
Neither team playing in ESPN2's "Friday Night Showcase" game has much preparation time. The Bonnies landed back in Bradford, Pa. around 6 p.m. on Wednesday, while the Dukes played at Dayton Wednesday evening in a game that ended around 9. Schmidt compared the walkthrough the Bonnies conducted at the Reilly Center on Thursday to preparing for a tournament game. "It's more of a mental thing than a physical thing," he said.
Duquesne (3-4) is still dealing with rotational changes brought on by three backcourt departures last week. Sincere Carry and Lamar Norman Jr. opted to transfer, with Carry reportedly headed to Kent State, while Maceo Austin took an indefinite leave of absence. 
Senior Tavian Dunn-Martin and freshman Toby Okani started at guard for coach Keith Dambrot against Dayton, while freshman forward Chad Baker earned his second start alongside regular starting forward Marcus Weathers and center Michael Hughes. 
Dunn-Martin led the Dukes in shot attempts at UD Arena, taking 12, while Weathers was 6-of-11 from the field and led the team with 19 points. 
"The approach doesn't change," Schmidt said. "The approach is, we better play our 'A' game if we're gonna win. Hughes and Weathers, they're loads. They're really good players and Martin, like you saw last year down at Robert Morris, we couldn't guard him. They've got a good team, they're well-coached. They do things that will give us problems.
"They've got enough good players to worry about, so we don't worry about who they don't have. They've got enough good players to beat us."
The two Bonaventure-Duquesne meetings last season, including the three-point Bonnies win at Robert Morris's UPMC Events Center Schmidt alluded to, were decided by a combined seven points. 
A three-point win over Fordham last week and two-point loss at George Washington earlier this month serve as evidence that the Dukes are still predisposed to close contests.
"They're a power team. They go inside out," Schmidt assessed. "It's imperative that we match their physical toughness without fouling. We can't turn the ball over; we have to rebound with them. One thing that we've been doing well recently is rebounding, but this is a very physical team… very similar to Rhode Island and we didn't fare too well against Rhode Island physically.
"We'll see if we pass the test tomorrow, but Hughes and Weathers are two of the better inside guys in our league. They presented problems last year and they'll present problems again tomorrow night."