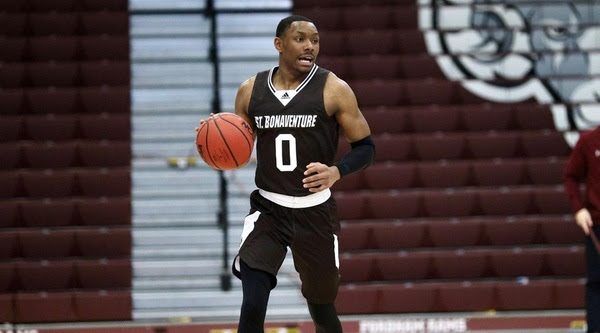 By CHUCKIE MAGGIO
The St. Bonaventure men's basketball team found itself on the other end of a statistical anomaly in the first half of Wednesday's matinee against Fordham.
Jeff Neubauer's Rams had scored more than four 3-pointers just once this season, swishing nine from beyond the arc in their surprising win over Dayton last week. They hadn't scored more than 33 points in a half, the number they hit in the second half of a thumping against La Salle.
So when the Rams hit seven 3-pointers in the first 20 minutes of Wednesday's game and jogged to the locker room tied at 37, a customarily robust Bona defense had adjustments to make.
"I thought we defended decently in the first half even though they hit seven (3-pointers)," Bonnies coach Mark Schmidt told the Olean Times Herald. "But I thought our guys, from a defensive standpoint, did a great job… in the second half."
The Bonnies allowed just two 3-pointers in the second half and held Fordham to 17 total points over the final 20 minutes. Bona won 68-54, improving to 5-1 and 3-1 in Atlantic 10 play. It moves into a tie for first place in the conference and currently holds the tiebreaker with 14 games left in the regular season.
Jaren Holmes continued his hot streak, following up a 38-point performance against St. Joseph's with 26 points on 10-of-16 shooting, including five 3-point baskets. Holmes scored 12 of SBU's first 18 points, making his first five shots.
"It's coming in the offense," Schmidt remarked. "It's not forcing things. He's hitting open shots. I had no idea he had 20 at halftime, by the way he plays. But he kept us in the game, from an offensive standpoint, in the first half. He's really, really important to our team. You saw when we didn't have him against Rhode Island, how we struggled. He's an important factor."
Junior point guard Kyle Lofton put a field goal-less game against St. Joseph's behind him, making six shots and a free throw for 14 points while also compiling six assists.
Lofton's first layup of the second half, which came off a backdoor cut and assist from Osun Osunniyi, marked points No. 1,000 and 1,001 in his 71-game career. It was an emotional afternoon for the Hillside, N.J. native, who was slapped with a technical foul with 5:56 remaining in the first half and sat until halftime with three personals.
A short walk to the locker room helped Lofton compose himself and produce nine second-half points. Lofton scored or assisted on seven of Bona's 10 second-half field goals.
"He's a really good player," Schmidt said. "He's a really good competitor. He's an emotional player, but that's what makes him the player that he is. He's our leader; scoring 1,000 points in two years and six games tells you all you need to know. He's not a guy out there that's gunning. He shares the ball, he's the ultimate point guard, he defends. It's great that he scored 1,000 points but I would assume he's happier winning the game."
The Bonnies who didn't have their shot working for them impacted the game in other ways. Dominick Welch missed six of his seven shots but brought in five offensive rebounds as part of a 14-rebound performance. Osunniyi missed all four of his field goal attempts but dished a career-high seven assists and also grabbed seven boards.
Jalen Adaway didn't reach the 24 points he poured on the Hawks, but he made four of his five field goal attempts and, with 14 points and nine rebounds, was a rebound shy of a double-double. Alejandro Vasquez played 17 minutes, his most floor time since the Rhode Island loss, and recorded four points, an assist and a steal.
Bona was down a man with junior guard Anthony Roberts being unavailable due to personal reasons, according to multiple sources.
"Our guys, they're mature now. They understand how to win," Schmidt commented. "You're not gonna be the star of the team offensively every night. They understand the importance of winning games, and how to win them. When your offense isn't going well you've gotta do something else. They've done that."
Fordham big man Joel Soriano scored 12 points on 6-of-9 shooting but fouled out with 2:34 remaining. The Bonnies, who already controlled the glass with a 43-24 rebounding edge, didn't allow another point.
Fordham went scoreless over the last 5:13. Its point guard, Jalen Cobb, scored the Rams' last field goal with 8:50 remaining. Cobb and fellow guards Kyle Rose and Chris Austin combined to score 30 of the team's 54 points.
Bona shot 43.6 percent, missing 31 of its 55 field goals, but still notched 20 assists to just 10 turnovers. The Bonnies scored 11 points on 11 Fordham turnovers.
"I thought we did a better job contesting in the second half," Schmidt assessed. "We changed defenses; we played some zone, tried to keep them off balance. The guys, they're committed. They understand in order to beat Fordham we needed to defend. They're one of the better defensive teams in the Atlantic 10, so our guys really took it.
"It was like a test for us. It's like, 'How are we gonna play against a team that almost beat Duquesne and beat Dayton here?' That was a challenge, and I think our guys did a really good job, especially in the second half."