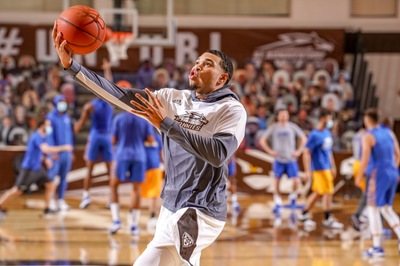 By CHUCKIE MAGGIO
Jaren Holmes is St. Bonaventure's newest Atlantic 10 Player of the Week, the conference announced Monday.
Holmes earned the award with a 38-point, 10-rebound performance in Bona's 83-57 win over St. Joseph's at the Reilly Center last Wednesday. Holmes shot 8-of-12 from 3-point range, scoring 26 of his 38 points in the second half. The junior tied for third in program history in single-game 3-point baskets with the eighth-best single-game Bonnies scoring effort in the Reilly Center.
Holmes is the program's first A-10 Player of the Week honoree since Jaylen Adams on Feb. 12, 2018.