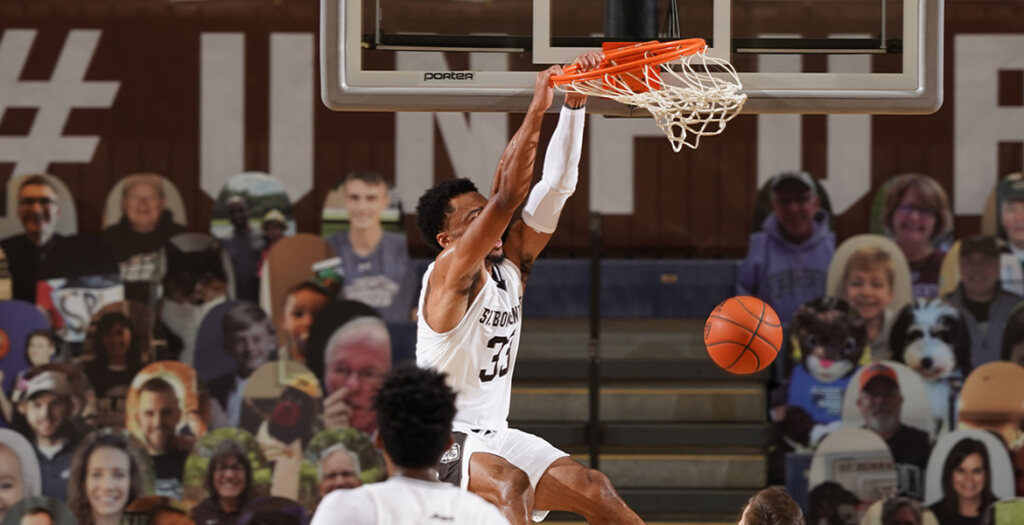 By CHUCKIE MAGGIO
The St. Bonaventure offense was in a rut before Jalen Adaway put on his best performance in a Bonnies uniform on Wednesday.
Bona had gone scoreless for 347 seconds of game time, which extended to 371 for its longest drought of the young season, when Adaway re-entered the conference home opener against St. Joseph's with 7:55 to play until halftime. Adaway was substituted for Alejandro Vasquez five minutes in, with the Bonnies leading 16-8. The Hawks went on a 13-5 run with him on the bench.
Adaway was comfortable in the middle of the Hawks' 2-3 zone, sliding from one end of the foul line to the other while helping direct traffic around the perimeter. He caught an Anthony Roberts feed and swished a mid-range jumper to snap the team's 0-for-12 field goal slide before making a layup in traffic over SJU's Taylor Funk on the next offensive possession.
Three minutes later, Bonnies down one, Adaway ditched the finesse for a play and simply outleaped two defenders for a slam dunk, switching from two hands to his left as he rose.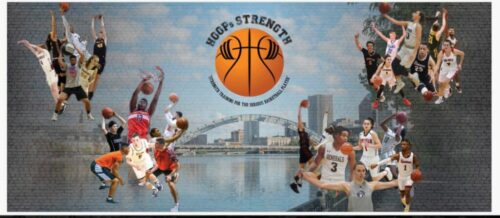 The Logansport, Ind. native finished the first half a perfect 7-of-7 from the field and, after his first miss 1:41 into the second, made his last three shots to go 11-of-12 and 2-of-2 from the free throw line.
It's hard to believe in retrospect that Adaway's starting forward spot was in question from outside observers during the preseason, especially now that his staunchest competition for the role is in the transfer portal. Adaway is shooting 72.2 percent from the field, the best percentage by a Bonnie with at least three shots a contest through the first five games of the season since at least 2010-11. He is averaging 11.6 points a game despite taking 14 fewer total shots than any other starter.
He might be the most athletic player on the team (he brought in an offensive board at the end of the first half that looked out of reach, putting it back for a layup), but Adaway's efficiency is quickly becoming his biggest asset to the 4-1 Bonnies.
The junior captain's percentages are not typos, nor do they appear to be major flukes. He hunts high-percentage looks, attempting only two-pointers thus far despite making 33 3-pointers over two seasons at Miami University. He seeks out the open man, recording a career-high four of the team's 27 assists Wednesday. And in 140 minutes, he's turned the ball over just three times.

"Just trying to find my place within the offense," Adaway said after the win over St. Joe's. "Just consistently trying to build up my confidence, to the point where I'm not second-guessing an open shot or making the right pass. I feel like I'm getting a little more comfortable."
Bona's coaches and players knew what was coming before the public did, before Adaway even played a game at the Reilly Center.
"He practices as hard as anybody. He's got a great attitude," Bonnies coach Mark Schmidt said in November. "I don't pick those captains; the players pick those captains, and the guys know who is committed and who isn't. They're the biggest critiquers of us all, and for them to name him captain without playing a game says a lot. Just shows you how respected he is, not just as a player but as a person."
That respect only figures to grow as Adaway's short but impactful Bonaventure career progresses.