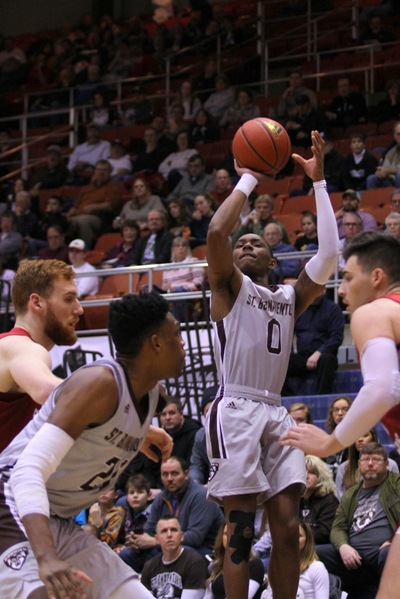 By CHUCKIE MAGGIO
The St. Bonaventure men's basketball team is refuting the notion that its schedule plateaus for the next week, that its reward for splitting a challenging road trip against two of the Atlantic 10's best squads is a comfortable three-game stretch with three of the worst.
By any metric (the Atlantic 10 preseason poll, the NCAA's first NET rankings, their combined 4-16 records), St. Joseph's, George Washington and Fordham- Bona's next three opponents- appear bound for a Wednesday opener in March's conference tournament. The Bonnies, however, don't see Wednesday afternoon's conference home opener against the Hawks as a walkover.
"We all know that St. Joe's is a very good team," junior point guard Kyle Lofton said Tuesday. "Even though they're 0-7, they played a bunch of high-major teams."
Coach Billy Lange's Hawks completed a gauntlet of a non-conference slate, opening the season with Auburn and Kansas while also meeting Villanova and Tennessee away from Hawk Hill. SJU rallied from behind to take Auburn to overtime in Fort Myers, Fla., falling 96-91, before trailing the current Associated Press No. 6 Jayhawks by just eight points at halftime of a 94-72 defeat.
The Hawks, who fell to VCU in their A-10 opener, nearly earned their first win last Sunday in Rhode Island. Led by junior forward Taylor Funk and sophomore guard Cameron Brown, who combined to score 50 points, they held a three-point edge with eight seconds left when Miles Douglas fouled Rhody guard Fatts Russell on a 3-point attempt. Russell made all three foul shots and the Rams outscored SJU 15-7 in overtime.
"We competed well enough to win the game," Lange told the Philadelphia Inquirer. "We just didn't win."
Bona, Lofton noted, also fell at URI last week. The gap between the teams, he posited, isn't as wide as the records suggest.
"I think we've gotta come in mentally prepared," Lofton said, "and just be ready to take on this game."
The Hawks have played the last two games without Ryan Daly, the league's leading scorer by average last season, due to a thumb injury Daly suffered in the loss to Tennessee. The 6-foot-5 redshirt senior notably went for 30 points on 50 percent shooting at Drexel on Dec. 17, his fourth 30-point performance in 35 games as a Hawk.
Daly tallied about 32 percent of SJU's points against Bonaventure last season, scoring 21 at Hagan Arena and adding another 20 at the Reilly Center in the Hawks' two double-digit losses. He was listed as probable to play against URI and could make his return Wednesday, though Greg Foster Jr., a transfer from Gonzaga, will miss a second straight game due to personal reasons.
The Hawks have allowed 626 total points, the fourth most per game in Division I, but entered Tuesday's games with the A-10's No. 6 scoring offense at 73.6 points a contest. Junior forward Taylor Funk achieved a career-high 29 points at Rhody, making five 3-pointers and hitting 11 of his career-high 21 field goal attempts.
The 6-foot-8 Funk has attempted over 11 field goals a game this season, the highest volume of his career. He has yet to break out in his four games against Bona, missing 19 of his 28 field goal tries and totaling 26 points while also picking up two technical fouls, but Schmidt is wary of SJU's second-leading scorer.
"He looks like he's in much better shape… he's trimmed down," Schmidt assessed, noting that Funk missed all but seven games last year with a hand injury. "And he presents problems because they play him at the 'four' and the 'five' and at the five, we've got a five-man guarding him. He loves to screen and pop and he can really shoot the ball… He's a really good player and he presents problems because he's a screen-and-pop guy and it's hard for a five-man to go out there and get to his shot.
"And he's smart. He slips screens, he back-cuts, he has a high IQ for the game. So he's gonna be a handful tomorrow."
Lofton acknowledged the Bonnies continue to develop an offensive rhythm and get into a "basketball feeling" entering their fifth game of the season. He also recognized the consequences of his six-turnover outing to kick off league play, a number he trimmed in half against Richmond.
SJU's defense, despite its porous numbers, is not simple for Schmidt and his staff to prepare for. Against Rhode Island, he explained, the Hawks played 95 percent 2-3 zone. Against Villanova, however, they played 95 percent man-to-man defense.
"They'll pick up full court; they're really active… Who knows what they're gonna do," Schmidt remarked. "We just have to attack whatever defense they're in."
On the other end, the Bonnies have a better idea of what to expect: a barrage of 3-point shots. The Hawks have attempted over 31 3-pointers a night, ranking fifth nationally. They make just 29 percent of their long-range shots, but it doesn't deter them from firing; talented guards Dahmir Bishop and Cameron Brown combine to take over 11 a game from beyond the arc.
Bona landed at No. 57 in the NCAA's first NET rankings of the season, while St. Joe's stood 243rd. Schmidt gave the Hawks more credit than the computers, calling Lange's club "scary."
"They're 0-7 but there's a lot of teams in this country that would be 0-7 playing the schedule that they've played," Schmidt commented. "It hasn't been easy, to go to Tennessee and Kansas and Auburn and Villanova, then at Rhode Island. That's a heck of a schedule. They're much better than 0-7, and our guys know that.
"We have to play really well, especially defensively, for us to beat St. Joe's tomorrow." The game is scheduled to tip off at 4 p.m. and will be broadcast on ESPN Plus.