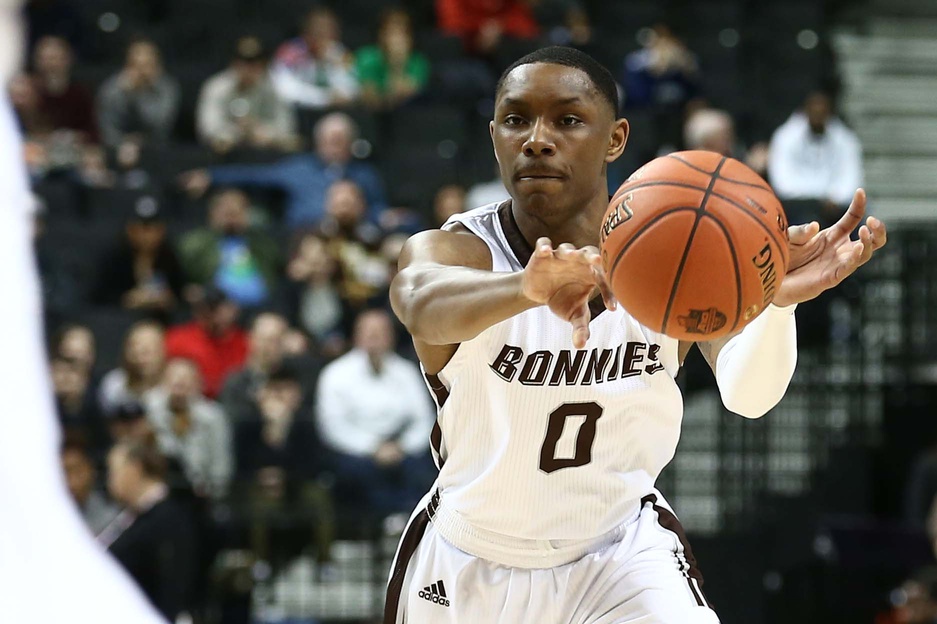 By CHUCKIE MAGGIO
Kyle Lofton was pleading with the officials at the Robins Center moments earlier, protesting a no-call that turned into a traveling infraction and threatened to turn St. Bonaventure's lengthy lead into an 0-2 league start.
Then came redemption in the form of a missed Richmond free throw and a spent shot clock, leaving the junior point guard the ball, for the win, with 14 seconds left and the game tied at 66. As the La Salle Explorers learned at the Reilly Center in 2019, Lofton's first game-winning shot as a collegian, that's an unenviable position for an opposing defense.
Lofton inbounded the ball to center Osun Osunniyi and received a pass right back, made his way past half court and accepted an Osunniyi screen at the top of the arc. Richmond point guard Jacob Gilyard stayed on Lofton for a moment before switching onto Dominick Welch, who had also set a screen and popped out to the wing. Spiders guard Blake Francis, in turn, switched from Welch to Lofton.
Lofton briefly looked at attacking the lane, thought against it, created space between himself and Francis and swished a 3-pointer to put Bona up 69-66 with 2.8 seconds left. Francis missed a chance to answer on the other end, securing Bona's first league win of the season over the preseason A-10 favorites.
"He wants the ball in his hands, wants to hit that big shot," Bonnies coach Mark Schmidt told the Olean Times Herald of Lofton, who scored 16 on 5-of-9 shooting and scored five points in the last 84 seconds despite playing with four fouls. "So we just ran a staggered screen, had 'Shoon roll and then Dom pop and give Kyle an option of hitting Dom for a shot or Kyle keeping it.
"Kyle made a good decision. He's a big-time player."
The Bonnies trailed for just 53 seconds in the second half but never stretched a lead past six points. Francis and Nathan Cayo combined for 22 second-half points as Richmond, which led at halftime on Francis's 3-point buzzer-beater, held Bona scoreless from the 7:04 mark to 4:36 before doubling SBU up 8-4 to tie the game at 66.
Lofton overcame a quiet start and scored 12 second-half points on 3-of-5 shooting from the field and 5-of-6 foul shooting. He played 17 of the 20 minutes that period, as did Jaren Holmes, who returned from a back injury to score a team-leading 17 points on 7-of-12 shooting, including two 3-pointers. Bona shot 46.2 percent (12 for 26) and made four 3s in the second half after missing eight of its nine shots from deep in the first.
Bonaventure wasn't certain that Holmes would be ready to play, as the back spasms that resulted in him exiting the game against Rhode Island still lingered. His contributions to the win, healthy or not, did not go unnoticed.
"He's just a player," Schmidt commented. "We play him at the '1,' '2' and the '3,' and he's just a glue guy, makes all the right plays. Makes those tough plays; he had a big block (on Cayo), big shots. He's a big part of our team. That's what we were missing at the Rhode Island game, that toughness. He brings that. He's unselfish; he's all about the team, all about winning. And he makes winning plays. He makes big-time plays, when you need them.
"That's something that we needed today and we're gonna need the rest of the way. He's just a hard-nosed kid that loves to win, is gonna do whatever he can to make the team successful."
Welch was the third of three Bonnies in double-figures, scoring 11 points, but also made a mark on the glass with nine rebounds. The Buffalo native's best play of the game, however, may have been the foul he committed to send Spiders forward Grant Golden to the line with 15 seconds left. Francis and Golden's give-and-go resulted in Francis dumping off a bounce pass to his rolling classmate. Welch slid from defending the opposite post to prevent an open layup and send Golden to the line with a chance to take the lead.
Golden made the first free throw but missed the second, which Osunniyi collected and led to a Schmidt timeout to draw up the winning play.
Bona entered the final shot just 4-of-17 from 3-point range, and Lofton had made just one all season. At the most important time, Bona's most glaring offensive weakness became its method of victory.
The Bonnies' five-game win streak against Richmond is their largest against the Spiders in program history.
"It shows a lot of character, having a difficult game at Rhode Island, even though we were right there," Schmidt remarked. "They got us… we didn't play well, and it was a struggle. And we knew going in, not having many games under our belt, we were gonna have some rust.
"The kids, we didn't play a perfect game today, by far, but I thought they handled adversity; they learned from their mistakes. They showed some character. It's hard, when you lose and then they came down here right after and now you have two and a half days to sit and think about it. The kids responded. That's what you like, from a coach's perspective, is to have them respond in a positive way. We did that."