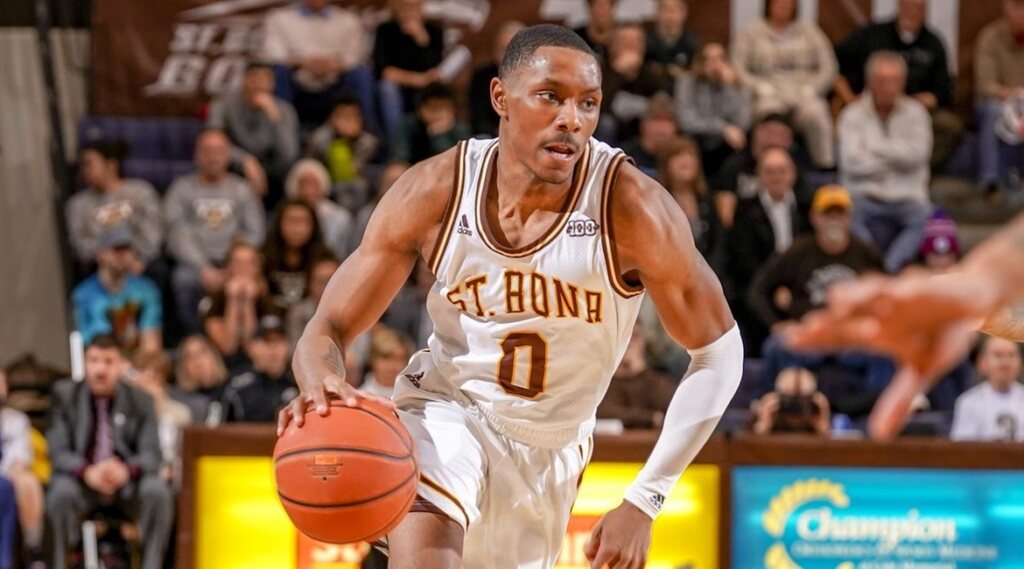 By CHUCKIE MAGGIO
If the St. Bonaventure men's basketball team wants a blueprint for rebounding from a substandard start to Atlantic 10 play, the Bonnies need look no further than their last opponent.
Rhode Island had 12 days to lick its wounds from losing at Davidson's Belk Arena on Dec. 18, and while the Rams didn't shine against Bonaventure on Wednesday, they were more aggressive on the glass and much better from the foul line. Correcting enough flaws to win, URI avoided an 0-2 start.
The Bonnies don't have the luxury of returning home for Game 2 like Rhody did; they traveled directly to Virginia after the game in Kingston. Regardless, Bona is out to fix its mistakes on Saturday evening against the Richmond Spiders.
The 7-2 Spiders needed to regroup themselves on Wednesday, having dropped a home game against Hofstra on Dec. 22. Davidson isn't an ideal get-right game, but coach Chris Mooney's team did just that in an 80-74 victory to open its A-10 slate.
Richmond, having defeated then-10th-ranked Kentucky at Rupp Arena on Nov. 29, held the No. 19 ranking in the Associated Press Top 25 poll before a 16-point loss at West Virginia on Dec. 13. Bob Cousy Award watch list member Jacob Gilyard leads the country in steals with 35 total, just one facet of a dynamic all-around game that has him in the A-10 Player of the Year conversation as the calendar flips.
The Spiders were built for a run at the conference title this season, returning the top seven scorers from a 24-win group that was likely bound for the NCAA Tournament before it was canceled. They were predicted to win the A-10 in the league's preseason poll and jumped out to a 4-0 start before falling in Morgantown.
Richmond has compiled a formidable 7-2 record despite losing senior guard Nick Sherod to a torn ACL in an October practice and Tulane transfer Connor Crabtree to a fractured right foot before conference play. Key rotation player Andre Gustavson has missed the last two games with a groin ailment and is also questionable for Saturday's game.
It's possible that two teams that boasted good depth entering practice will each have just nine scholarship players available on Saturday if Gustavson can't go and Bonnies guard Jaren Holmes's back injury leaves him sidelined.
St. Bonaventure won last year's contest at the Reilly Center, fending off a late 15-5 Spider push to win 75-71 on 80s Weekend. Blake Francis, Richmond's leading scorer that night, is leading the team with 16 points a contest on 14 field goal attempts per outing. Gilyard made four 3-pointers to keep Richmond competitive despite a sub-40 percent shooting night.
Sherod is the only returning starter who won't be in uniform, but forward Tyler Burton's sophomore leap has lifted the Spiders on many occasions through the first two months. Burton, who averaged just 14 minutes and only started once last year, has progressed from a rookie who chipped in two baskets a game to the team's third-leading scorer at 12.8 ppg on 50 percent shooting.
Five Spiders (the 6-foot Francis, 6-foot-10 forward Grant Golden, the 6-foot-7 Burton, 6-foot-7 forward Nathan Cayo and the 5-foot-9 Gilyard) hold double-digit scoring averages. The team ranks fourth in the league in scoring offense and second in assist-to-turnover ratio. In addition to Kentucky and Davidson, UR snagged true road victories at Vanderbilt, Loyola-Chicago.
For all those reasons and more, Bona coach Mark Schmidt renders his program's four-game win streak against "Spidey" wholly irrelevant. The difficulty of this opening week slate, he said before URI, is also why he won't be judging where the team stands just yet.
"These two games aren't going to tell us how good we are or how bad we are," Schmidt said, "just like the first two games we played didn't tell us how good we are or how bad we are. Usually you can tell how you're gonna do in the non-conference after seven or eight games, we have a chance or we don't.
"I don't really know what we have. I'll probably tell you in three or four weeks where we're at, but after the first two games are road games and the two teams that we're playing are very good teams, it's a little bit unfair."
Saturday's matchup, which will be broadcast on CBS Sports Network, is the first of a scheduled regular season home-and-home between Bona and Richmond. Bona has not started A-10 play with consecutive defeats since the 2012-13 season.