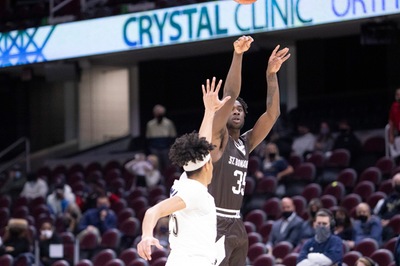 By CHUCKIE MAGGIO
The St. Bonaventure men's basketball team likes to score, a lot, to open Atlantic 10 play.
No team has scored more points on average in their first league games than the Bonnies have since Davidson entered the league and gave the A-10 its current 14-team structure. Bona has recorded 477 points over the last six conference openers, almost 80 points a game. The Bonnies have won five of those six games and seven of their last eight A-10 openers overall.
Included in the high-scoring affairs: Davidson's first trip to the Reilly Center in 14 years, when Jaylen Adams scored 30 points for the first time and Bona ran away with a 97-85 victory; UMass's visit on Dec. 30, 2017, when Adams and Matt Mobley combined to score 60 points in the Bonnies' 98-78 follow-up to beating Syracuse in the Carrier Dome; and an 89-point effort in UMass's Mullins Center the year before, when the same dynamic duo contributed 52 points.
Coach Mark Schmidt said the current Bonnies, who have won the only two games they've played thus far, can't expect to win a high-octane contest when they open their league campaign at Rhode Island's Ryan Center on Wednesday. The Rams, who stand 3-5 and lost their first A-10 game at Davidson's Belk Arena on Dec. 18, have held five of their last seven opponents under 70 points since allowing 94 to Arizona State at Mohegan Sun.
"We don't want to attack them just a five-on-five game. They're good in the half court," Schmidt remarked. "It's easy to score in the open court, it's easier to score when you have numbers, and that's how you can score points. You're still gonna have to execute on the offensive end; they're really aggressive getting in the passing lanes, they're really aggressive shocking ball screens. That's why it's very important for us to be able to take care of the basketball and get shots up.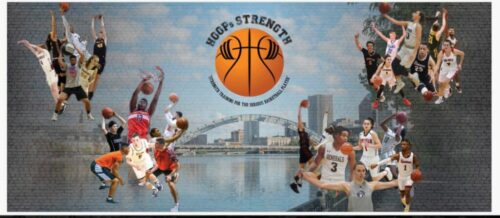 "If we can do that and hopefully get some second shots we'll be okay, but they're a tremendous, athletic, physical, halfcourt defensive team."
Rhody's prime defensive disruptor happens to be its go-to offensive talent. Senior Fatts Russell is the only Ram averaging double-digit points per game, leading the way with 14.4 a night on almost 13 field goal attempts a contest. He also records two steals and 3.6 rebounds a game.
Russell, a quick 5-foot-11, 165-pound point guard, scored 29 points on the strength of five three-pointers in URI's 81-75 win at the Reilly Center last January. Though he's been hampered by a right heel injury the program is comparing to plantar fasciitis, according to Providence Journal beat writer Bill Koch, Russell has played 261 of a possible 320 minutes to start the season.
"When he's playing really well, they're really good," said Schmidt, who called Russell the "engine" that makes everything run for third-year coach David Cox's team. "He's had some games where he's been in foul trouble and he's been on the bench. When he's on the bench, even though they've got other good players, he's the leader. He's the energizer bunny; he makes the team go. He's the guy that, he's the known, he's the guy you've gotta stop."
Wednesday will mark Rhode Island's second outing without Maryland transfer Makhi Mitchell, who suffered a season-ending knee injury in a loss at Western Kentucky on Dec. 13.
Mitchell, who transferred to the URI program with slightly taller twin brother Makhel, recorded his first double-double on Dec. 2 against Seton Hall and was averaging just under six points and five rebounds in 16 minutes. The Rams were outrebounded by both the Hilltoppers and Davidson.
The Rams have proven to be more than a one-man show. Jeremy Sheppard, Russell's backcourt co-pilot, totaled 74 points in non-conference play, his first Division I action since 2016-17. Antwan Walker, a 6-foot-7 junior, is a starter for the first time in his collegiate career and leads the team in rebounding. Syracuse transfer Jalen Carey has scored in double-figures twice and posted nine points and five rebounds against Wisconsin.
One of Rhody's budding x-factors is Allen Betrand, a 6-foot-5 Towson transfer who tallied eight points in 12 minutes in his team debut against Davidson.
There are evident comparisons to Rams squads of old, and St. Bonaventure has historically found winning at the Ryan Center to be a challenging task. The Bonnies are winless in their last four trips to Kingston, with their last victory there coming on Feb. 9, 2013.
"They have different players but the same mentality," Schmidt commented. "Russell is the leader, and as he goes they go, but they've got high-major transfers, they've got length, they've got athleticism, they've got physicality. Their record is 3-5 but… they played a difficult schedule.
"They're a very talented team and a team that's already played eight games; they have a better identity than what we have. But they're the same team. It's the same team, just different players. Good players."