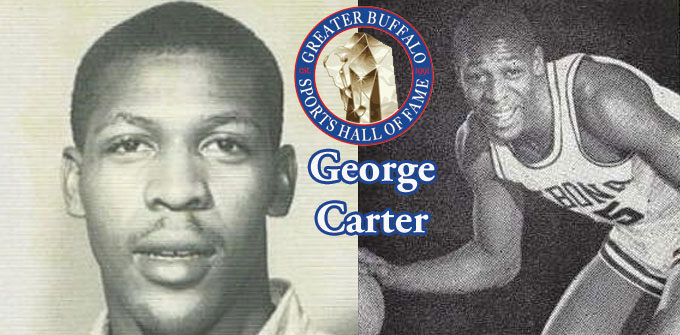 By CHUCKIE MAGGIO
There was little reason for George Carter to suit up against a Division III team with a broken toe on Dec. 17, 1964.
Carter, a sophomore who led St. Bonaventure in scoring and rebounding, suffered a chip fracture in the big toe of his left foot against St. Francis Pa. four days prior and wasn't expected to play against Illinois Wesleyan. The 4-0 Bonnies could surely manage without their star for a day and still defeat the Titans handily.
But Carter, who didn't miss a game in his three varsity seasons, wanted to play despite not practicing in the days leading up to the contest. Coach Larry Weise relented, inserting Carter into the starting lineup and letting him play 13 minutes.
The 6-foot-4 Silver Creek, N.Y. native contributed six points to Bona's 114-76 victory, demonstrating not only his toughness but his dedication to the Bonaventure program.
And Carter loved Bonaventure. He was the first Western New York athlete to be drafted in three different major sports- the Detroit Pistons chose him in the NBA Draft; the Buffalo Bills in the NFL; the New York Mets in Major League Baseball's- but when asked to name the most rewarding moment of his athletic career, he chose his 1974 St. Bonaventure Athletics Hall of Fame induction.
"The university itself is one of the best universities in the country," he told The Buffalo News's Aaron Mansfield in 2012, ahead of his induction into the Greater Buffalo Sports Hall of Fame. "The people you're surrounded by, the people I played ball with, it was just the greatest university. Very comfortable, very relaxing atmosphere. It was everything you could want."
Carter died on Nov. 18 at age 76 due to complications with cancer. His place in Bona basketball history, 53 years after he graduated with a sociology degree, still holds a distinction few players have reached.
Only Bob Lanier rebounded more misses a game than Carter's 12.5, while Carter's 849 career boards rank fifth in program history. He is one of just 24 Bonnies to score 1,000 points and grab 500 rebounds, 25th on the career scoring list with 1,277 points in 68 games and ninth in scoring average (18.8 ppg).
"The smallest guy in the world can get the ball," he said of rebounding in Jim O'Brien's Complete Handbook of Pro Basketball, "if he boxes his man properly. If you're quick, you can juke a guy into jumping on your back. There are ways."
A member of SBU's Centennial All-Time Team, Carter produced 19.4 points per game on 44.6 percent shooting and the Bonnies went 44-24 in his varsity career. He never lost to Little Three rival Niagara, teaming with Bill Butler to disrupt defenses on the wings.
"It was not strategy involved," Weise said after Carter dropped 25 points on DePaul at Buffalo's Memorial Auditorium in 1966. "It was simply a matter of getting the ball into George."
"The most undesirable job the opponent could possibly have is to go one on one with George," Bona Venture student newspaper staff writer Jim Sweet wrote in 1967. "Go up for a rebound with George, come down with your teeth still in your mouth. Once this move is completed take the ball away from George. If you can't do this, follow him down court and block his jump shot. Once you've done this, try to block the second effort shot he's going to take on the way down.
"If you do this, get off the court: you're pushing your luck."
After playing exactly one game for the Pistons in the 1967-68 season, it turned out Carter was drafted by a fourth major organization: the United States Army. He served two years and joined the American Basketball Association (ABA) afterward, signing with the Washington Capitols.
"The Dirty Dingus," a nickname he presumably acquired based on the 1970 comedy film Dirty Dingus Magee starring Frank Sinatra, scored 8,680 ABA points, 19th on the league's career list. Carter played with seven different league teams, tallied 570 playoff points and made the 1971 All-Star team.
When the ABA folded, Carter played overseas in France before retiring and residing in Las Vegas for most of his post-retirement life, where he worked as a limousine driver.
Carter didn't play football (SBU's football program disbanded a decade before he enrolled) in college, but he still managed to pick up another sport. The Bona Venture raved of his prowess as a pitcher and batter for Second Falconio's intramural softball team, as he hit over .500 and drove in more than 25 runs at the plate in the spring of '64.