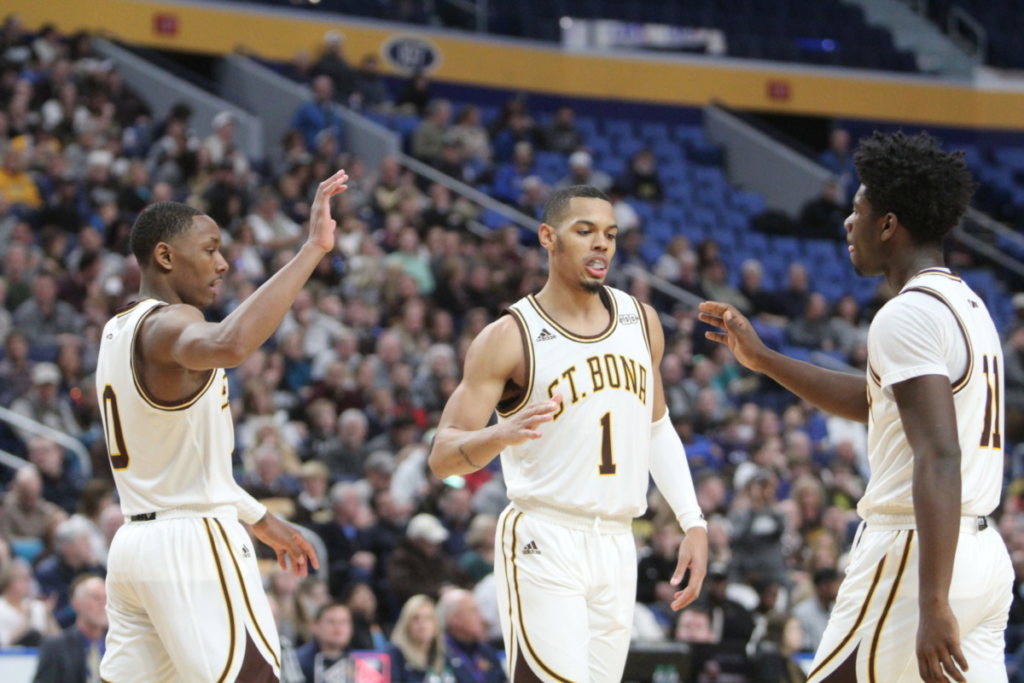 By CHUCKIE MAGGIO
The numbers, as always, can be distorted any way you'd like.
For example: St. Bonaventure sophomore Alejandro Vasquez was one of five Atlantic 10 freshmen to average at least six points per game while playing under 20 minutes a contest since the 2015-16 season.
Lamarr "Fresh" Kimble and the late Steve McElvene fit the criteria for St. Joseph's and Dayton respectively in 2015-16, while Rhode Island point guard Fatts Russell contributed seven points in just under 18 minutes a night in 2017-18.
This must portrend future stardom for Vasquez then, right? Kimble starts for Louisville now, Russell is on the Naismith Trophy watch list and McElvene started over half the Flyers' games before his tragic passing.
The flip side: the fourth player on the list was much-maligned Bona forward Josh Ayeni, who transferred to South Alabama after two seasons.
However you choose to interpret the Stats and Facts grab bag, these nuggets should help hold you over until the Bonnies resume basketball activities.
2. St. Bonaventure has won 10 or more conference games in each of the last six seasons, the longest active streak in the Atlantic 10 as well as the longest (and only) streak in program history.
3. Bona's longest active win streak is an eight-game stretch over UMass. The Bonnies, who lost 20 consecutive games to the Minutemen from 1989 to 1998, have never had a more dominant stretch over Massachusetts in the series, which dates back to 1980.
4. Bonaventure's longest active losing streaks are at the hands of Dayton (five straight losses since the program's second-ever win at UD Arena in 2016) and Davidson (four in a row since the triple-overtime classic in 2018). The Bonnies are scheduled to play Davidson in North Carolina on Jan. 30 and Dayton at the Reilly Center on Feb. 28.
5. Chris Mooney and Mark Schmidt are the longest-tenured active Atlantic 10 coaches. Mooney leads their head-to-head series 10-8, though Schmidt's Bonnies have won the last four. The teams, who are each predicted to finish in the top four of the A-10 this season, are slated to meet twice in January.
6. St. Bonaventure has the third-tallest roster in the A-10, with an average height of 77.5 inches (6-foot-5 and a half). George Washington (78.8 inches) and St. Joseph's (78.4 inches) are the league's only taller teams.
7. Dominick Welch's averages in Bonaventure wins last season: 12.6 points, seven rebounds, 2.4 assists. Shot 43.6 percent from the field, 43.8 percent from three-point range.
Welch's averages in Bonaventure losses last season: 10.6 points, 6.8 rebounds, 1.6 assists. Shot 34.6 percent from the field, 25.7 percent from three-point range.
8. Jaren Holmes made 45.3 percent of his field goals last year, the best shooting percentage from a Bona guard who attempted at least seven shots a game since Jonathan Hall and Michael Davenport shot 52 percent and 45.9 percent, respectively, in 2009-10.
9. The Bonnies are 2-6 when Osun Osunniyi fouls out in his career, 34-16 when Osunniyi plays and does not reach five fouls.
10. Osunniyi has 151 career blocks, 12 shy of tying Eric Stover for fourth place on the program's all-time list. He needs to average 69 blocks over the next two seasons to tie or surpass Caswell Cyrus's school record.
11. Player X averaged 15.7 points and 3.6 assists this past February, shooting 44.1 percent from the field including 23.5 percent from three-point range.
Player Y averaged 12.8 points and 4.4 assists that month, shooting 31.8 percent from the field including 23.9 percent from three-point range.
Player Z averaged 15.3 points and six assists that month, shooting 51.6 percent from the field including 47 percent from three-point range.
Player X is Tyrese Maxey. Player Y is Nico Mannion. Player Z is Kyle Lofton.
12. Lofton is three assists shy of tying Rob Lanier for 10th on Bona's career assists list. He stands 37 points away from passing Greg "Bubba" Gary for 50th on Bonaventure's career scoring list.