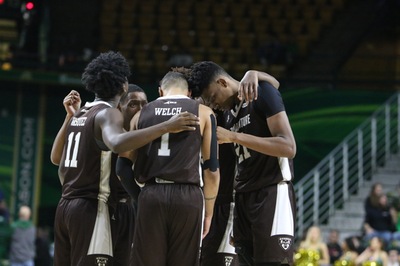 By CHUCKIE MAGGIO
Masking up, not partying, has been at the front of St. Bonaventure men's basketball players' minds this preseason.
The Bonnies, pushed not only by head coach Mark Schmidt and his assistants but by their captains and other team leaders, are prioritizing vigilance as COVID-19 cases continue to rise in the United States.
Over 20 men's basketball programs were on a pause from practice due to positive tests as of Saturday, less than two weeks before season openers on Nov. 25. Among the programs that have shut down: Big 4 adversaries Canisius and Niagara. Among the coaches who have tested positive: Naismith Basketball Hall of Fame inductees Jim Boeheim and Tom Izzo.
St. Bonaventure has been relatively healthy and "fortunate," as Schmidt put it; a few players have missed practice with flu-like symptoms but the program has not experienced any COVID cases.
The Bonnies were, however, impacted by the Vermont Catamounts announcing Sunday night that the school's athletic programs would not return to play until Dec. 18 after discussions with their state's health leaders. The Bonnies and Catamounts were scheduled to play on Dec. 1 in Mohegan Sun's "Bubbleville."
Only nine days stand between Bona and its scheduled opener against Towson in "Bubbleville." For the Bonnies, that means forgoing college party staples in the town of Allegany and staying home to play PlayStation instead. They acknowledged that the virus is unpredictable, and deciding not to go out won't alone keep them free from the virus, but they are placing an emphasis on personal responsibility.
"If you want to play basketball, if you want to play the sport that you love, you've gotta sacrifice your social life in order to play," junior center Osun Osunniyi remarked. "The guys have been doing a real good job, just been staying in, because we know we want to play basketball. We don't want to be sitting around during the winter time and not doing anything. We understand how important this sport is to us and how badly we want to play it, so you've just gotta sacrifice the social life, just for now."
"Guys are here to play basketball. All the other stuff, it's all cool and fun, but at the end of the day we came here to play basketball," junior point guard Kyle Lofton added. "We want to make a living off this. And over the summer, nothing was fun; we couldn't do anything. So seeing that, and then having us shut down would be just like the summer, where guys were just in their rooms doing nothing and bored. I think now, we're having fun. We should keep at it, so doing the right thing would be the most smart."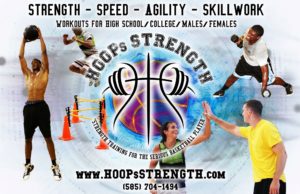 The Bonnies pull gaiters over their nose and mouth and social distance when they're not participating in drills during practice. The team conducts daily pre-practice temperature checks and coaches regularly emphasize the expectations and precautions the team must follow to avoid positive tests.
"It's inherently looked at as a leadership role that some of these student-athletes will have to play in the community," St. Bonaventure athletic director Tim Kenney said on St. Bonaventure's "Bonnies Insider" YouTube program in September. "So what we've done and told them is, 'On campus, you're the leaders. Doesn't mean you're going around telling people you have to wear your mask, no. You lead by example a lot of times.'"
Bonaventure is also cleaning each basketball before and after each practice or workout. Hand sanitizer and disinfectant is available in all campus buildings.
The sting of March's Atlantic 10 Tournament being canceled mere hours before the Bonnies were scheduled to play their game against George Mason, with the winner meeting Saint Louis in the quarterfinals, hasn't gone away, either. Osunniyi believes the Bonnies are taking the proper steps to avoid a repeat of the moment Kenney informed the team of the cancelation at its hotel, before it was scheduled to leave for the Barclays Center.
"Coach has been putting it on us a lot, like if we have to get shut down it's not just a 14-day shutdown," Osunniyi explained. "It's 14 days, plus the four extra days to get back in the flow of everything. And by that time, when the season starts, that's 18 days with everything during the season. We understand the importance of staying in and social distancing. To see what's going on around the country, it kind of just shows that other teams, other players, in a way they don't care as much about it and they don't want to follow the rules and they don't care about their season. But we at Bonaventure, we know that we wanna play and how badly we wanna play.
"The bad feeling of being in Brooklyn and having the tournament not happening and not being able to play for so long, we know we want to play so bad that we're following all the rules to be able to play."
The Buffalo News contributed to this story