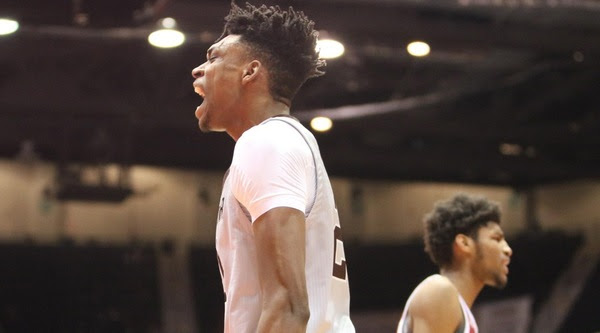 By CHUCKIE MAGGIO
Atlantic 10 observers expect St. Bonaventure to be in double-bye contention once again this season.
The Bonnies were picked to finish fourth in the league in the 2020-21 season by a panel of the league's head coaches and select media members.
Richmond is the preseason favorite, earning 19 of the 28 first-place votes. Saint Louis is the projected runner-up, garnering seven first-place votes, while Dayton received two first-place votes and was predicted third.
Not far behind the Flyers, Bonaventure tallied 307 vote points to Dayton's 318. Duquesne, Rhode Island and Davidson rounded out the top half of the rankings.
Bona junior guard Kyle Lofton, an all-conference First Team pick in March, landed on the preseason Second Team. Junior center Osun Osunniyi made the Third Team and All-Defense.
This season marks just the fourth time since 1999 that the Bonnies have had multiple preseason All-Atlantic 10 honorees and the first time the program has done it in back-to-back years, according to the St. Bonaventure athletic communications department. Lofton and Osunniyi were both also recognized last year. The previous Bona duos to be honored were Tim Winn and Caswell Cyrus in 1999 and Jaylen Adams and Matt Mobley in 2017.
PRESEASON POLL
| | | |
| --- | --- | --- |
| 1. | Richmond (19) | 380 |
| 2. | Saint Louis (7) | 364 |
| 3. | Dayton (2) | 318 |
| 4. | St. Bonaventure | 307 |
| 5. | Duquesne | 278 |
| 6. | Rhode Island | 246 |
| 7. | Davidson | 229 |
| 8. | Massachusetts | 192 |
| 9. | VCU | 175 |
| 10. | George Mason | 133 |
| 11. | George Washington | 113 |
| 12. | Saint Joseph's | 85 |
| 13. | La Salle | 80 |
| 14. | Fordham | 40 |
---
PRESEASON ALL-CONFERENCE FIRST TEAM            
| | | | | | | | |
| --- | --- | --- | --- | --- | --- | --- | --- |
| Player | School | Yr. | Pos. | Hgt. | PPG | RPG | APG |
| Kellan Grady | Davidson | Sr. | G | 6-5 | 17.2 | 4.2 | 2.5 |
| Jalen Crutcher | Dayton | Sr. | G | 6-1 | 15.1 | 3.2 | 4.9 |
| Tre Mitchell | Massachusetts | So. | C | 6-9 | 17.7 | 7.2 | 1.9 |
| Fatts Russell | Rhode Island | Sr. | G | 5-10 | 18.8 | 3.4 | 4.6 |
| Jacob Gilyard | Richmond | Sr. | G | 5-9 | 12.7 | 3.1 | 5.7 |
| Jordan Goodwin | Saint Louis | Sr. | G | 6-3 | 15.5 | 10.4 | 3.1 |
---
PRESEASON ALL-CONFERENCE SECOND TEAM                                                                                                 
| | | | | | | | |
| --- | --- | --- | --- | --- | --- | --- | --- |
| Player | School | Yr. | Pos. | Hgt. | PPG | RPG | APG |
| Marcus Weathers | Duquesne | Sr. | F | 6-5 | 14.3 | 8.1 | 1.7 |
| Blake Francis | Richmond | Gr. | G | 6-0 | 17.7 | 2.2 | 2.0 |
| Grant Golden | Richmond | Gr. | F | 6-10 | 13.4 | 6.9 | 3.4 |
| Kyle Lofton | St. Bonaventure | Jr. | G | 6-3 | 14.1 | 2.6 | 6.0 |
| Ryan Daly | Saint Joseph's | R-Sr. | G | 6-5 | 20.6 | 6.8 | 4.3 |
| Hasahn French | Saint Louis | Sr. | F | 6-7 | 12.4 | 10.4 | 2.3 |
---
PRESEASON ALL-CONFERENCE THIRD TEAM                                                                                                      
| | | | | | | | |
| --- | --- | --- | --- | --- | --- | --- | --- |
| Player | School | Yr. | Pos. | Hgt. | PPG | RPG | APG |
| Sincere Carry | Duquesne | Jr. | G | 6-1 | 12.2 | 3.9 | 5.3 |
| Javon Greene | George Mason | Sr. | G | 6-2 | 13.8 | 5.6 | 2.6 |
| AJ Wilson | George Mason | R-Sr. | F | 6-7 | 12.2 | 7.4 | 1.0 |
| Osun Osunniyi | St. Bonaventure | Jr. | F/C | 6-10 | 10.8 | 8.4 | 1.2 |
| Javonte Perkins | Saint Louis | Sr. | G/F | 6-6 | 15.0 | 3.5 | 0.7 |
| Nah'Shon "Bones" Hyland | VCU | So. | G | 6-3 | 9.0 | 2.2 | 1.8 |
---
PRESEASON ALL-DEFENSIVE TEAM                                                                                                                          
| | | | | | | | |
| --- | --- | --- | --- | --- | --- | --- | --- |
| Player | School | Yr. | Pos. | Hgt. | PPG | SPG | BPG |
| AJ Wilson | George Mason | R-Sr. | F | 6-7 | 12.2 | 0.6 | 2.9 |
| Jacob Gilyard | Richmond | Sr. | G | 5-9 | 12.7 | 3.2 | 0.2 |
| Osun Osunniyi | St. Bonaventure | Jr. | F/C | 6-10 | 10.8 | 0.7 | 2.5 |
| Hasahn French | Saint Louis | Sr. | F | 6-7 | 12.4 | 1.0 | 2.6 |
| Jordan Goodwin | Saint Louis | Sr. | G | 6-3 | 15.5 | 2.1 | 0.2 |