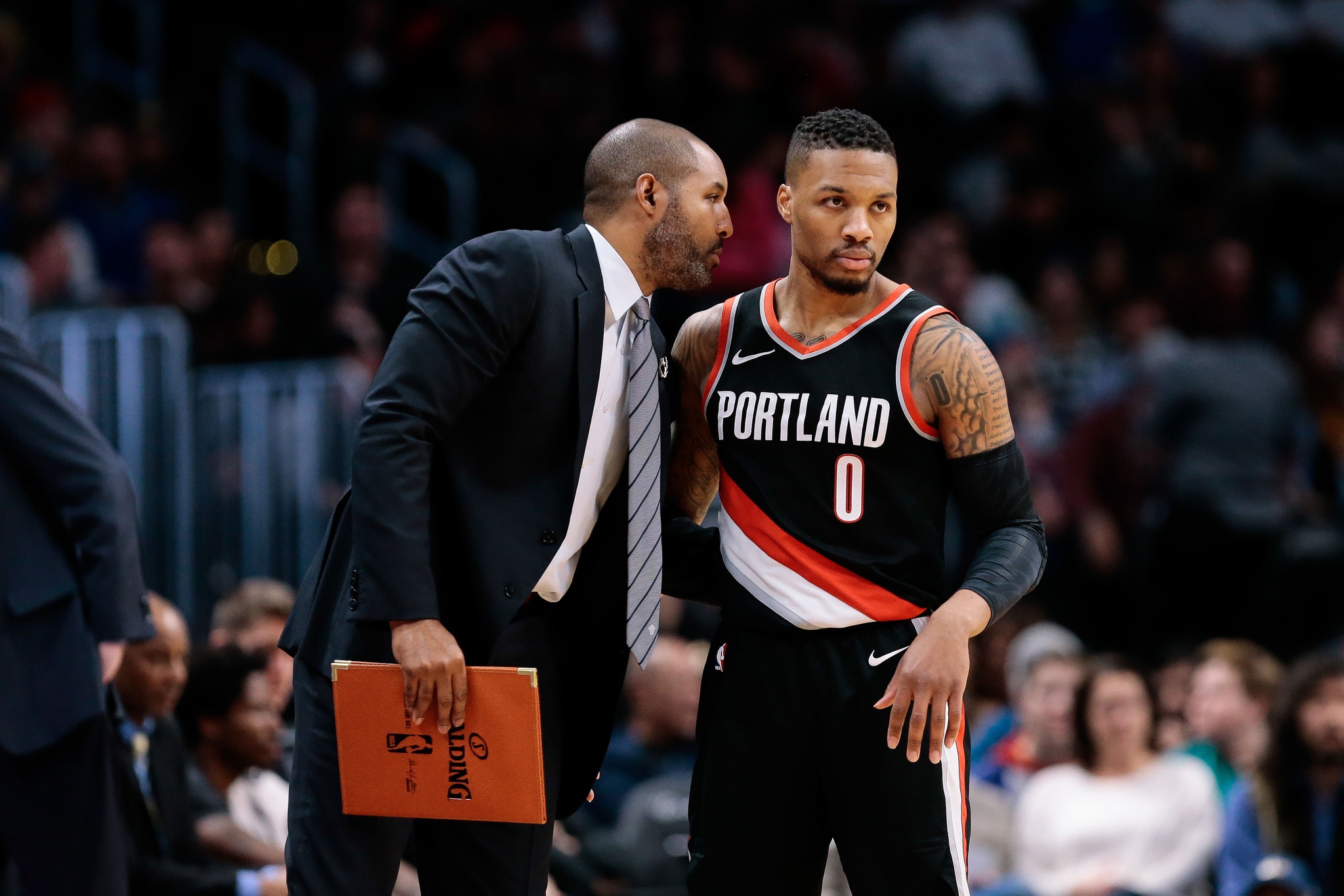 By CHUCKIE MAGGIO
David Vanterpool's profile as a future NBA head coach gained traction on May 2, 2014. 
Down two with a potential seventh game looming, Damian Lillard lost defender Chandler Parsons, sprinted to inbounder Nicolas Batum and authoritatively clapped for the pass. Batum obliged and began to walk away as Lillard led a three-pointer fly with 0.9 seconds left. 
The second-year All-Star swished it. Portland's Moda Center erupted as Rockets stars Dwight Howard and James Harden froze in disbelief. The No. 5 seed advanced to the second round, Portland's first series victory in 14 years.
Lillard and dynamic backcourt mate C.J. McCollum credit the 1995 St. Bonaventure graduate for fostering their development. Vanterpool was even nicknamed the "Dame Whisperer" for his ability to connect with the star point guard.
"For me, my whole rookie year before practice we were working out," Lillard told then-ESPN NBA reporter Chris Haynes in a sit-down interview in 2018. "'We need to work on the pull-up; you go left every time. We need to work on this pull-up. Alright, let's work on the floater.' Watching film, breaking down everything defensively, offensively. And it was like every single day.
"I walk in, I already knew he was gonna be sitting there with the laptop. I already knew we were working out. After practice I knew we were doing something. It was non-stop, so for my growth, I probably would've figured a lot of stuff out, but if he wasn't here it was a lot of stuff that I wouldn't have figured out. The mental part… manipulating the game and managing the game, I don't think I would've become as good at that if it wasn't for him."
Lillard called the day the Minnesota Timberwolves hired Vanterpool as their associate head coach in June 2019 the day he "never wanted to see" in his career. Now that Vanterpool is a serious head coaching candidate, Lillard was more succinct on Twitter yesterday. 
"All these Jobs open in the NBA … if David Vanterpool ain't in one of these slots when the season start then people ain't doing they job," Lillard posted with a shrug emoji. 
All these Jobs open in the NBA … if David Vanterpool ain't in one of these slots when the season start then people ain't doing they job 🤷🏽‍♂️

— Damian Lillard (@Dame_Lillard) October 5, 2020
Vanterpool, the leading scorer on SBU's 1995 NIT team, coached in 10 playoff series during his seven-year stint under Terry Stotts in Portland, including the 2019 Western Conference Finals.
ESPN insider Adrian Wojnarowski reported last Friday that Vanterpool will interview for the Houston Rockets opening. Houston opted not to extend Mike D'Antoni's contract last month after its Western Conference semifinal defeat to the Los Angeles Lakers. The Rockets' choice stands to inherit an All-Star backcourt comprised of former league MVPs Russell Westbrook and James Harden.
The 47-year-old's ability to connect with star personalities makes him a respected coach in an era where player empowerment is at its highest.
"I think it's his approach," McCollum said of Vanterpool, the leading scorer on Bona's 1995 NIT team who played 22 games with the Washington Wizards in the 2000-01 season. "I think his approach every day is consistent, his preparation and how he views us as people and how he views us as players…
"He knows how to coach us. Some days I'm gonna argue with him and then I'm gonna do it anyway, some days I'm not gonna say nothing. And I think that's what makes our relationship so good because he allows me to voice my opinion and then he's like, 'Alright CJ, shut up, let's work,' and that's what we do."