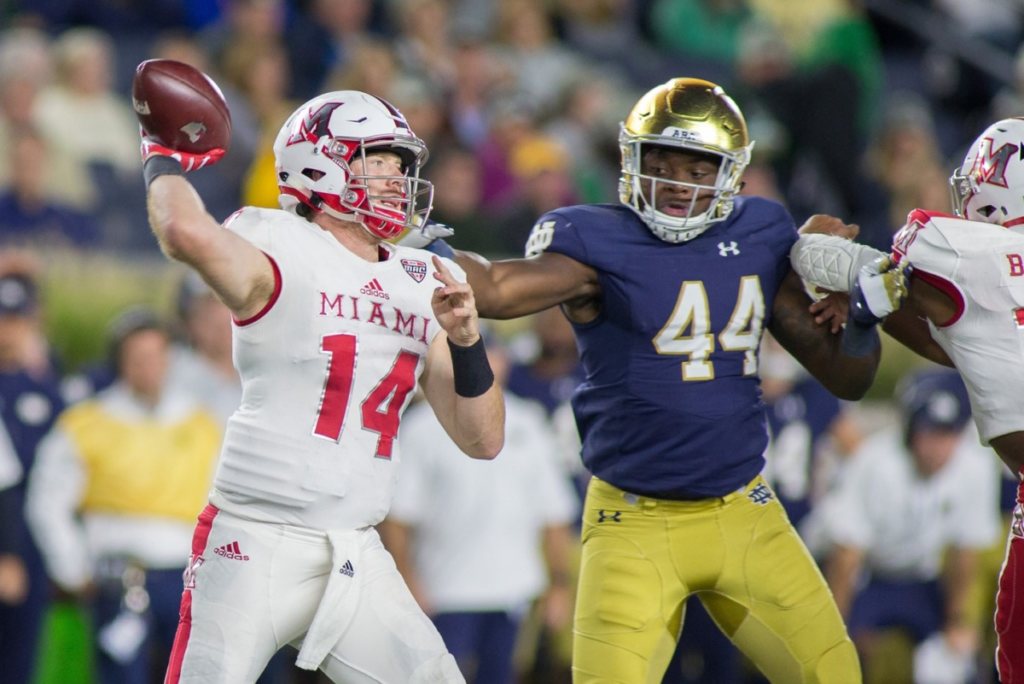 By JOHN LIKANJE
Jamir Jones (Aquinas/Notre Dame) signed as an undrafted free agent with the Houston Texans, Saturday. The 6-foot-3 defensive lineman made the announcement on Twitter at the conclusion of the three-day event.
Blessed to announce I will be signing with the Houston Texans! This is just the beginning and I can't wait to get to Houston and get to work ???????????? pic.twitter.com/88qs2zProZ

— Jamir Jones (@TheJJammer) April 25, 2020
Jones starred on both sides of the ball for the L'il Irish. He played all 34 games between 2013 and 2015. As a linebacker, Jones compiled 157 tackles, 9.5 sacks, three fumble recoveries and a pair of interceptions. In 2014, the 6-foot-3 standout played quarterback and wide receiver. As the play caller, he completed 34-of-82 passes for 715 yards and five touchdowns. Jones had 68 carries for 205 rush yards and a score as well. As a receiver in 2014 and 2015, he had 45 catches for 879 yards and 10 touchdowns.
Jamir decided to follow in the footsteps of his older brother, Jarron, who played at Notre Dame from 2013 to 2016 and was on the practice squad for seven National Football League (NFL) teams, including the Buffalo Bills. Jamir transitioned to a full-time lineman and led a staunch defense.
He played 37 of the Fighting Irish's 51 games from 2016 to 2019 and recorded 30 tackles, two sacks, a forced fumble and a fumble recovery. In 2018, Jones had 12 tackles, including three on October 27 in a 44-22 win over Navy.
Three other Section V alumni are expected to be involved in NFL movement this weekend. Earnest Edwards (Aquinas) signed as an undrafted free agent with the Los Angeles Rams.