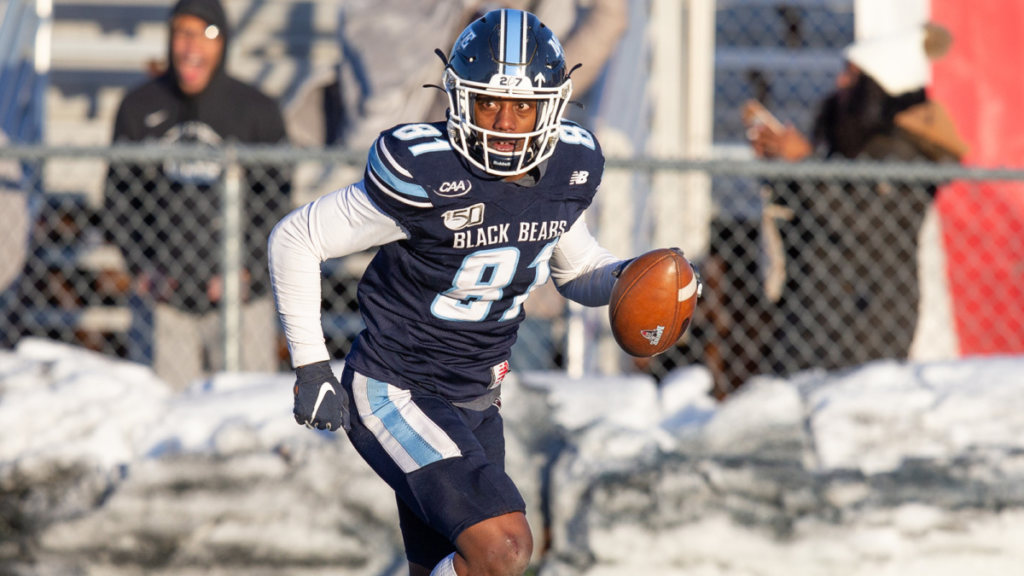 By JOHN LIKANJE
Earnest Edwards (Aquinas/Maine) signed as an undrafted free agent with the Los Angeles Rams, Saturday. The 5-foot-10 wide receiver made the announcement on Twitter near the conclusion of the three-day event.
Officially signing with the LA Rams ???????? blessed for the opportunity and ready to get to work ASAP!!! Thank you everyone for constant support ❣️ @davidcanter @Josh_StevensNYC @NessMugrabi @RamsNFL

— Earnest Edwards IV (@EdwardsEarnest) April 25, 2020
Edwards starred for the L'il Irish in 2014 and 2015. As a wide receiver, he accumulated 77 catches for 1,734 yards and 26 touchdowns. In his senior year, Edwards caught 56 passes for 1,184 yards and 19 touchdowns as he led Aquinas to an undefeated season and a state title. In the state final, the 5-foot-10 wideout exploded for six receptions, 295 yards and three touchdowns to earn MVP honors.
Edwards displayed his versatility from the line of scrimmage and special teams as well. The 5-foot-10 wideout had 19 kick returns for 516 yards and three touchdowns. Edwards carried the ball 35 times, compiled 332 rush yards and scored five times. His ability to play three positions translated to the college level.
Edwards played 40 of the Black Bears' 47 games between 2016 and 2019. His main position was wide receiver, where he caught 125 balls for 2,370 yards and 23 touchdowns. This past season, he compiled 49 receptions, 1,097 receiving yards and 11 touchdowns in 11 appearances. On November 9th in a 31-17 win at Elon University, Edwards had five catches for 153 yards and a score.
On special teams, Edwards returned 83 kickoffs, tallied 2,046 yards and found the end zone four times. He compiled 59 carries for 438 rush yards and a pair of touchdowns as well. Edwards led Maine in kickoff return yards all four of his seasons and in receiving yards the past two years.
EDWARDS READY FOR NEXT CHAPTER OF HIS CAREER
Three other Section V alumni are expected to be involved in NFL movement. Jamir Jones (Aquinas) signed as an undrafted free agent with the Houston Texans.