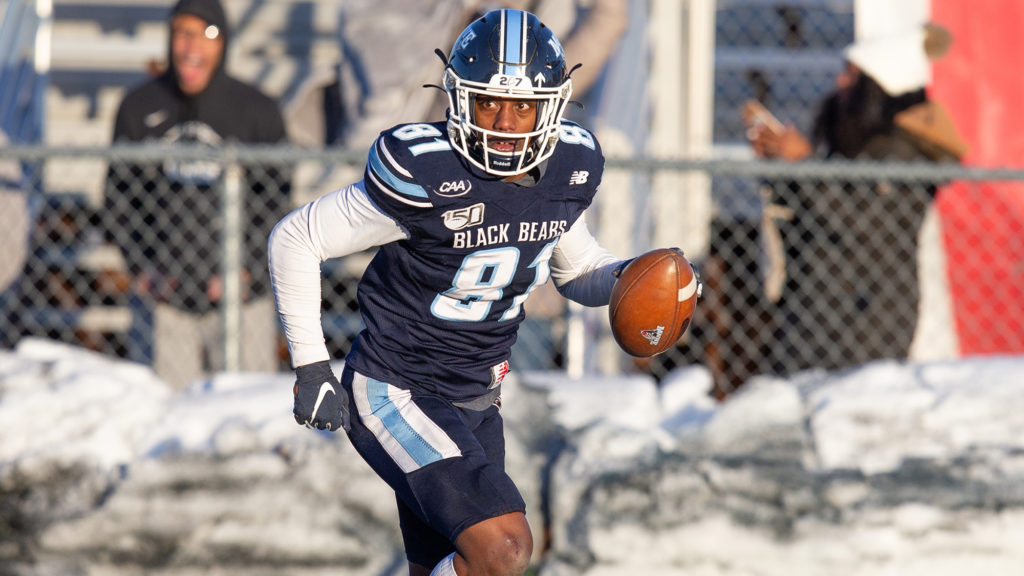 By PAUL GOTHAM
ROCHESTER, N.Y. — A quick glance at the statistics Earnest Edwards compiled this past season at the University of Maine might lead one to think the receiver/ kick returner survives with speed.
It's an easy mistake to make. With returns of 100 and 95 yards along with nine touchdown receptions of 40 yards or more on the season, the casual observer may attribute those feats solely to athletic ability.
Edwards does possess superior foot speed and leaping ability, but it's been the Rochester native's willingness to develop his skills that has separated him from the rest.
And that may be just the reason why the past four years will serve as an audition for a career in the NFL.
"He's very gifted, but there's something that makes him tick that's a little bit different than a lot of people," University of Maine head coach Nick Charlton said by phone. "What really sets him apart is who he is and his makeup."
Coming out of Aquinas Institute where he helped the Li'l Irish to New York State championships in 2013 and 2015, the 5-foot-10-inch Edwards finished his senior season at AQ with 1,156 receiving yards and 19 touchdowns. He earned MVP honors in the state title game when he scored four touchdowns in a 44-19 win.
At Maine, he embraced the culture and followed the leadership of upperclassmen.
"That's where it really hit me as a football player," Edwards said. "The older guys, we grinded like no other. In high school, I didn't really work out or train for football. Everything was just natural. When I got to college, I found out I'm not the best player any more. Everybody is as good as me. It just took some training and watching film.
He made 20 catches in 10 games his first season. That number inched to 21 the following year and 35 the next before corralling 49 passes this season.
"I'm not going to lie," Edwards added. "There ain't nothing to do up there. Just school and football. I really fell in love with the game even more. I took it seriously."
"When he got to college, I think he realized like wow I'm really going to have a chance to make this my life," said former high school teammate and Penn State University Nittany Lion Jake Zembiec. "He started working a lot harder than he ever had before to master his craft. Everything about him is really crisp especially with his routes and he was able to put on 15 to 20 pounds of good, strong muscular weight."
The catches are one thing. The yardage is another. He gained better than 22 yards per catch in 2019. This after averaging 16.2 yards per grab as a junior.
When asked about his improvement, he explained the importance of reading defensive coverages and understanding routes.
"It's the releases," he explained.  "You don't want to get too wide or too inside. You learn to control everything on the football field. You can't let the defenders control you. If you want to go to a spot, then you go to that spot, but you got be creative with it."
He credited his time in the film room studying the work of NFL receivers Davonte Adams and Stefon Diggs.
"They got the best releases in the game. My releases definitely got better. It's the little things like once you get off the release staying close as possible to get your defender."
Edwards also led the Black Bears with 1,070 all-purpose yards as a junior. He topped that with 1,841 all-purpose yards during his recent senior campaign.
"Everybody's going to talk about his speed, and that sets him apart in a lot of ways," said University of New Hampshire head coach Sean McDonnell. "But his elusiveness was unbelievable. He had a knack for making people miss in open spaces in a lot of different ways. You'd think you had him bottled up, and then he would put it into the next gear and run by you. He would cut back against you. He had unbelievable vision with the ball in his hands."
Edwards finished his career with UMaine records for kick returns yards (2,311) and kick return touchdowns (6).
McDonnell wasn't afraid to admit how the Wildcats prepared for their Colonial Athletic Association (CAA) rival.
"I remember walking into the meeting rooms and I said 'Look guys, we ain't kicking the ball near Earnest. It just ain't going to happen this year. We aren't going to give him a chance.'
"We kicked every ball to the 25 or 30-yard line. A tight end or fullback caught it. We didn't care that they got the ball at the 30 or 35-yard line or whatever it was because we knew they had an opportunity to score every time he touched the ball. That's how much respect we had for the kid when he had open spaces."
A first team All-CAA selection at receiver and kick returner, Edwards earned six different All-American honors this past season including selections from Athlon Sports, the Walter Camp Foundation, STATS FCS, FCS ADA and the Associated Press.
"I've never been around a player at this level like him," said Charlton who also coached at Boston College. "He does a lot of different things, but it's his competitiveness and his drive.
"He works at his craft. What people don't realize about Earnest is that he is an extremely intelligent person and football player. He's very active in all facets of the game for us. He lined up in a million positions for us."
The past few months has been preparation for this weekend's draft.
"The point of this off-season was to get faster and gain weight. The next thing I was focused on was catching the ball with my hands more. I was watching and got a little bit of body catches going on here and there, but they get caught. Teams like to see pure hands, so that's what I've been working on. Getting my hands stronger."
The draft starts Thursday and continues with rounds two and three on Friday before ending Saturday.
"People keeping asking me if I'm nervous, but more than anything I'm excited. It kinda feels surreal because when I was a little kid dreaming of playing in the NFL. The opportunity is here. I'm ready for it. I'm excited for this weekend. I want to know which team I'm going to be on when it's all said and done."