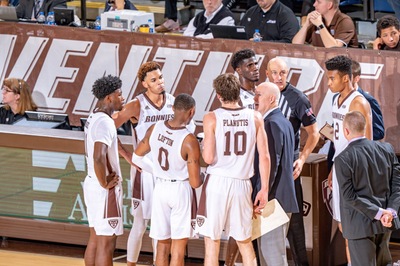 By CHUCKIE MAGGIO
Dion Wright was as bemused as the general public when Derrick Woods decided to transfer from St. Bonaventure after the 2015-16 season.
"Wishing you the best of luck bro," Wright tweeted. "But you started in the A10 as a freshman doesn't get better than that!"
The grass wasn't greener for Woods, who was dismissed from Delaware in December 2017 for violating team rules and finished his career at St. Peter's. Woods never played more minutes or started more games than he did on Bona's Atlantic 10 co-championship team. 
Woods is far from the only ex-Bonnie to leave the program and play at a lower level. For every Wright and LaDarien Griffin who stayed and drastically improved under coach Mark Schmidt and his staff, there are several departures who are long forgotten in Bona land.
If you want to see what Bona thinks of its transfers, take a look at the "Thank You Fans" photo edit the official team account released over the weekend. The collage features 12 of the 13 players on the 2019-20 roster. One is conspicuously absent. 
Bobby Planutis and Matt Johnson are the two most recent players to transfer out of the St. Bonaventure program before exhausting their college eligibility, which is commonplace in the transfer-happy college landscape.
Here is a comprehensive, year-by-year look at the players to transfer under Schmidt and where they ended up.
Two transfers after 2007-08, Schmidt's first season:
6-foot-6 guard Hillary Haley left for Maryland-Eastern Shore after one season

6-foot-9 center Matt Morgan left for Winthrop after one season

Summary: Haley found success at Maryland-Eastern Shore, earning All-MEAC Second Team honors in 2011 and parlaying his collegiate career into professional stops in Canada and Denmark. Morgan, who was named the A-10's Rookie of the Week in back-to-back weeks in February 2008, was a regular starter on Winthrop's 2010 NCAA Tournament team.
Two transfers after 2008-09:
5-foot-10 guard Ray Blackburn left after one season

6-foot-8 forward Maurice Thomas left after one season

Summary: Blackburn, a Lackawanna, N.Y. native, and Thomas, who averaged nine points and 19 minutes a game, did not play D-I basketball again after leaving SBU. Thomas moved to Kentucky, transferring to NAIA University of Pikeville.
Eleby and Leonard left after 2009-10:
6-foot-3 guard Malcolm Eleby left after three seasons

6-foot-4 guard Lewis Leonard left after one season

Summary: Eleby transferred to then-Division II Northern Kentucky and led the Norse in scoring. Leonard played a year of NAIA ball before playing professionally in Bolivia and Peru. 
Two players transferred after 2010-11:
6-foot-4 guard Sam de Haas left after one season 

6-foot-10 sophomore Brett Roseboro transferred after two seasons

Summary: de Haas opted to go pro, signing a deal with WCAA Giants Bergen op Zoom in his native Netherlands. Roseboro left for UMBC, starting every game he played for the Retrievers.
Post-2012 and 2013: No transfers
Two transfer after 2013-14:
7-foot center Matthias Runs left after one year

6-foot-7 forward Jean Yves Toupane left after two seasons

Summary: Runs transferred to Division II Georgia Southwestern. Toupane transferred to Division II Gannon and, after two successful seasons that featured him leading the Knights in scoring, played professionally in France.
The day these transfers were announced turned out to be historic for the program, as Jaylen Adams and Marcus Posley each committed that day to fill the open spots.
Trio of transfers after 2014-15, one midseason:
6-foot-4 guard Jalen Adams left after one season of play

6-foot-2 guard Iakeem Alston left after one season

6-foot-3 guard Jordan Gathers graduated in December and transferred to Butler in the spring

6-foot-8 forward Xavier Smith left after two seasons

Summary: The "original" Jalen Adams had stops at Mott Community College, Wayne State and Olivet College, all back in Michigan, after leaving Bonaventure. Alston transferred to West Georgia, where he produced 14 points a game on the Wolves' conference championship team. Smith went to NAIA Oklahoma City University, where he averaged 15 points and nine rebounds a contest.
Two bigs transferred after 2015-16:
6-foot-10 center Jordan Tyson transferred to Georgia State after two years

6-foot-9 center Derrick Woods transferred to Delaware after one year

Summary: Tyson was on two NCAA Tournament teams at Georgia State, playing 23 total minutes in the big dance. Woods's dismissal at Delaware was followed by a better situation at Saint Peter's, which finished second in the Metro Atlantic Athletic Conference this season. 
Two departures after 2016-17:
6-foot-5 guard Tareq Coburn left for Hofstra after one season

6-foot-9 center Chinonso Obokoh left the basketball program after one year

Summary: Coburn would have played in the NCAA Tournament if it weren't for its cancellation, as Hofstra won the Colonial Athletic Association Tournament on March 10. The Rosedale, N.Y. native was one of five Pride players to average at least 10 points per game this year. Obokoh's injury-shortened year at Bona was his last as part of the basketball program, though he continued his academic studies at SBU.
Two transfers after 2017-18, one midseason:
6-foot-8 forward Josh Ayeni left for South Alabama after two seasons

6-foot-4 guard Izaiah Brockington transferred to Penn State after one year
6-foot-10 center Ndene Gueye transferred to the University of Texas Rio Grande Valley after one semester
Summary: Ayeni scored 12 points in a game against Chattanooga but did not play after Dec. 21. Brockington, who averaged 20 minutes and eight points a night, would have had a chance to play in the NCAA Tournament after Penn State's 21-10 regular season.
Three transfers after 2018-19:
6-foot-6 forward Melkisedek Moreaux left after one season

6-foot-7 forward Tshiefu Ngalakulondi left for Fairfield after two seasons

6-foot-4 guard Jalen Poyser left for McNeese State after one season of play

Summary: Moreaux transferred to Mercyhurst, Ngalakulondi sat out due to transfer rules after switching to Fairfield and Poyser went to McNeese State for a semester before signing a professional contract in Slovenia. 
Planutis and Johnson now join the list, Planutis already committed to the Purdue University Fort Wayne.