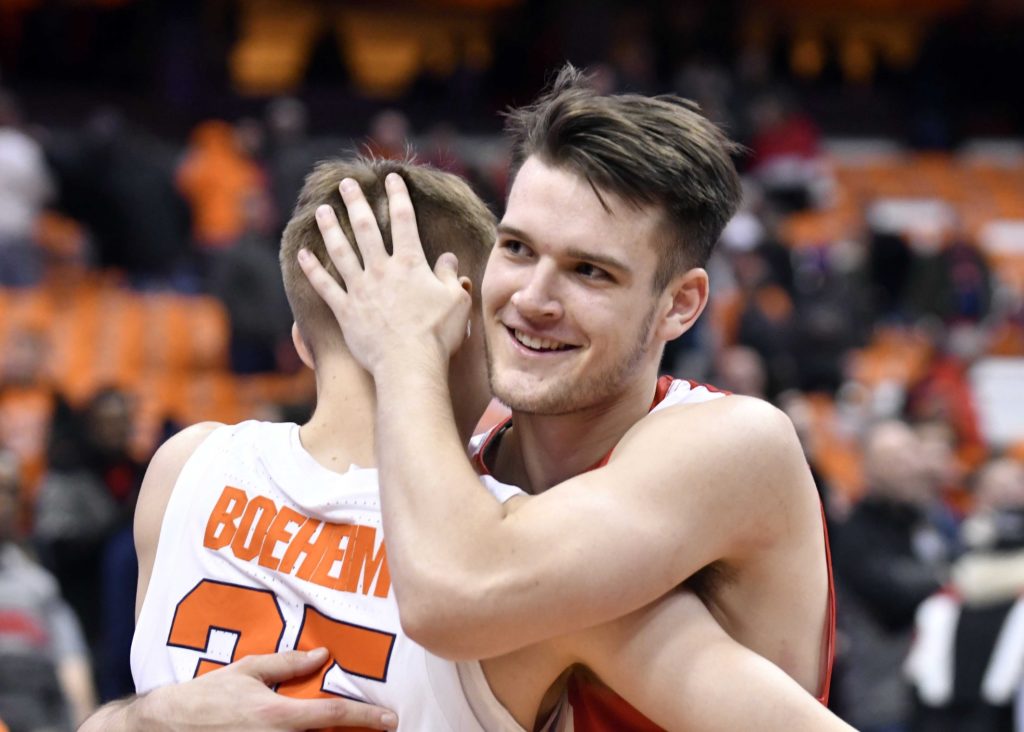 By BILLY HEYEN
The first time Jimmy and Buddy Boeheim were introduced by a public-address announcer for a basketball game was in their own basement. Their mother, Juli, was the P.A. announcer. The basket was a children's Little Tykes hoop, and the referee was occasionally their father. The entrance to the court was a simple hallway.
The next time they're introduced as starters in the same game will be Wednesday night. Their mother will watch from her seat at about midcourt, a few rows up, across from the Carrier Dome scorer's table. The brothers will be on different teams. And the game will be played on Jim Boeheim Court.
Syracuse (2-1) and Buddy host Cornell (1-3) and Jimmy on Wednesday night at 7:30 p.m. After Buddy played five minutes in last year's meeting, both brothers are expected to feature heavily in this year's contest. The last time both started the same scholastic game was a Jamesville-Dewitt sectional semifinals loss in February 2016. This year, one of the brothers (and maybe the father, SU head coach Jim Boeheim) will have to win.
READ MORE: Syracuse beats Cornell, 72-53
Although Buddy and Jimmy played together at J-D, their coach, Jeff Ike, wanted to keep it that way. When it was time to pit players against each other in practice, Ike preferred to avoid matching up the brothers.
"I've had a lot of competitors and they're up there along with a handful of other guys… and they hate losing," Ike said. "Every once in a while, they'd get on each other a little bit, and there might be a little more contact than is allowed in a basketball game. Those things were fun."
On the court then, though, the Boeheims played for the same team. When Ike saw them talking out on the floor during games, although he couldn't hear what they were saying, he trusted that things would work out just fine.
The Boeheim brothers were in the truest sense "Coach's sons."
"I thought that that was the coolest thing," Ike said, "because that competitiveness and that basketball IQ is contagious."
MORE: Previewing Syracuse vs. Cornell
Jimmy may have been the leader of that J-D team, with Buddy the burgeoning sophomore. They led their squad to the Class A sectional semifinals, where Jimmy scored 11 points and Buddy added nine in a near-comeback against Christian Brothers Academy. On opposite sides Wednesday, much of the same will be true, with Jimmy possibly Cornell's best player and Buddy just coming into his own as a sophomore in the same Syracuse No. 35 that his father wore. 
Two years ago, Jimmy opened the scoring as a freshman for Cornell in the Dome with a corner 3-pointer, right in front of the Syracuse bench. It was his first collegiate shot.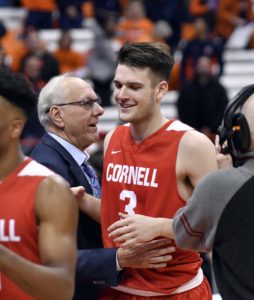 "That was so great to see that," Ike said. "It had nothing to do with me. He's one of your players, so you're so excited for him."
Last season, there was an even bigger buzz for the Boeheim matchup with Buddy now involved, but the younger brother played only five minutes with Tyus Battle dominating proceedings from the two-guard spot. There was only one moment where the crowd really buzzed with anticipation: Buddy caught the ball on the right wing with Jimmy switched onto him and jab stepped. But Buddy just passed the ball off.
The two also lined up alongside each other during a free throw. That's the moment when "it clicked" for Jimmy how "crazy" the whole thing was, he said last season. 
This time around, there'll probably be much more on-court Boeheim action to take in. Jimmy leads Cornell in scoring. He'll surely occupy the foul line at times against SU's 2-3 zone and bump hips with Buddy. If Buddy takes any forays into the lane, Jimmy could be waiting near the rim. 
Along the sideline will be Boeheim, in his 44th year as Syracuse's head coach. Jimmy never realized how loud his father was coaching from the sideline until he played against him, he said two years ago. In the stands will be Juli and potentially Buddy's twin Jamie, wearing a third custom-made shirt for the Boeheims' big occasion. Ike, crossing his fingers that J-D practice times will allow him to see his former players, might be there, too.
When asked if Boeheim should play a few possessions of man-to-man and let Buddy guard Jimmy, Ike laughed, saying "that would be fun." Odds are, the 2-3 zone isn't going anywhere. But with both brothers once again starters in the same game, there's sure to be a bit more sibling physicality.
"I'm sure there'll be a few words said," Ike said, "and they'll be in close proximity to each other during the game, for sure."