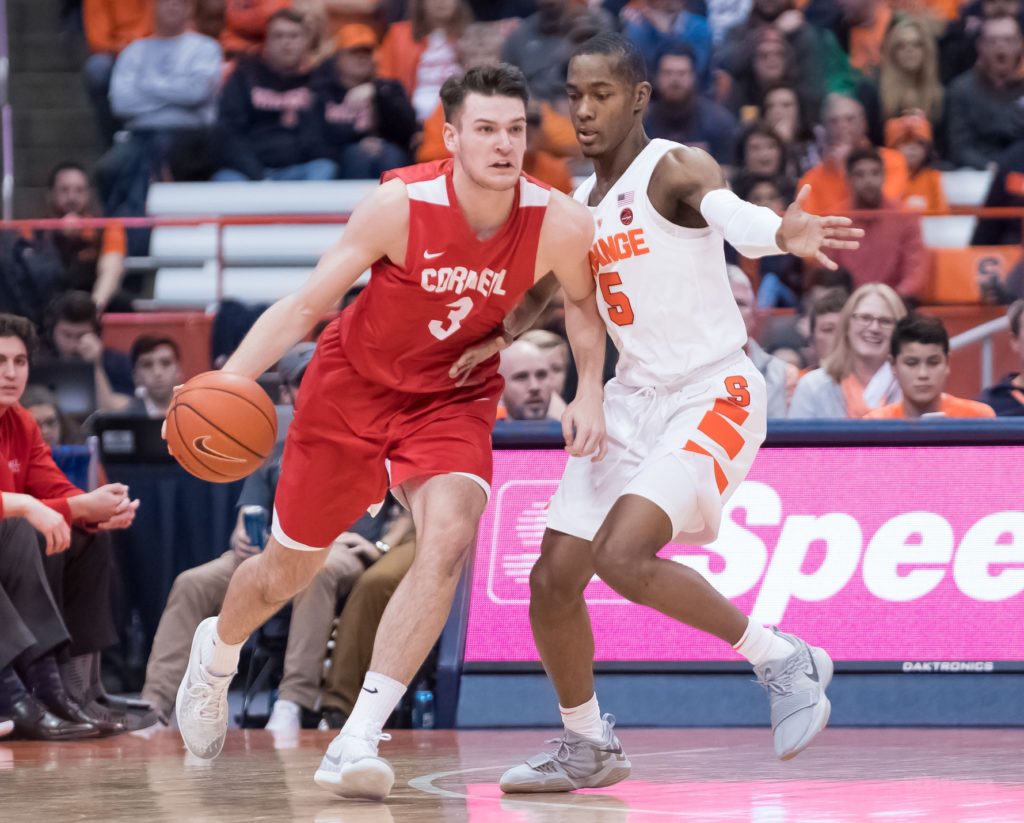 By BILLY HEYEN
Syracuse (2-1) and Cornell (1-3) are moving in opposite directions ahead of their game Wednesday night. The Orange have won two in-a-row, while the Big Red have lost three-straight games. It'll be Jimmy Boeheim's third game for Cornell in the Carrier Dome, and the second time facing off against his younger brother Buddy. Both brothers should start and feature in a nonconference game that sees SU favored by double digits.
Here's a preview of the battle between New York state foes. 
How to watch Syracuse vs. Cornell
Syracuse and Cornell will tip off at 7:30 p.m. on Wednesday, Nov. 20; the game can be streamed on ACC Network Extra.
All-time record
Syracuse leads the all-time series, 93-31. The first ever meeting was an 18-15 Syracuse win in 1901. This will be the seventh-straight season SU and Cornell face off. The Orange have won 39-straight games in the series.
Last time they played
Syracuse beat Cornell in the Carrier Dome, 63-55, on Dec. 1, 2018. Tyus Battle led the way for the Orange with 26 points. He was matched by 26 from Cornell's Matt Morgan, who now plays with Oshae Brissett and Tyler Ennis in the G League for Raptors 905.
Jimmy Boeheim scored nine points with six rebounds for the Big Red and is their top returning scorer from that night. SU got 45 of its points from Battle and Brissett. Elijah Hughes is the top returning scorer for the Orange after putting up four points in last year's meeting.
MORE: Buddy, Jimmy Boeheim will start against each other
How Syracuse beats Cornell
Defensively, Syracuse just needs to keep Cornell out of the paint. The Big Red are a poor 3-point shooting team, coming in at 28.8 percent from deep on the season. Seattle showed that even a bad perimeter shooting team can get hot, but more often than not, that won't happen. If SU can limit passes to the free-throw line area and the short corners, Cornell won't score enough points to keep up.
At the other end, Syracuse should look to continue its balanced scoring that it showed against Colgate, when five players reached double figures. The more offensive confidence individual players get against the easier opponents SU faces, the better things will go when ACC play comes back around. 
In addition, against a Cornell team that uses a 6-foot-8 center, Syracuse would surely like to see Bourama Sidibe continue to display some consistency on the offensive end of the floor, creating an inside presence to couple with the Orange's strong shooting.
Syracuse X-Factor
Buddy Boeheim: There hasn't really been that scorching hot stretch yet that can probably be expected from a shooter as good as Buddy. The Orange can win with him having a quiet offensive night, but he should find space to use his improved game in the lane against Cornell, too. And yeah, it'd be fun for him to get a bunch of points against his brother after only playing five minutes in last year's Cornell game.
Cornell X-factor
Jimmy Boeheim: Jimmy isn't only here because he's a Boeheim. He's also Cornell's best player, and for any chance at an Ivy League team beating Syracuse, the Big Red's best player will need to lead the charge. Jimmy is a lefty who can score inside and out, and he could pop up in a number of different spots on the floor against a 2-3 zone he probably knows a thing or two about.
Prediction: Syracuse vs. Cornell
Syracuse 79, Cornell 54
This should feel about like the breeze that the Seattle game did, and probably without the hot-shooting stretch from the visitors cooked into the middle. This game will be fun if for nothing else than the Boeheim family pageantry, and both brothers should play about 30 minutes in this one, which is bound to create a cool moment or two.