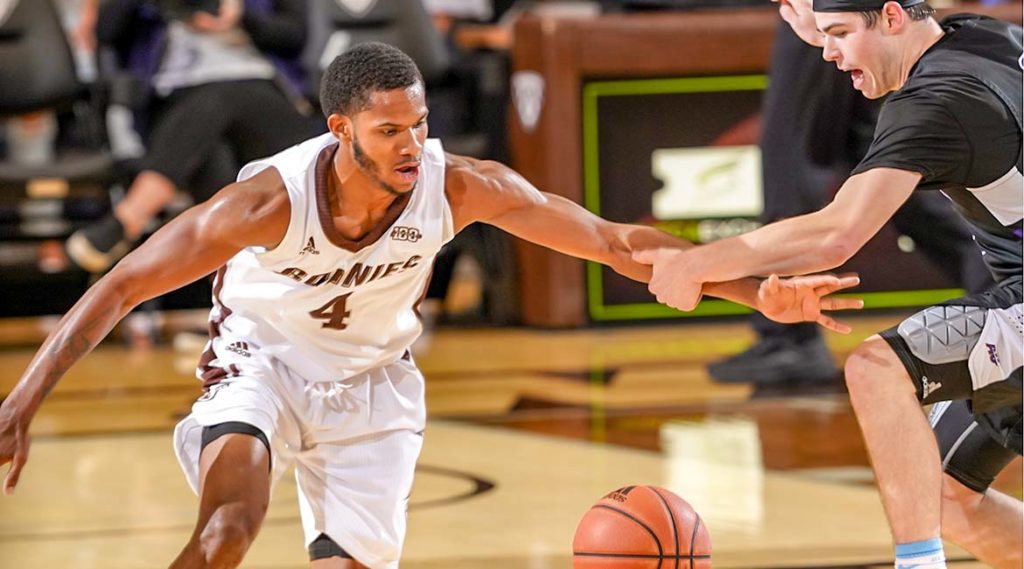 By CHUCKIE MAGGIO
At a program where newcomers already tend to be unheralded mystery men, Matt Johnson was the latest to fall into an even less newsworthy category. 
Johnson, who spent his first two seasons of collegiate basketball at junior colleges, committed to Mark Schmidt and St. Bonaventure on March 2. College basketball reporter Adam Zagoria broke the news about an hour and a half before Bonaventure tipped off a nationally televised game at George Washington in the nation's capital. 
The 6-foot-5 guard from Baltimore wasn't the first new Bonnie to have his moment overshadowed by Bona being in the middle of its current season. Kyle Lofton committed to SBU on the night of March 8, 2018, less than 24 hours before the Bonnies beat Richmond in the Atlantic 10 Tournament quarterfinal; Amadi Ikpeze announced his decision the day after Bonaventure's 2015 exhibition game; Demetrius Conger committed the day before a Bona-Canisius game at the then-HSBC Arena in Buffalo.
Johnson, like the others, figured, why wait?
"When I came on my visit last year, I loved the crowd," Johnson recalled of his visit to watch the Bonnies defeat Duquesne in February. "I loved the atmosphere. I just liked everything about it. I liked Coach Schmidt and how he was coaching them, and I just felt like I could do good here."
The two-time Maryland high school state champion has a winning pedigree. He helped NJCAA Region 8 squad Pensecola State win 17 games, averaging 7.5 points in 21 minutes a game. He moved to Howard College his sophomore year, averaging 14.3 points and shooting 40 percent from three-point range as Howard went 18-8.
Johnson even dropped a season-high 27 points of Howard's 67 points against future teammate Jaren English's Ranger College Rangers. The Bonaventure coaching staff was invested in that matchup. 
"I'm going to be able to score the ball," Johnson assessed. "I've played some backup point guard for Kyle, so he can get off the ball a little bit. I just want to help my team out so we can succeed."
The exhibition win over Alfred provided little foresight into predicting Johnson's performance Tuesday night against Ohio, his first Division I opponent. But Johnson did show glimpses of his strong ballhandling abilities, as well as his ability to finish through contact. Two of his nine points came on a tough layup where he grabbed some serious hang time.
Another three-point threat will be welcomed into the fold, which Bonaventure could have used around the time Johnson verbally committed. The Bonnies experienced stretches of futility from beyond the arc in 2018-19, sliding all the way to 248th in the country in three-point percentage after finishing 35th in 2017-18 thanks to Jaylen Adams, Matt Mobley and Courtney Stockard.
With Johnson and Kyle Lofton in the backcourt and Dom Welch on the wing, the threes are expected to increase this season, even with the three-point line being moved back by the NCAA this go-around. 
"I feel like we can be a great three-point shooting team this year, to be honest," Johnson remarked. "We've got a lot of shooters and we have a lot of plays to get shooters open. We can be a great three-point shooting team this year."
"Matt, even though he's a junior college kid, he's still a freshman in terms of trying to learn the system," Schmidt cautioned. "So he has, just like the other guys, they have good days and they have bad days. Matt's gonna be a combo guard, a two-one; he's gonna back up Kyle at the one and play some two. He can score. It's just so early in that these guys are trying to learn the system. As they try to learn the system, it's hard for them to play well all the time, because they're trying to figure out what to do. And Matt's trying to learn two positions, so it's a challenge.
"But we think he has a bright future. And for a junior college kid, he's gotta be able to do it right away. He doesn't have time to waste like some of the freshmen."