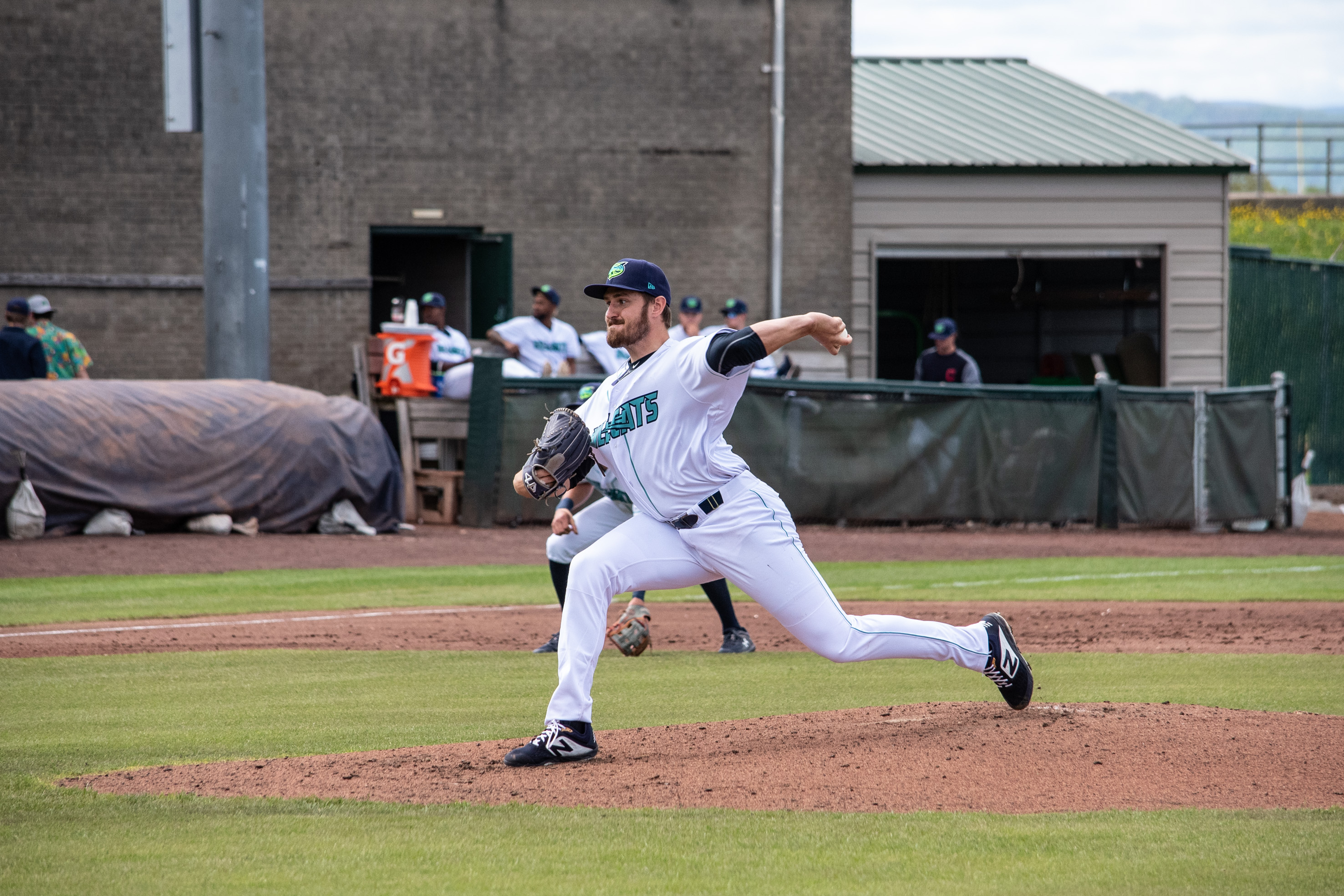 By BILLY HEYEN
BINGHAMTON, N.Y. — Underneath the NYSEG Stadium concourse on Saturday, avoiding the pouring rain, Adam Scott leaned in to answer a question, as if to impart deeper knowledge. But then, before he got to the punchline, he admitted he was stating the obvious. 
"There's a big picture, which is make it to the major leagues," Scott said. "Obviously everybody would say that. You know that I would want that. Everybody knows playing minor league baseball."
A little more than a year ago, the former Canandaigua star was selected by the Cleveland Indians in the fourth round of the 2018 MLB Draft. He's risen quickly through the minors, earning a promotion to Double-A Akron on June 20. Scott has worked 19.1 consecutive scoreless innings and won three of his four starts with the Rubberducks. For a player who never considered himself Section V's best, he's quickly put himself in the discussion of the area's best professionals. 
"At the end of the day, I love giving back and if people view me as a role model, awesome," Scott said. "I hope what I'm putting out there and who I am is a good role model."
Scott was different than anyone else former Brighton star and current Akron teammate Ernie Clement played in high school. There weren't any other lefties throwing in the upper-80s, Clement said. Scott added a biting slider to complement his heat. 
When Scott no-hit Clement's strong Brighton team in 2014, there was no doubt in Clement's mind who the best pitcher in Section V was. 
"I think he might've struck me out once or twice," Clement said, laughing. "That's definitely what I remember. I remember him probably being the best pitcher I faced in high school."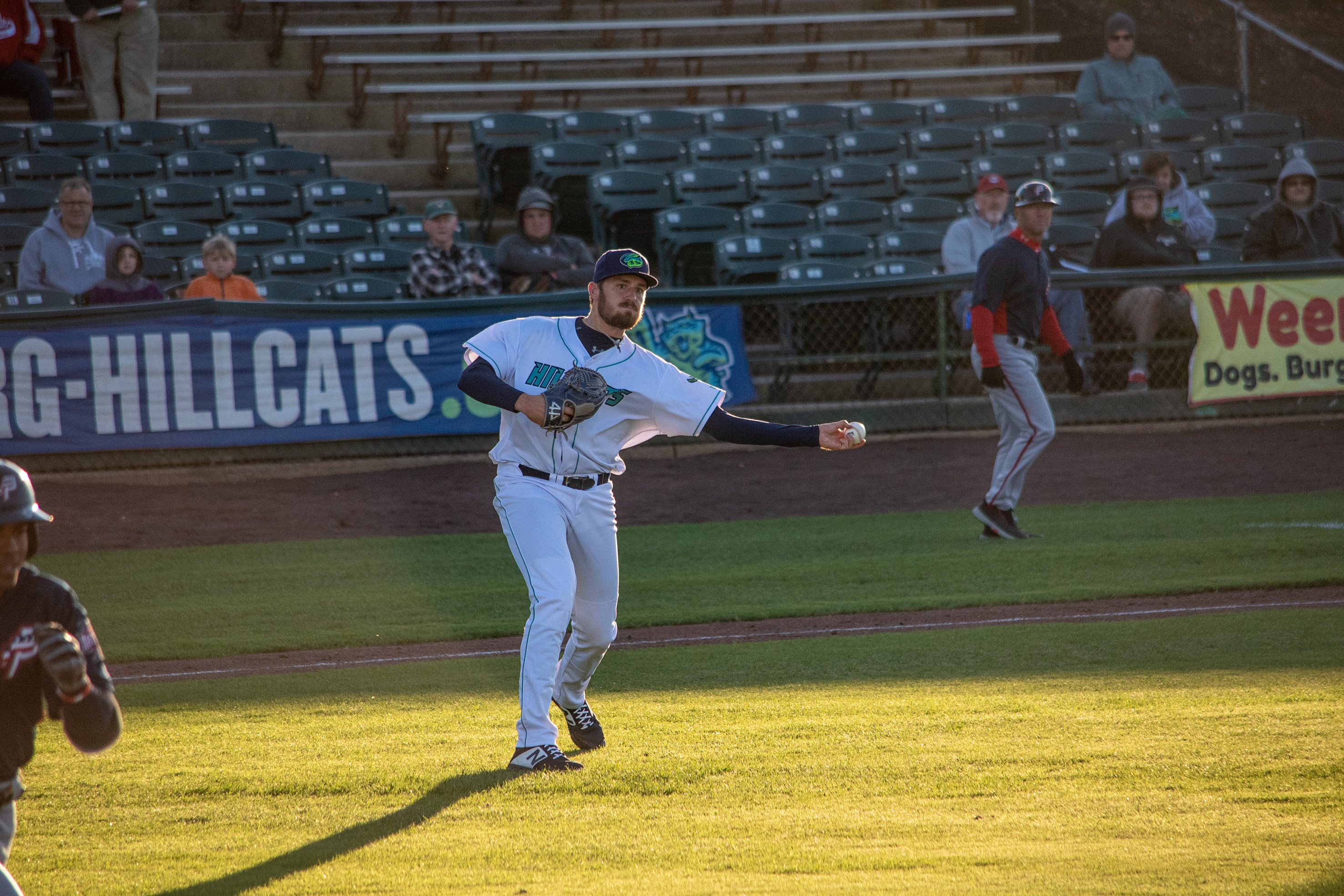 Scott never felt that way, though; he thinks his biggest improvement came in college at Wofford. It came with growing up, Scott said. High schoolers often take the fun, short-term choice or just approach baseball as a game, he added. It was in college where Scott found out how much he needed to work.
Starting pitchers don't get to play everyday; in the pros, they start once every five days. Scott knew he loved baseball, but the part he loved already was stepping onto the mound and toeing the rubber. To make it to the pros, a goal he really started to feel was reachable at Wofford, he had to fall for the work that came outside of those starts.
"If you wanna play pro ball and stuff like that, you gotta fall in love with the day-to-day work you're putting in," Scott said. "… What I do the other four days in between is just as important if not more important to prepare myself."
Since being drafted by Cleveland, Scott's been able to add a new aspect to his between-starts routine: numbers. He graduated from Wofford with a degree in accounting and finance, and he's always considered himself a numbers guy. So when one of his Lake County coaches last year, Joe Torres, started putting baseball's modern analytics in front of Scott, he jumped right in.
Baseball's newest numbers allow pitchers to understand what their own pitches are really doing — what planes they move on, how often they're swung at and missed, whether their apparent velocity plays up or down. Scott had never had access to data like that before pro ball. Now it's a part of his everyday pattern. 
"I'm a nerd," Scott said. "I love diving into all that stuff. Even if it's not about me, other guys, I just like hearing it and learning about it and seeing what it is."
Of late, Scott's had his slider working. It's part of what he attributes his ongoing scoreless innings streak to. Even behind in the count, Scott's been able to throw that pitch for strikes to keep hitters off balance when they expect a fastball. The lefty has stayed "behind the ball" well as he pitches, not falling off horizontally, he added.
Scott's also gotten help from his defense, crediting a couple web gems for keeping runs off the board. That includes slick-fielding shortstop Clement behind him, feet away from his former Section V opponent. It's the kind of stretch that could have Scott setting intermediate goals, maybe another promotion. But he doesn't do that. 
"I feel like it puts a limit on what you can do this year," Scott said. "And if you put a limit on it, I feel like you're missing out on a season. So my intermediate goal, there isn't an achievement. It's always just get better. Use that day to do whatever I can to get better."
That's what he was doing on Saturday in Binghamton, the day after his most recent scoreless outing. He'd just finished a weight room workout and was glad there were no cameras involved in his interview that day. The letters on the back of his red Indians shirt spelled out "GRIT," a word that famous Clevelanders have recently embraced as part of their blue-collar, hard-working mindset. 
And while Clement didn't want to think about his own future minutes later, he weighed in on Scott's. He wasn't asked whether Scott could make the majors. He also didn't include an "if." He just stated it as a fact. 
"It's gonna be cool to see (Scott) make it to the big leagues," Clement said.